Property interview: David Craigie on building apartments in his home village of Glenfarg
Glenfarg Apartments, a £3.4 million development of a dozen two-bedroom units, occupies the site of the former Lomond Hotel in the eponymous Perth and Kinross village's Main Street.
The project, which is nearing completion, is the brainchild of a group of four professionals, specialising in different fields, and targets a particular market identified as being under-served in the area.
Hailing from Glenfarg himself, David Craigie, a surveyor and construction claims expert, explains that when the site became a business opportunity, with the old hotel earmarked for demolition, he put together a team of friends and fellow businessmen to develop new residential homes in its place.
Colin Docherty, the owner of a digital marketing and creative agency, award-winning architect Dan Prosenica, who designed the development, and John Ramage, director of renowned civil engineering company, Ramage Young, joined David in the company – Glenfarg Homes – with the apartments project first on its slate.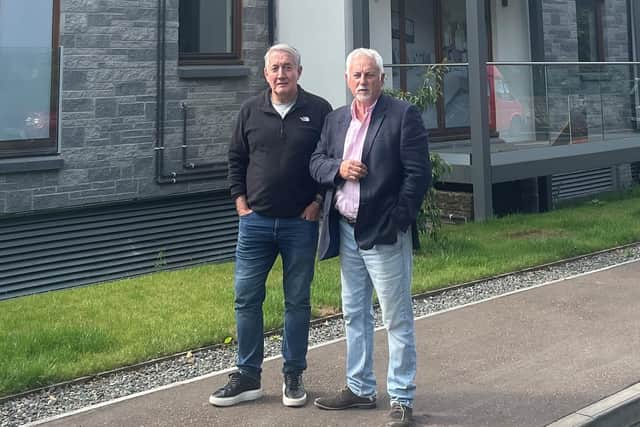 David explains: "John, Dan and I had all worked together on big projects in the Middle East, while I had been friends with Colin for many years.
"Finding this opportunity right on my own patch proved to be the perfect time to bring the four of us together – very much a "dream team" on paper – although Colin and I have the most to do with the day-to-day running of the business."
Initially, the group applied for planning permission for a standard development of 14 apartments but, after observing the success of a development for downsizers in nearby Kinross, they embarked on extensive market research into the potential of targeting that same market in Glenfarg.
David says: "I believed it had much to commend it as a place in which to downsize, with a vibrant community at its heart, with great transport links. The research concluded that there was indeed a market for this type of project in the area, so we redesigned to accommodate the feedback."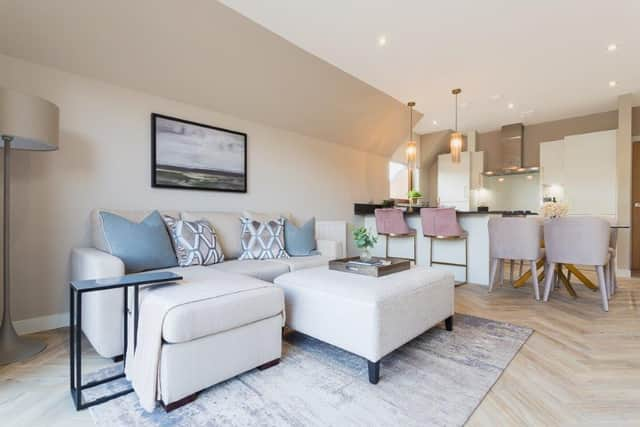 This focused on reducing the number of apartments from 14 to 12, making each individual unit larger and more luxurious.
"Dan did an amazing job with the design, both inside and out", David enthuses. "He incorporated the features that we felt are important to this market sector – such as enhanced acoustic and thermal insulation, secure underground parking for each property, a lift to all floors, private balconies for the views, and access to outside space. The development is surrounded by a beautiful cultivated landscaped garden."
Colin Docherty takes up the story: "We thought about the latest green innovations, what could we do to satisfy buyers keen to lower their carbon footprint. This is not just a concern for younger people, the discerning over-50s want to be seen to be doing what they can too – often leaving the large family home which is costly to heat can be the opportunity to embrace a greener lifestyle."
The apartments are heated with an innovative off-grid Calor gas supply and solar panels are included as standard.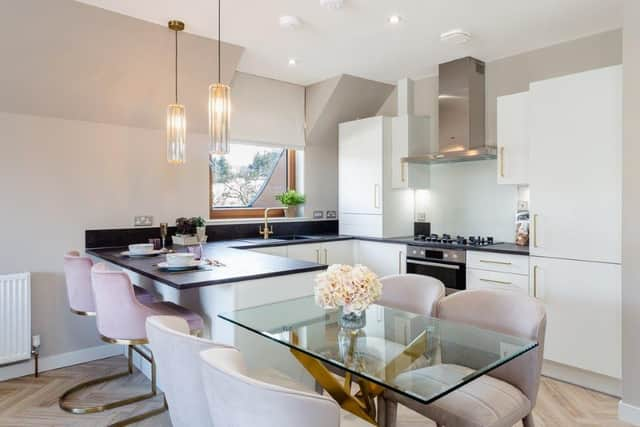 Colin adds: "There are many over-50s who want to have an easier, low-maintenance pace of life. They want to enjoy a very active lifestyle in a beautiful place. There's so much to do in the village and surrounding area. For golfers alone, there are 44 courses within a 30-minute drive from Glenfarg, including the world-famous St Andrews and Gleneagles."
A show apartment is now available to view with the standard specification on offer, but buyers are also welcome to choose finishes in the bathrooms and kitchen.
Prices start at £237,000 with floor layouts ranging in size, from 842sq ft to 1005sq ft. To view, contact Ballantynes on 01738 441825.