Calligraphy Cut at Gail Stewart Styling, review - forget scissors, we get our hair cut using this writing-inspired technique
Who needs boring scissors for a haircut?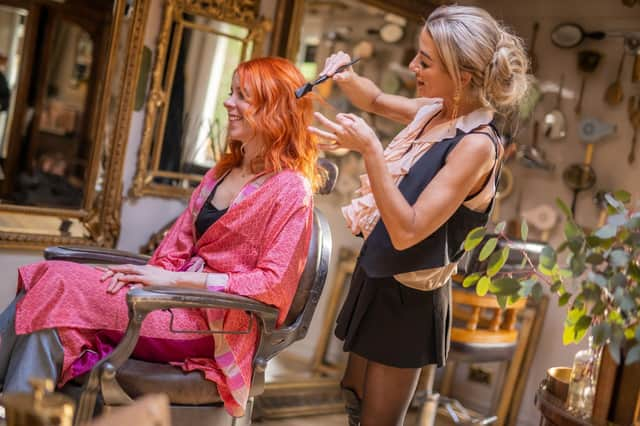 I've had my fair share of unique haircuts.
There have been crops, fringes, mullets and shags.
The one constant, in this world of wiggery, has been the use of scissors. Until now. I'm at Edinburgh's Gail Stewart Styling to try her new Calligraphy Cut.
I can see the tool, which was decided by German hairstylist Frank Brormann, sitting on the shelf in this treasure trove of a salon.
It resembles a black fountain pen and reminds me of an expensive Bang & Olufsen remote control. Apparently, there's a flat blade on the end, which can slice hair at a 21 degree angle and, while performed, that action looks like the hairdresser is writing in the air. This gadget allows stylists greater precision, and, they say, hair that's cut with one of these has extra volume and body.
Stewart underwent two years of training during lockdown, in order to get to the point of being able to use this gadget. After further lessons and more experience, she'll eventually get to swap the black one for a swanky gold version. According to her, this technique is revolutionary.
"Cutting diagonally across the end of each hair strand creates a much softer look and allows each strand to absorb the most amount of moisture from hair care products. It can prevent split ends and help with hair health over time," says Stewart, who's had her own salon for over 20 years. "I can create practically any hairstyle, from long, tousled bobs to pixie cuts. It also works brilliantly on curly hair because the pen is more sculpting than scissors. The hair looks beautifully finished and the cut lasts longer, with more body and volume. My clients love this new technique and have been giving it five-star reviews all the way, which makes me very happy".
I'm sold, and ask for a general tidy up, and to get rid of some of the weight.
After washing my hair, Stewart sets the tool to work. It doesn't feel as if she's taking much off, as there is almost no pressure on my roots and she's so speedy. It's only when I look at the floor that I realise how much of my mane has been sliced off with a mere flick of her wrist.
After my hair has been blow-dried, it feels light and bouncy. There is movement rather than bulk and no blunt ends. I'm impressed.
I don't know why they liken it to a pen. This thing is more like a magic wand.
Comments
 0 comments
Want to join the conversation? Please or to comment on this article.