Why Scottish wild dining experiences and foraged menus are proving so popular
As autumn gets into full swing, Rosalind Erskine takes a look at the popularity of wild dining experiences, including eating foraged foods, cooking over fire and enjoying the spoils of remote Scottish locations.
Picture the scene. You're surrounded by peaceful, rolling countryside, the light of a fire brightens dark corners and you're waiting on a meal made of produce that has only travelled a few miles, if that.
This idyllic scene is what many, often remote, businesses are increasingly offering tourists and those on staycations – and it's hugely popular.
Whether outdoor dining, cooking over a fire or simply enjoying a curated menu of hyper local ingredients, visitors are lapping it up. It is partly to do with the trend of experiential events – usually tailored to social media (think Instagram-friendly dishes, pumpkin patches and the plethora of sound and light shows taking place this autumn). But it is also a collective need to reconnect with nature and surroundings after Covid meant many of us were stuck in cities, as Pam Brunton from award-winning and Michelin Green Star holder Inver explains.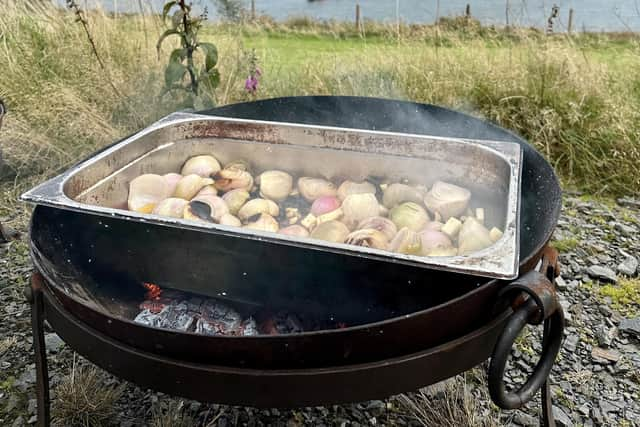 "I think people are looking to reconnect to where the food is coming from and to the landscape from where that food is coming from," she says. "The norm these days is very much a globalised food supply, where we go into supermarkets and there are mangoes and bananas and green beans from Kenya.
"It's relatively rare to know and understand where what you're eating has been grown. I think for people coming to Scotland and for Scots themselves, it's nice to be able to reconnect with the landscape that is ours."
William Hamer, from Wild Kabn Kitchen, located in Cairndow, agrees, saying Covid and the lockdowns played their part in people's want and need to reconnect with nature. "I think people are craving a different culinary experience nowadays," he says. "We are all very familiar with the restaurant scene and although there are some incredible restaurants to choose from, I believe people want something entirely different and wild dining offers something new and exciting.
"Since Covid, there has been an increasing desire to escape into the wilderness, to breath the fresh air and to enjoy the natural world. When you're foraging, you're connecting directly with nature and that's a very beautiful experience to have and I think we are all built to love that unconditionally."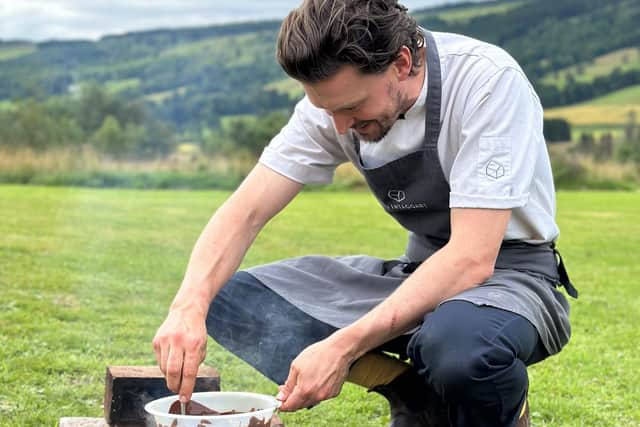 Sustainability and low food miles is also a factor, as Caroline Gladstone from Glen Dye in Aberdeenshire, explains. "There has been a surge in interest in our dining experiences and feasts at Glen Dye, which we host in collaboration with true experts in food, drink and foraging. We think their popularity stems from the fact that sustainability and low food miles are a huge topic of conversation at the moment and our guests are more interested in the provenance of their food than ever."
Chris Rowley, co-owner of Ballintaggart Farm in Perthshire, which has built its reputation on seasonal, local food and their poplar themed feast nights, said due to the cost-of-living crisis, people were carefully choosing to spend their money on interesting experiences and collaborations. He said the more "way out there, the more popular" the experience.
The Ballintaggart team recently hosted a collaborative feast night on the Isle of Luing, which sold out within a week. Mr Rowley said: "While there is a cost-of-living crisis, people are spending money to travel for that kind of remote dining experience. We challenged ourselves to use all produce from the island or as local as possible. It was something a bit different."
An added element of wild dining experiences, offered by some, is the art of cooking over a fire. This is something Mr Hamer teaches, when he can, at Arkinglass Estate. He says: "This came about due to my love of cooking in different locations and environments and it's always a pleasure to teach something you love so much. I have just returned from the Helsinki Archipelago, where I hosted a wilderness cooking and kayaking expedition."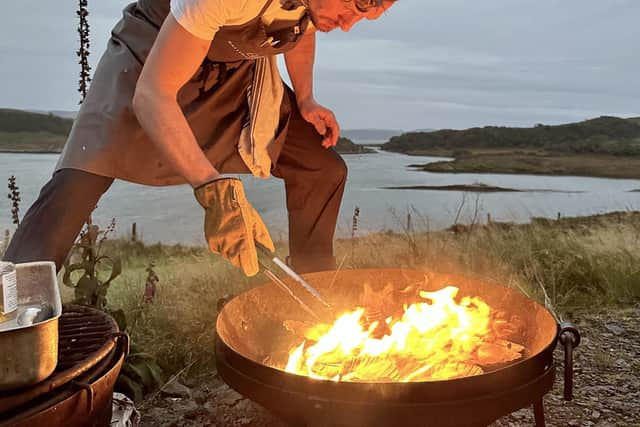 Autumn and its produce lends itself to this technique, as Mr Hamer says. "One of my favourite vegetables to cook over fire is a pumpkin – it's reaction to the fire is beautiful and whilst the skin turns black and charred from the burning embers, the centre remains a bright and vibrant orange. The contrast in colour is enticing and it is a true representation of the magic of open fire cooking." Ballintaggart also uses open fires to cook some dishes and Mr Rowley says people love the theatre of this, including at weddings where they can cook a whole animal, such as a sheep.
Inverlonan bothies, situated on the banks of Loch Nell, have recently added an eight-course dining experience to their package where a chef, formerly of Relae in Denmark, will cook over a fire in a "secret location surrounded by Highland beauty".
If you are looking to get away from it all this autumn and winter, and want to either forage for your supper, see it cooked over a fire or just taste what's in season, Guardswell Farm in Inchture often offers cooking over fire masterclasses. Over in Argyll, the Pierhouse in Port Appin recently ran a foraging and wild lunch day with Lucy Cooke, known locally as 'The Wild Cooke'.
Ballintaggart's coming feasts include a collab with Glenfiddich, Glen Lyon coffee and Gusbourne wines and Wild Kabn's next supper club is on November 4.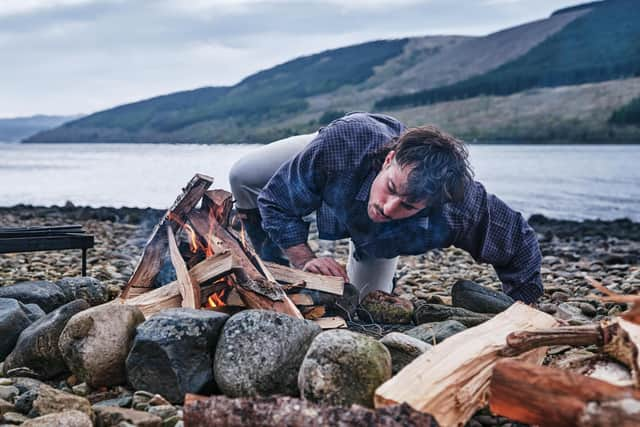 Glen Dye is also gearing up to light up the dark nights with a fireside feast this Saturday. Ms Gladstone says: "Our next big event is 'A Celebration of Autumn Through Food & Music'. Guests can join us to celebrate the season of mists and mellow fruitfulness at Glen Dye where the colours, tastes, smells and textures and sounds of autumn are at their best. Tim Maddams, friend of Glen Dye, will host a spectacular fire cooking demo and dinner using foraged ingredients in Glen Dye's pop up restaurant at The Woodshed."
It may be getting colder and darker, but now is the perfect time to enjoy the Scottish landscape and larder, next to a fire with a plate of something warming and great company. It is this sustenance that, historically, got us through the colder months to spring. Given how disconnected many of us feel from our food chain and the natural world, the popularity of these dining experiences, which offer not just a chance to switch off, but the opportunity to reconnect to the land, will surely grow and grow.
Comments
 0 comments
Want to join the conversation? Please or to comment on this article.