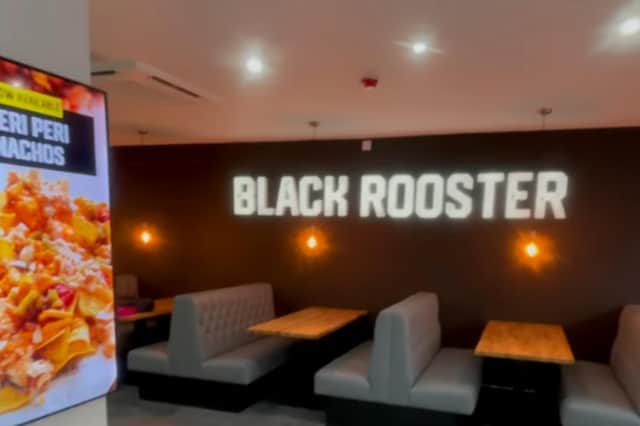 Black Rooster eatery opened up in Ayr town centre on Monday, January 9, and has remained open since working between 12pm and 10pm every day of the week. It's been a hotspot for chicken fans as their tantalising menu - which includes vegetarian options like salads - serves well-reviewed chicken wings, burgers, burritos and the like.
The opening of the restaurant has also been celebrated after the closure of Black Rooster in Irvine's Rivergate Shopping Centre which only opened its doors back in June, 2021. Here's everything to know about Black Rooster from who owns it to what's on the menu at this restaurant.
What is Black Rooster Peri Peri?
Black Rooster Peri Peri is a restaurant chain in the UK that, according to their website, sells products that are all "made from quality ingredients that are prepared and grilled to perfection in-store while you wait - just how authentic Peri Peri chicken should be!"
The taste of their Peri Peri is attributed to a 'variety of secret ingredients' and their employment of 'real chefs' who spend hours refining the end product for the customer. You can find their restaurant on the high street of Ayr, a small town located on the southwest coast of Scotland.
Who owns Black Rooster?
According to Company House, the two owners of the Black Rooster Peri Peri chain are Kevin Bell and Michael Hugh Kennedy. The owners of the Ayr store, however, are Gerald Docherty and Joshua Lynch who said: "We are excited to bring the hugely successful franchise to the community of Ayr.
"Ayr was an obvious location when the opportunity arose – it has a great community of residents and businesses, and we can't wait to meet customers – locals and passers-by alike."
What's on the menu at Black Rooster Peri Peri?
Black Rooster's menu offers 'a range of dishes from fried chicken to burgers to Mexican food' with a generous selection of options between mild and spicy. You can order their 'signature wings' or a range of burgers, quesadillas and burritos.
If you're visiting as a parent then you'll be glad to know that there is a kids menu and lighter meal options available like rice bowls and salads, so everyone can get in on the Peri Peri paradise.