Vegetable shortage in UK supermarkets: a love letter to tomatoes and cucumbers - Gaby Soutar
I have a cherry tomato for sale. It only has one previous owner, and I'll take £4ono.
In recent days, common fruit and veggies have disappeared from supermarket shelves.
There have been customer purchase limits at Tesco, Aldi, Asda, Morrisons and other retailers. This is down to a combination of factors, including extreme weather in Morocco and Spain resulting in shortages, as well as Brexit. There's also a generally dysfunctional food system in the UK. It's the sort of thing that caused a blueberry farmer, Peter Thomson, in Perthshire to give away his entire crop last October, since it was too expensive to harvest.
In response to the current predicament, which is expected to continue for a few weeks, Conservative environment secretary Térèse Coffey told people to eat turnips. And she said they were seasonal, although they're not. Cue slow hand clap.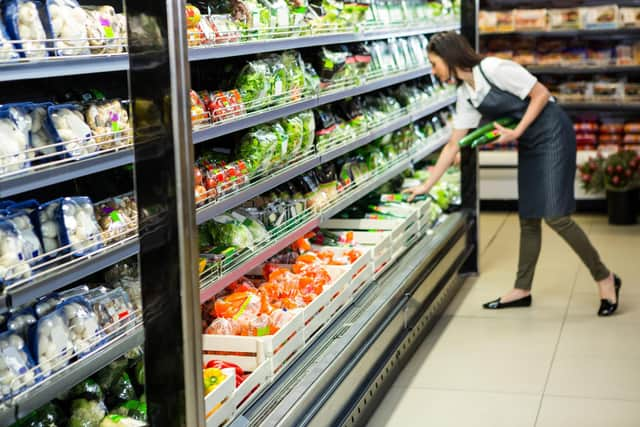 Despite this blunder, these root vegetables have now sold out at some supermarket branche, too.
Oh well, this is a nasty old veggie stew, like the ones we'll soon be cobbling together. I have been rummaging around, in the bottom of the fridge, to see what lifeforms I can salvage from that clear plastic drawer that nobody ever wants to clean out.
There is currently a compost of pulpy coriander, a pair of dappled limes, a stub of onion, two sepia-toned spring onions, and chillies. We have some pungent leaves of wild garlic that were harvested in a nearby beauty spot. There are carrots in a bag. I don't want to examine them too closely. I feel that they'll have turned into something akin to Little Otik.
And there's a clutch of neglected tomatoes. These pock-marked untouchables are in the corner and they've grown white beards like Papa Smurf. I shoogle the tray but they no longer have the power to roll. I would pick them out, though I know they will collapse into rancid sugo.
Perhaps I should just paint a big red cross on the front of the fridge?
How we took the affordable greenery for granted. Now I'm craving my five-a-day, for the first time ever.
The humble cucumber, which is usually piled up on supermarket shelves like snakes with rigor mortis, is one of the current rarities. Such a pedestrian item, yet now coveted and a symbol of the days before everything went to pot.
Now all I desire is a warm flat, some disposable income and a cucumber.
There are two species available in supermarkets – the half and the whole. Nobody has ever eaten all of the latter.
I have a chunk remaining – it lurks inside the fridge door. It is already doing that strange thing that cucumbers do, when the central core goes transparent and jellified. This specific example has given up on existence and shrunk into its plastic polo neck-cum-catsuit. In common with me, it is now rotten on the inside.
Perhaps it could be hollowed out and stuffed with mince, a la Seventies recipe book? Again, any fair offers are accepted.
I've never been much of a fan of cucumber. They are, however, always an excellent vehicle for salt.
After 15 years as The Scotsman's restaurant reviewer, probably the only memorable cucumber encounter I've had was at Edinburgh restaurant Pomelo, when they sprinkled it with tongue-tingling and numbing Szechuan pepper.
That's probably as sexy as this fruit gets. Some swear by a white bread sandwich with the crusts cut off, though that is strictly reserved for the gentry and royals.
I think the public is going to be more upset about the absence of tomatoes, since they're such a daily staple. Especially whenever pizza is involved, since nobody really wants a white base.
Also, the standard red or globe versions are the ultimate ingredient in a retro salad – the sort that would also contain chopped iceberg lettuce. I am still served one, once in a while, in an old-school gaff.
It's always been a token expression of guilt, for whatever other beige stuff is on the plate – chips and a pie, probably. The salad is never dressed, unless by accident, when the bean juice or vinegar oozes up alongside.
Again, as far as restaurant reviews go, I've had a trillion silky celeriac veloutés, but there are only a few tomato dishes that have stuck in my head.
These include a garlicky gazpacho that I had somewhere, and a beautiful summery crab tart, served at eòrna, who are opening a restaurant in Edinburgh soon. Also, Heron in Leith did something wonderful that I haven't forgotten. Their tomatoes had the skin blanched off, so they were vulnerable and sweet – the definition of love apples.
They're an especially unusual fruit, in that, when you cook them, they release lycopene, which sounds like it might turn you into a werewolf, but is a chemical compound that's linked to protection from heart disease.
Still, these aren't my favourites. I have an addiction to spinach, pak-choi, asparagus and kale. The greens are more my style, though I sometimes find peas a bit depressing. When people say they like a foodstuff, but it doesn't feel the same about them, I have that situation-ship with Jerusalem artichoke and broccoli. I still persevere. I feel that one day, my body won't notice, as if I'm smuggling something contraband past customs.
However, tatties will always be my ultimate. Baked, fried, chipped, mashed, crisped, smashed, as buttery fondants.
If there is ever a potato shortage, that's when I'll kick off and start looting.
My precious Maris Piper. I promise I'll never sell you.
Comments
 0 comments
Want to join the conversation? Please or to comment on this article.