Scottish restaurant nightmares: we share our unlucky 13 food horrors in time for Halloween
Being The Scotsman's restaurant reviewer, or a food lover in general, isn't all sparkles and rainbows. Of course, eating out is officially the most fun thing to do, but nothing is perfect.Sometimes, you might find yourself in fine dining's version of The Upside Down. Thus, in a Tales of the Unexpected style, let me introduce a dozen Halloween tales of personal foodie doom. Don't have nightmares.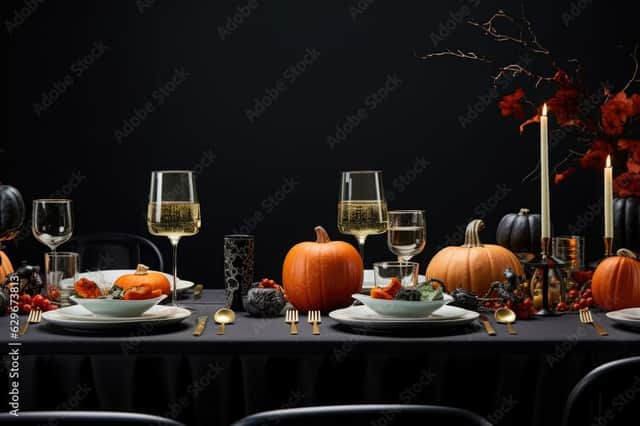 1 DEATH BY STEAK AND CHIPS
We were on holiday in Bordeaux and eating in a branch of steak frites restaurant L'Entrecôte. At a table near us, an older woman turned grey and closed her eyes, her head slumped forward and she appeared to putter out and die. Her dining partner looked worried and kept repeating her name, while patting her hand. Panic started to spread among waiting staff and diners, but nobody was acting. My heart hammered as I attempted to remember the timing of CPR, which matches the lyrics to Stayin' Alive by the Bee Gees. Then, as quickly as she'd 'died', she was conscious again. This funny turn had obviously happened before, as she looked unconcerned and carried on eating her lunch. We'd lost our appetites, and I had, "whether you're a mother, or whether you're a lover…" in my head for the remainder of the trip.
Talking of steak, do you keep chewing on gristle, or give up and spit it into your napkin? Do the pieces that you swallow stay in your stomach for five years? That's what they used to say about chewing gum. I always go for the polite option and feel like there must be a cairn of tough sinew heaped in my gut.
While we were doing a restaurant review, my other half spotted the chef coming out of a toilet cubicle before leaving the conveniences without washing his hands.
I've contracted a nasty bout from one of Edinburgh's Michelin-starred places as well as a Glasgow fine-dining favourite. Both knocked me out of action for at least three days and temporarily put me off venison and scallops. Strangely, I was fine after eating at the place where we'd spotted a mouse scampering around the dining room.
So many hairs, of different lengths and textures. I've had tiny eyelashes and individual brows on plates, long blonde ones coiled around potatoes and short dark curls. I usually just pick them out and carry on. If I was a cat, I could politely eat them and cough them up later. At least I'm not Wendy Barrie of the Scottish Food Guide, she says; "I dined on a fish dish in the Highlands that came complete with several short sturdy black hairs. When I raised the matter I mentioned they looked like dog hairs. As he stood there in absolute denial a black lab strolled out of the kitchen".
6 OTHER UNEXPECTED INGREDIENTS
I've never started tucking into a lobster that's turned out to be riddled with maggots, which happened to a friend at an Edinburgh seafood venue. However, I have unearthed bits of string, cling film and, of course, tooth-bothering pieces of shot in grouse and pigeon, as well as the ubiquitous crab shell. In kitchens, they usually use UV lamps to pick those bits out, but some always escapes.
I have had fish bones lodged in the back of my throat, and a near death experience with a strip of Parma ham. I once came very close to eating a hand cleaning towelette, as it resembled a marshmallow.
7 EATING BUGS OR DINING IN THE DARK
Both trends come back round once in a while, and the resident restaurant reviewer is always asked to try them out. The crickets don't taste that great, and neither did the larvae.
It's not exactly nightmarish, but a YouGov survey last year found that 22 per cent of diners detest this joyless wait, especially millennials and Generation Zs. It's often double-y long too, since there's the asking for the bill, eventually getting it, then waiting for the card machine. Yawn.
As the hue of wasp's bikes and mould, it's the least appealing food colour, yet it often appears, especially in purees.
10 SMALL PLATES AND FLOWERS
Tricked you. Many foodies hate these things, I like them. What I detest is tasting menus. My back can't handle sitting for three hours plus.
The most memorable occasion involved being ejected from a Japanese restaurant, which we visited on my sister's birthday. The orders were mixed up - a vegetarian got meat, three other guests got random dishes and someone got nothing. Our complaints sent the chef into a meltdown and he ran out of the kitchen, wielding a broom and screaming at us all to leave. We complied.
For a while, there was a fashion for reportage that involved working with a chef for the day. I was sent to hang out with a hot young chef at a five-star country house hotel. He obviously decided to challenge me, as my first job was dispatching a huge box of langoustines. I felt very guilty, as they grabbed onto my chef's whites with their pincers. If I had to live self-sufficiently, I'd definitely be a vegetarian or starve. RIP to Lobby, Larry, Loretta, and all the crustacean gang.
I was reviewing an upmarket chain restaurant, when a member of a drunken Christmas party promptly regurgitated their entire dinner onto the marble floor. There was no staff to be seen, and zero hurry to clean it up. The culprit left and their deposit became the backdrop to our evening.
At least I can console myself with the fact that there are a a hundred good dining experiences to every really bad one like that.
Comments
 0 comments
Want to join the conversation? Please or to comment on this article.