"Fife may have outgrown the Lowland whisky label" - could Fife become a new whisky region?
With more distilleries (at present) than Campbeltown, some in the industry would like Fife to be recognised as its own whisky region. Rosalind Erskine speaks to distilleries and businesses putting Fife on the map.
In April this year, Fife distillery InchDairnie released its first whisky - RyeLaw. The whisky, which was distilled in 2017, is the result of years of meticulous planning by distillery founder and industry veteran Ian Palmer. While this was notable as a rye whisky, of which there seems to be a resurgence, it also proudly displayed 'Fife Single Grain Whisky' on the front of the eye-catching bottle. When I visited at the launch of RyeLaw, Ian talked passionately about his distillery's region and how the team at InchDairnie are using the motto 'Fife grown, Fife distilled, Fife matured' to showcase the provenance of their whisky. Ian also touched on how Fife could, and perhaps should, be seen as a whisky region in its own right. With five distilleries in total, Fife is outranking Campbeltown, Scotland's smallest whisky region, so could we see it being named as a region in itself?
Currently Fife is part of the Lowland region - one of five whisky regions in Scotland that include Highland, Islay, Campbeltown and Speyside. Part of the magic of whisky comes, in part, from the fact that the spirit is tied to the land from which it is produced. These regions, defined by geographical boundaries laid down by law (and upheld by the Scotch Whisky Association), can be thought of as similar to the Terroir regions of France, where a particular wine, say, Burgundy, could only ever be produced from the land of the Burgundy region - because its soil and micro-climate are so unique, that they have an unmistakable 'stamp' on its product. These laws also protect Scotch whisky and these areas, so, for example, only whisky made in the Speyside region of Scotland and matured in this area can be called a Speyside whisky. These whisky regions are also generally defined by a whisky 'character', although these days, with the slight relaxation of casks that can be used to mature and finish whisky, this is debatable and thought not to be as important as it once was. The Lowland region lies south of an invisible border that stretches from Greenock on the west coast to Dundee in the east. Lowland whisky distilleries range from Auchentoshan just outside Glasgow to Bladnoch and Glenkinchie. Traditionally whisky from the Lowlands is generally seen as light, grassy and floral. The fact that the Lowlands is such a vast area, with a growing number of distilleries, is one argument for Fife becoming its own region.
It's an area of whisky history, and an abundance of barley, as Ian Palmer explained: "Fife is a clearly defined geographical region surrounded by water to the North (Firth of Tay), East (North Sea) and South (Firth of Forth) namely crossing on THAT bridge. Fife is the cradle of Scotch whisky with Lindores Abbey being the home of Friar John Corr, of the 1494 Exchequer Rolls fame, and with the Steins and Haigs that were early innovators in stills, distillation and blending. The land is fertile and weather conditions are favourable for growing barley, and of course rye. All distilleries here work closely with the local farmers and local communities. Fife Grown, Fife Distilled and Fife Matured being the ultimate goal." It's this history that Palmer discussed when arguing that Fife should be a region of its own, saying: "It is partly about provenance, partly about our shared mindset. Fife has a long malt distilling history, sadly also a long silent period. We find that it resonates with our consumers that they can identify the origin of the distillate and even the grain. With RyeLaw launched from InchDairnie Distillery this year it was the first time seeing Fife Single Grain Scotch Whisky on a bottle of whisky. A term that has resulted in both curiosity and recognition. With the rich distilling history of Fife and now our provenance and ethos, in a region with more distilleries than Campbeltown, it would only be a natural progression to have Fife as a region."
Eden Mill, who are due to open their new distillery and visitor centre in 2024, are one of the newer kids on the block of Fife whisky. Euan Kinninmonth, Whisky Brand Ambassador at Eden Mill St Andrews said, while they're happy being a Lowland distillery, their whisky doesn't fit the traditional flavour profile of this region. He is also keen to highlight Fife as a region for whisky tourism. He said: "I think we can all agree there is a small whisky revolution taking place in Fife. The Fife Whisky Festival is now a key date on any whisky explorer's calendar and with five distilleries all producing their own unique spirit, Eden Mill is excited to recommence its distillation in summer 2024 with the opening of our new distillery and continue adding to Fife's rich tapestry of whiskies. For us, the beauty of Fife as a region and what it has to offer the world is what makes the area stand out. We want to celebrate Fife as a whole and showcase what its distilleries can add to Scottish tourism. While we have no issue being classed as a Lowland distillery, describing the spirit we are crafting as a Lowland malt is not necessarily representative of the actual flavour profile of our whisky. Our single malt does showcase the floral, grassy notes more commonly associated with the Lowlands, but it also has some of the more full-bodied, sweet cereal notes that are typical of the Highlands, making it a bit of a hybrid of both regions."
You can't mention Fife whisky and history and not think of Lindores Abbey, who released their inaugural whisky in 2021. Drew McKenzie Smith, founder and managing director of Lindores Abbey agrees that Fife has outstanding providence when it comes to the whisky components, as well as clement weather for maturation. He thinks there's pros and cons to Fife becoming its own region, saying: "We don't want to be "separatist" as that hasn't gone well in recent history. We believe that Fife being classed as its own region would bring a lot to the area in terms of tourism and economy, and as a county we badly need this investment and economic drive. However, there are of course many Fife distilleries who are happy being classed as Lowland and sit proudly alongside many great distilleries in that category."
Co-founder of the Fife whisky festival, Justine Hazlehurst, discussed the protections given by the SWA regulations and thinks that these are more important than regional whisky character. She said: "It's important to mention why the Scotch Whisky regions were established in the first place and, more recently, the Scotch whisky regulations. There are two protected localities (Islay and Campbeltown) and then there are three protected regions. The reasoning behind this is, essentially, to enhance the protection that Scotch whisky had as part of EU regulations and across the world. This means that someone, somewhere anywhere in the world made a whisky and tried to call it Scotch whisky they couldn't. These protected regions and localities were introduced to give the regions the same protections as scotch whisky had in general. When you look at it from that point of view, Fife has a protecting within Lowland whisky But I can't help but think that as Fife whisky becomes more prominent (and with everyone chasing Daftmill plus new releases from Inchdairnie and Lindores) I can't help but wonder that there is an argument for of advocating that Fife should be a whisky region in its own right for the purposes of extra protection, so that so somebody elsewhere in the world can't just call a whisky a Fife whisky. Especially as the distilleries, with the exception of Cameronbridge, are all small, independent ones. People talk about Fife distilleries, they don't talk about lowland distilleries. It's possibly outgrown the Lowlands label."
Archie McDiarmid, Manager of Luvians Bottleshop in St Andrews broadly agrees that Fife should be seen as its own region but not legally. He explained that it could cause issues for other regions: "The classic regions – Speyside, Highland, Lowland, Campbeltown and Islay – are all either huge (the Highlands covers more than half the country) or tiny (Campbeltown is just the tip of the Mull of Kintyre and currently every distillery is within a 10 minute walk of each other). If Fife broke off from the Lowlands, wouldn't it be reasonable for Glasgow and Edinburgh to do the same and all of a sudden, the Lowlands is basically the Borders and Girvan and all these smaller regions are competing with each other for attention and spaces on lists. By keeping a Lowland region, with 14 distilleries currently releasing malt and another 10 on the way, the broader region can cease to be an afterthought on most whisky lists, with a maybe a single Auchentoshan or Bladnoch, and become a dedicated section on any serious list. My goal would be for Fife to create its own identity within the Lowlands - a Fife Whisky Trail, putting the local in the Lowlands – that can only be a good thing for the distilleries themselves and whisky lovers visiting the region."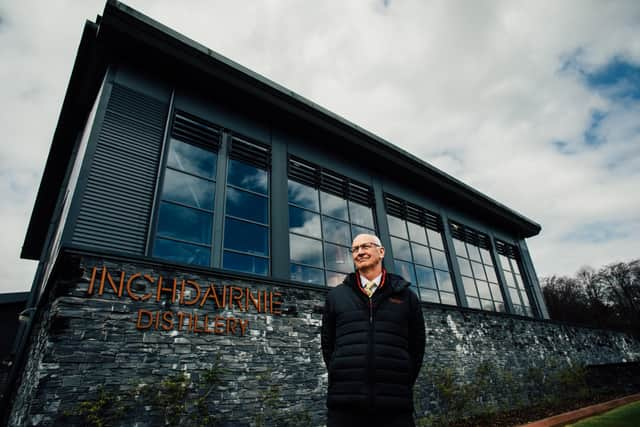 Peter Holroyd, Distillery Manager at The Kingsbarns Company of Distillers Ltd agrees that as the Lowland region is so established, it makes it easier for people visiting to understand, though he's intrigued by Fife as its own region, saying: "I think the Lowland name is well established and it's synonymous with a particular style of whisky, one that is light and floral/ fruity. When you think of how people from different countries perceive Scotch whisky, perhaps using the term Lowland is a clearer and more straightforward message in communicating differentiation compared to Fife. It will be interesting to see if there's an appetite for another whisky region soon... If there is, Fife makes a compelling case to be the next one."
While there are arguments for and against Fife being its own whisky region, there's broad agreement among all distilleries and businesses that it's on the up, and that the resurgence of distilling in the area is only a positive one for tourism and jobs. It's a beautiful part of Scotland, and this feels like just the start of its modern day whisky story whether it strikes out on its own or now.
Comments
 0 comments
Want to join the conversation? Please or to comment on this article.