Chivas Brothers opens Linn House luxury accommodation to satisfy the premium whisky tourism market
The Victorian lodge has 13 bedrooms, a walled garden, and a bar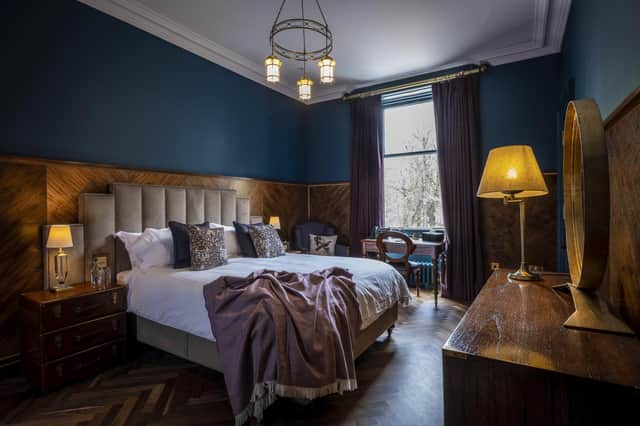 Even whisky lovers want to be pampered.
It's not enough to go for a distillery tour, before heading back to their hotel. Instead, they want something immersive and premium, as part of the growing consumer demand for luxury experiences in Scotland.
That's one of the reasons why Pernod Ricard-owned brand Chivas Brothers, who produce whiskies including Chivas Regal and Royal Salute, opened their first guest accommodation, with catered property Linn House in Keith, where you'll also find the brand's Strathisla Distillery.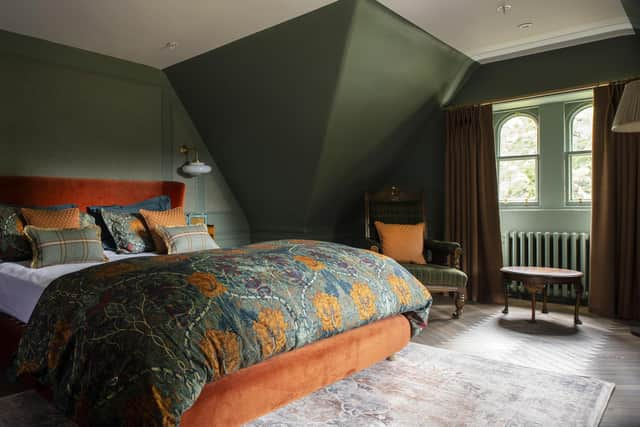 "Just as a luxury fashion brand has an atelier, or a boutique perfumer has its by-invitation salon; the heart of our whiskies lies here in Scotland," says Jacques-Henri Brive, the head of brand advocacy and prestige acceleration at Chivas Brothers. "As demand for whisky expands around the world, more consumers are intrigued to discover and explore our heritage. Linn House is an extension of our brand homes, affording anyone who visits the luxury of time: to rest, to indulge and to enjoy all that the region has to offer. It is our ambition that Linn House becomes a destination hospitality offering here in Speyside."
The house, in woodland by the River Isla, isn't a new acquisition.
The brand has owned the Victorian property, which dates back to 1870, for three decades. Before the recent refurbishment, it was used on an ad-hoc basis, as a temporary residence for VIPs or team members.
"It was our house to welcome friends of Chivas Brothers across the depth and breadth of our portfolio, but we had so many requests to open it to external guests," says Brive. "We wanted to, as today, people are going beyond the product. They want a full experience and to understand where the whisky they're drinking is made. So we've taken the opportunity in the last year to refurbish the house".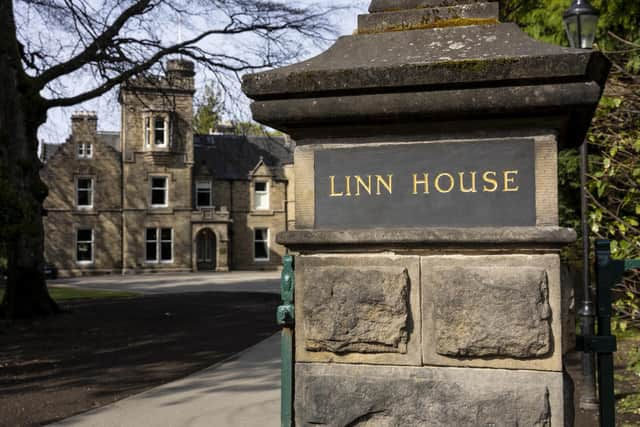 Across three floors, there are 13 bedrooms, each of which has a distinct personality and is named after one of their distilleries, from The Glenlivet and Braeval to Aberlour.
They've gone for a five-star hotel feel throughout and individually-decorated spaces include the forest green Glen Keith, with its parquet floors. In here, the bed's headboard is a vibrant burnt orange – a colour that also appears on other soft furnishings. Other features include its Art Nouveau style quilt, antique furniture, and a Roberts radio on the bedside table. In contrast, the Longmorn room is all about cool tones and velvety textures.
There's an authenticity, but it's definitely not a Scottish-by-numbers look.
"We've tried to work with interior design agencies that know Scotland very well," says Brive. "One of those is Blacksheep, who are based in London. Their founder is Tim Mutton. He's a very interesting character and is Scottish himself. He said to me, when he took on this project, that he left Scotland with nothing and that now he'd like to come back and make a statement. He knows what Scottish heritage means".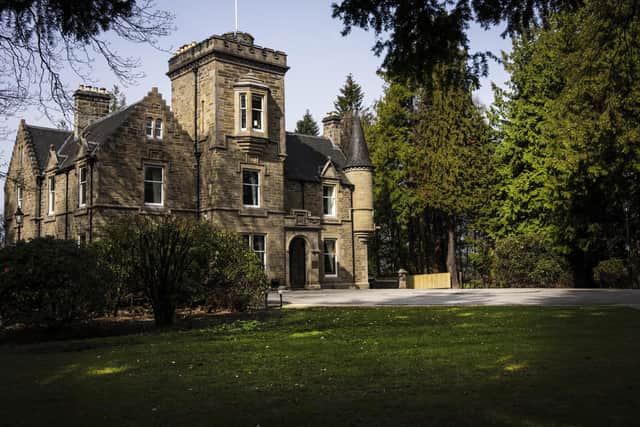 Many of the rooms have freestanding roll-top baths, and some, like Strathisla, boast one of those, as well as a four-poster bed.
As this is a contemporary take on a traditional Victorian lodge, they've been judicious with the tartan, though it does appear as a runner on the wooden staircase and on an occasional cushion or throw.
None of the modern touches are jarring enough to have annoyed the building's original owner, Robert Kynoch-Shand (1838-1890), who was involved in his family's textile works, where Isla Bank tweed was manufactured.
Plenty of his original features have been preserved.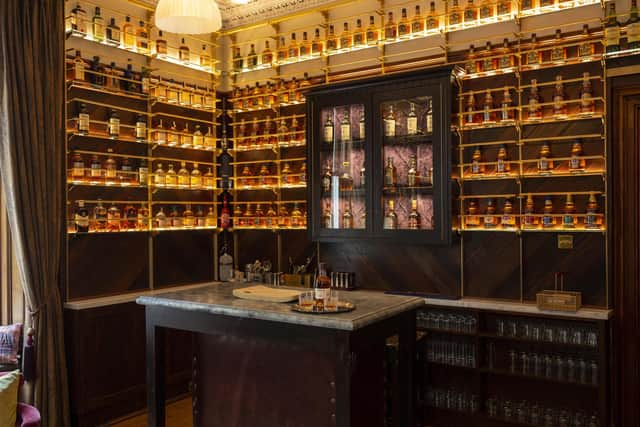 "Those were retained by the previous owner and we were able to keep most of the mahogany wood panelling in the dining room and some of the original fireplaces," says Brive. "We had to replace the old bathrooms and the kitchen, but we have really tried to retain what's unique and has charm".
Probably the most modern-looking space is the whisky room, which resembles a walk-in wardrobe, except it's lined with bottles, rather than shoes. This is a showcase for Chivas Brothers' portfolio, and there are single malts from The Glenlivet, Aberlour and Scapa, as well as blended whiskies from Royal Salute, Ballantine's and others.
"It holds 200 rare whiskies and lots of exclusives, including single casks and numbered bottles," says Brive.
The idea is that guests will get a guided tasting here or try a cocktail, perhaps before dinner, then have a dram later.
This is Brive's favourite of the house's public spaces, along with an outdoor area.
"We have a walled garden, where we grow our own vegetables," says Brive. "Our own strawberries are in the jam you'll have for breakfast".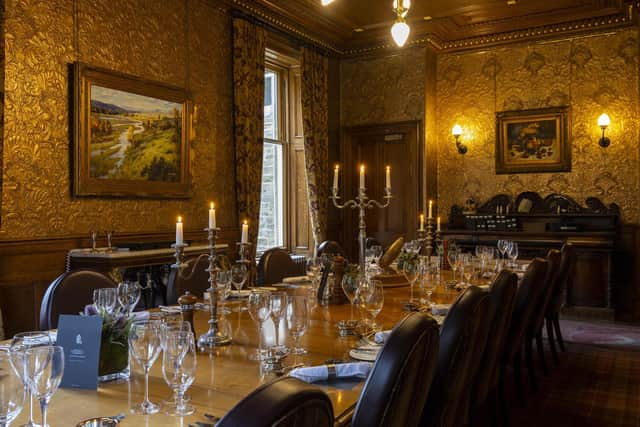 Depending on the size of your party, you can reserve Linn House's rooms in blocks of six or 12. However many people you choose to invite, you will be catered to by staff, including their chef, Eric Orby. He offers their guests the full Scottish experience, including hand-dived Moray scallops and local venison, and he might even leave the kitchen for a rendition of an Address to a Haggis.
Now, they just have to wait for the first bookings to roll in. Where will their guests come from?
"We know that 50 per cent of Scotch whisky tourists are from the UK. Then there are Americans, Scandinavians, French, Belgium and Dutch," Brive says. "So, it will be mainly British, Northern and Western European as well as Americans. Hopefully in the future, there will be more people from Asia, but, at the moment, that's how we see the trend".
Bookings enquiries at [email protected]. Accommodating up to 12 guests in six rooms, the retreat is available at £9,600. Full house reservations grant access to 12 rooms (up to 24 guests) for £19,200. Both include two-night stay, breakfast, three-course dinner with wine selection, 'exploration' drink package and a bottle of Linn House Reserve whisky for each guest. Minimum two-night stay.
Comments
 0 comments
Want to join the conversation? Please or to comment on this article.