Dogs and Car Sickness: Here's how to keep your adorable dog safe and healthy on journeys - according to an expert
With the summer holidays in full flow, many people will be taking their pet dogs on long car journeys for the first time - but that can cause some issues for some animals.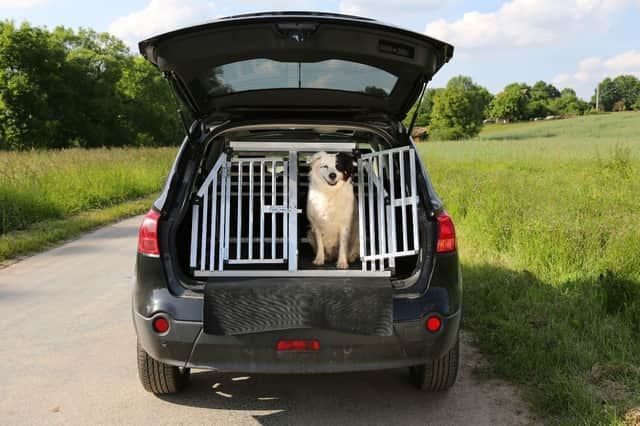 Following the rising trend in people taking their pets away on holiday, lots of Scots are set to be hitting the road with their pooch this summer.
And with August as the most popular month to take a trip away, this can bring a host of questions around travelling with pets.
To help out pet owners, Dr Kirsten Ronngren, Veterinarian at pet health insurance brand ManyPets, has offered her key tips for ensuring four-legged friends keep happy and healthy when taking a longer trip - including the truth about whether pets can get car sickness.
Here's what she had to say.
Safety first 
When travelling with your pet, the first thing on your mind should be safety. To ensure that your pet is locked in safely throughout your journey, it's worth getting a crate which keeps them secure, but also gives them enough space to stand, sit, turn around completely, and lie down. Another option for dogs is a harness which locks into the seatbelt, which tends to be more suitable if you've got a bigger dog in a smaller car. At the end of the day, whichever causes less stress for your dog is typically the better choice to go with, so it may take a little bit of trial and error before you find the right choice for you.
Plan your pit stops 
Before you embark on your trip, take a look at your route and mark out specific safe pit stops. You should aim to stop every 1-2 hours on average, so that your pooch can stretch their legs, get some fresh air, and have a chance to go to the loo. Having these planned out in advance will save stress on the day - although bear in mind that if you hit any unexpected traffic you might need to add in a few extra stops! 
Keep car sickness at bay 
You may be surprised to know that pets can also suffer from travel sickness. Key signs that your dog might be suffering are whining or pacing, trembling, excessive drooling, lethargy, and in some cases vomiting - so if you spot any of these, it might be a warning sign. We also see excessive drooling and vomiting in cats as well.
There are some ways to protect against worsening sickness. First and foremost, I don't recommend owners let their pets eat or drink LARGE amounts immediately before car travel. Having a snack or small bit of food beforehand can be helpful, but in particular pets that may get car sick have a harder time with a full stomach of food. Second, make sure that the temperature in your car is cool - overheating can make nausea and stress worse. Thirdly, try to keep their anxiety at bay (a major travel-sickness trigger) by bringing in things that will remind them of home - familiar smells, toys, and blankets can help. 
If your pet routinely suffers from motion sickness OR travel related anxiety, it is absolutely worth discussing with your vet if they think using medication is reasonable. There are several effective and safe prescription medications available through your vet to help with either problem.
Keep stocked up 
As it's much more challenging to find pet-friendly treats en route, make sure you're fully stocked before you hit the road - and have a few treats at the ready to encourage a positive association with getting in the car. 
It's also worth remembering that you need to bring enough pet food to last the duration of the holiday - especially if you're crossing the channel, as you can't be too sure you'll be able to find the right food in a different country. Keeping your pet on their own normal diet is one of the best ways to avoid tummy upset when travelling. 
Practise makes perfect 
If you're planning a long trip, it's not a good idea to dive straight into an eight hour trip - particularly as lots of dogs can get distressed from car journeys. Instead, start getting your pet used to their new environment by taking them on shorter trips in the car - for example, to a nearby park or walking route, and see how they fare. The same is true for our feline friends, and practising with shorter trips first prior to long car journeys is best.
If you find that your pet is still distressed by car travel despite implementing the measures above, it might be that your pet needs gradual, short and consistent training to become more accustomed to travel without stress. This can definitely be achieved with time and dedication on the owner's part, and lots of positive reinforcement (cuddles, treats, praise, etc.). It's important to keep in mind however, that some people may have pets that overall prefer to be left home with a pet sitter or be boarded at kennels during trips, and that's perfectly ok!
Comments
 0 comments
Want to join the conversation? Please or to comment on this article.