Review of right to roam guidance ruled out amid overtourism concerns
A formal review into the code on responsible access to Scotland's countryside has been ruled out amid growing concerns over irresponsible tourism and the growth of motorhomes and campervans parking up overnight in rural areas.
A recent report from residents in the Highlands recommended that the Scottish Outdoor Access Code needs to better tackle issues linked to a rise in visitor numbers and the impact of roadside camping on local communities.
Nature Scot, which writes the code and sets guidance on responsible access as granted by Scotland's flagship right to roam policy, as set out in the Land Reform Act 2003, said the focus remained on spreading key messages relating to fires, wildlife disturbance and camping.
A spokesperson for NatureScot said: "We recognise the pressures some areas are under as a result of increased visitor numbers and irresponsible behaviour, and we are committed to help manage these pressures."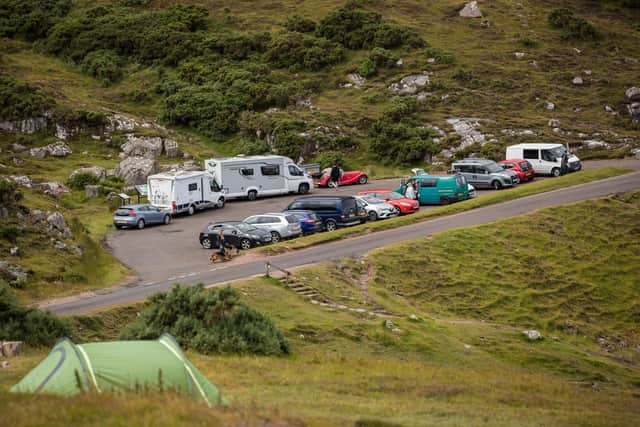 Almost £1 million has been spent on supporting extra rangers and provide extra "boots on the ground" to promote the SOAC and manage visitor impact.
A statement added: "It's important to note that the majority of people do behave responsibly in the outdoors. Where irresponsible behaviour does occur, it is generally because of failure to comply with the existing Scottish Outdoor Access Code. Whilst there are no formal plans to review the code, we do monitor it and keep it under review.
"Our focus is currently on continuing to promote greater awareness of its key messages, especially to those new to the outdoors and this includes information about fires, wildlife disturbance and camping."
A campaign to increase awareness of the SOAC reached 7.5 million social media users and drove 153,000 visits to the code website this year.
Robin Pettigrew, who lives on the North Coast 500, recently published a report in collaboration with other Highland residents to set out key concerns and proposed solutions to overtourism.
The report called for a review of existing powers in the Land Reform Act and whether they could address issues linked to increased tourism. As well as an updated SOAC to deal roadside camping, it also recommended the use of bylaws to prohibit camping and lighting fires in the worst affected areas.
Richard Barron, chief executive officer of the Scottish Rights of Way and Access Society (Scotways), warned any attempt to tackle the issue of motorhomes and roadside camping through the Land Reform Act and associated code could bring provision for motorised vehicles into the right to roam policy.
He said: "The key thing is campervans and parking are not covered by the Land Reform Act and that is the problem.
"If you put motorised access into the Land Reform Act you would have to provide a right of access for motor vehicles onto the land – which there isn't at the moment.
"So your risk is that if you open up the Act to cover motorhomes because there are camping problems you are going to have to give them something - and that might not be what we want to do. I would hate to see vehicles chucked in there as I think we would end up there with worse than we have got."
He said road traffic regulations were the best route to deal with parking issues, such as those at Schiehallion in Perthshire.