Lifting the lid on Scotland's jewellery box from Highland gold to Elie rubies
The treasures of Scotland's landscapes and the skilled hands of the jewellers who fashioned them into 'wearable curiosities' have been explored in a new book.
Now a new book charts this "journey of matter" where the raw materials developed over deep time in the mountains and rivers became luxury goods and "wearable curiosities". The publication covers the hand skills of Scottish jewellers, who stood firm against growing industrialisation to create objects of desire which told a story of craft and country.
Dr Sarah Laurenson, principal curator of modern and contemporary history at National Museums Scotland (NMS), author of The Material Landscapes of Scotland's Jewellery Craft, 1780-1914, said growing fascination in geology and the natural world during the 18th and 19th century put high value on origin of materials used by the Scotland's network of jewellers.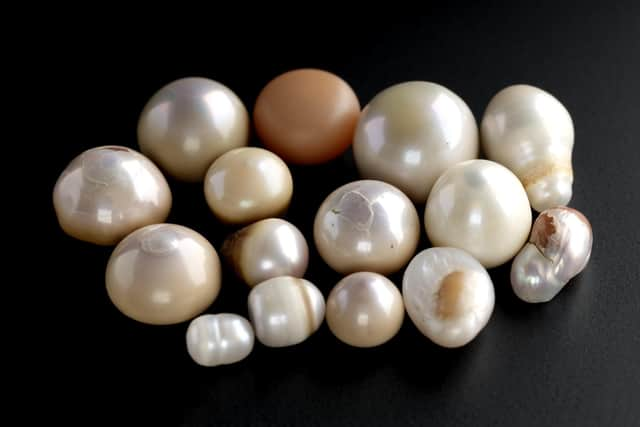 She said: "The landscape physically, and ideas of the landscape, are absolutely key to Scottish jewellery in the 19th century. That link to the landscape and that use of Scottish materials is absolutely central to the idea of what makes Scottish jewellery Scottish.
"That grows in the 18th century and through the 19th century and there are different flashpoints for different materials. But the 1860s is one decade where all of these materials – so Cairngorms, agates and pearls – are all very much in demand, not just in Scotland, but internationally. They are coveted materials."
The Union Brooch, made in 1893 by Edinburgh jeweller Peter Westren, clusters together materials from across the country, including gold from Kildonan found during the short-lived Sutherland goldrush of 1869, cairngorms from Aberdeenshire, vermillion jasper from Lanarkshire, pearls from the River Tay in Perthshire and rubies from Elie in Fife.
Growing interest in geology took mineralogical specimens and translated them into "these beautiful things that were worn on the body in a kind of portable curiosity cabinet", Dr Laurenson added.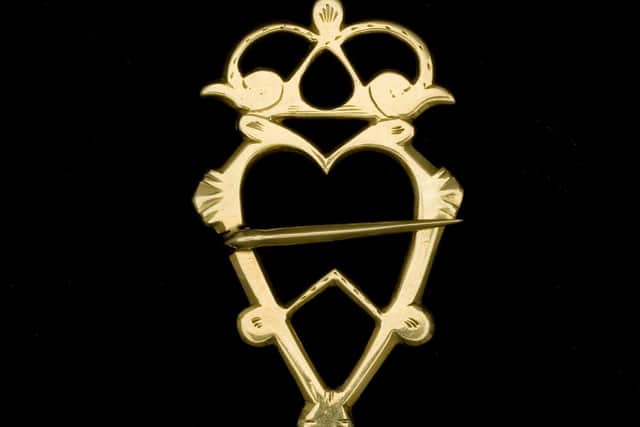 Scottish history also became a fundamental theme of jewellers keen to place themselves in the long timeline of craftsmanship. One 19th-century amulet held by NMS features a polished piece of prehistoric flint arrowhead suspended in an oval crystal and hung from a golden loop.
Ancient objects were often associated with magic and the supernatural, with similar meaning found in Scotland's immensely popular love brooches, with similar meanings found in Scotland's love brooches. The brooches began as lucky charms sewn into the clothes of women and babies for protection. Later, as Scotland's growing numbers of visitors sought romantic souvenirs, they were produced on a large scale and became known as the 'Luckenbooth' after the area where Old Town makers and artisans worked and traded.
Dr Laurenson saod 'pebbles' – or agates – became "strongly associated" with Scotland from the late 18th century, with their possession and display reflecting a prestige among the landed classes.
"In a low key way, they were very much to do with land ownership and their display was a kind of very subtle language of landed wealth," she said.
The Material Landscapes of Scotland's Jewellery Craft, 1780-1914 by Dr Sarha Laurenson is published by Bloomsbury and is available now.
Comments
 0 comments
Want to join the conversation? Please or to comment on this article.