Exclusive:

Historic paddle steamer Waverley based in Glasgow on Clyde enjoys highest ticket sales for nearly half a century

World's last vessel of its type bounces back from catalogue of troubles
Veteran paddle steamer Waverley has rebounded from a series of major setbacks to enjoy an "exceptionally strong" start to the summer season with the highest June bookings since it was saved for preservation nearly 50 years ago.
Operators of the 76-year-old vessel told Scotland on Sunday it had already carried half the total passengers carried last year only a quarter of the way through its five-month season.
But a further boost came last week with Princess Anne's husband Sir Tim Laurence becoming patron of the Waverley Steam Navigation Company, which owns the vessel. The former Royal Navy vice admiral, who sails on the west coast of Scotland every summer, described the ship as a "unique vessel of exceptional importance".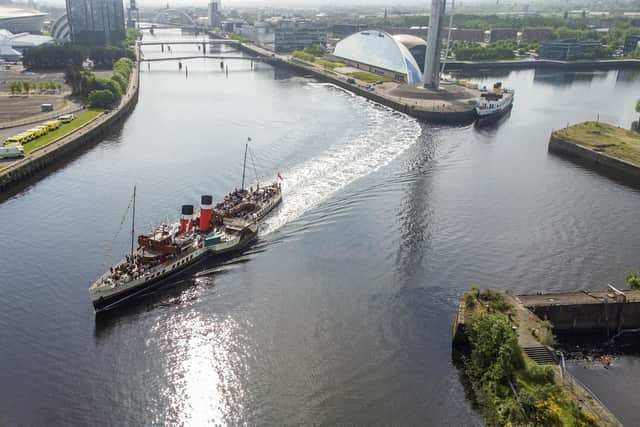 Paul Semple, general manager of Waverley Excursions, which operates the vessel, said it was now carrying up to 1,700 passengers a day amid the most consecutive sold-out sailings for 23 years.
They included during a two-week tour of the Bristol Channel which attracted more than 14,000 people. Semple said the highlight was a sailing from Tenby in South Wales when "crowds lined the streets overlooking the harbour and looked on from the surrounding hillside, which made for a fantastic sight".
He said: "It has been the strongest start to what is a very ambitious season. In financial terms, June has been exceptionally strong. I am thrilled the ship has now carried half of the total passengers carried last year and we are only now nearing the peak season with three-and-a-half months still to operate.
"We have benefited from a 30 per cent reduction in fuel costs so far this season, and combined with high passenger loadings, this has given the ship a fantastic start to the summer. It has been the best June in her preservation era [since 1975]."
Waverley will continue Clyde sailings until August 27 before spending three weeks on the south coast of England in September, then two weeks in London and the Thames estuary until October 8, tickets for which go on sale this week.
Semple said: "The advance bookings are already strong for the south coast, which proved very popular last year. This year we are including a sailing from Ipswich to London for the first time in over a decade and I expect that will prove popular. The sailing up the River Thames and under Tower Bridge is always special."
Glasgow Central Station historian and tour guide Paul Lyons said: "It's wonderful to see that the lasting appeal of Glasgow's very own Waverley steamer has manifested itself in the recent huge uptake in cruises doon the watter. This iconic ship is truly woven into the very fabric of not only our city but the psyche of Glaswegians."
Comments
 0 comments
Want to join the conversation? Please or to comment on this article.