Last week, the First Minister said the Scottish Government's expert group is currently considering a ban on the smoking alternative.
Speaking at First Minister's Questions on Thursday, Mr Yousaf acknowledged the health impacts of vapes as well as the risk to children.
In response to a question from Green MSP Gillian Mackay, who asked whether ministers are considering a ban on health and environmental grounds, he said: "We will give that consideration.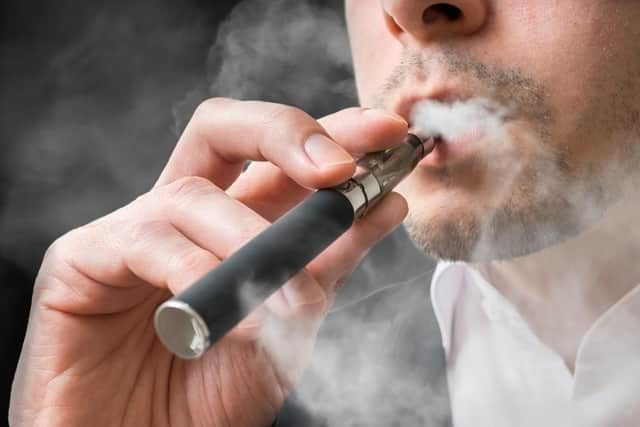 "Littering, of course, of any kind is unacceptable, and I share the member's concerns about the environmental impacts of single-use vapes, not to mention the increased use among children and young people who should not have access to them in the first place.
"I should make it quite clear that the use of these products is an issue we're taking very seriously and nothing is off the table at this stage."
Now, ASH Scotland is calling for the Scottish Government to ban disposable e-cigarettes, which it says are "health and environmentally harming products that are driving a rise in use amongst children and young people".
Sheila Duffy, Chief Executive of ASH Scotland said: "The recent huge upsurge of children across Scotland using cheap, brightly coloured and sweet flavoured disposable e-cigarettes is alarming as these products are health-harming and are age-restricted for good reason.
"Nicotine is highly addictive and many disposable vapes include toxic chemicals that have not been safety tested for inhalation and could damage health over time – this is especially worrying for children and young people as their lungs are still growing.
"Research indicates that young people experimenting with e-cigarettes are at a higher risk of using tobacco products, which is a prospect we should all want our children to avoid.
"We welcome the First Minister's commitment to consider an outright ban on disposable e-cigarettes. With the EU looking likely to ban disposable e-cigarettes by the end of 2026, Scotland has a great opportunity to re-establish itself as a leading public health nation by prohibiting the sale of these health and environmental harming products in 2024.
"In the meantime, ASH Scotland also wants to see swift action to introduce long overdue measures to restrict the availability and visibility of e-cigarettes to protect young people from predatory promotional activities.
"The Scottish Government published an analysis of responses to its consultation on tightening the rules on advertising and promoting vaping products in September 2022, and there should be no further delay in laying regulations that are enabled by the Health (Tobacco, Nicotine etc. and Care) (Scotland) Act 2016.
"These products are a threat to Scotland's ambition for the next generation to grow up tobacco-free, it is vital that the Scottish Government acts quickly and decisively to protect children. "
The Scottish Coservative's Shadow Cabinet Secretary for Health, Social Care and Sport, Dr Sandesh Gulhane, said: "While it is a less harmful alternative to smoking cigarettes, we need to keep the law on vaping, especially single use vapes under constant review.
"The Scottish Conservatives will consider any proposals brought forward by the government carefully."