Covid Scotland: Quarter of third wave ICU patients were under 40
More than a quarter of patients admitted to intensive care units (ICUs) in Scotland during the third wave of the pandemic were under 40, new data has revealed.
The number of pregnant or recently pregnant women admitted to critical care in the third wave is also almost double that of both the first and second waves put together.
The Royal College of Obstetricians and Gynaecologists said it is "particularly concerned" by these new figures, which also showed a disproportionate number of the admissions in pregnant women were from more deprived backgrounds or minority ethnic groups.
It comes as Scotland recorded the highest rate of weekly excess deaths since January 2021, including deaths linked to cancer, heart disease and dementia.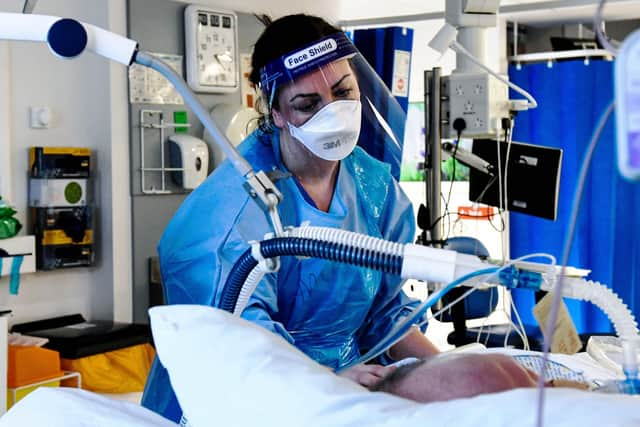 A new report, compiled by the Scottish Intensive Care Society Audit Group (SICSAG) and published by Public Health Scotland, revealed 27 per cent of ICU patients admitted after May 18 were under 40, compared to just eight per cent in the first and second waves.
It also showed that 42 pregnant or recently pregnant women were admitted to ICUs or high dependency units in the third wave after testing positive for Covid-19, compared to 25 in the first and second waves together.
None of the women had received both Covid-19 vaccine doses.
Since May 18, unvaccinated people have been around six times more likely to be admitted to intensive care than those who have had both vaccine doses.
In this time period there were 2.2 ICU admissions per week per 100,000 unvaccinated people, compared to 0.4 per week in those with two doses.
As of May 18, around 12 per cent of under 40s in Scotland had received both vaccine doses, compared to 54 per cent of over 40s.
Currently, 87 per cent of over 18s have had two doses.
Devi Sridhar, professor of public health at Edinburgh University, said the report showed the idea that Covid-19 only affects older people to be false.
She wrote on Twitter: "The narrative that those under 50 are not affected by Covid clearly not true. Shame the 'shield the vulnerable & infect the rest' crowd got so much airtime in the U.K. in 2020. Main route to protection should be through vaccination."
In the period from March 2020 to September 19, 2021, some 2,389 patients with were admitted to ICUs in Scotland after a positive PCR test for Covid-19.
Of these, 539 were admitted in the third wave.
Mortality has been lower in the third wave, at 26 per cent compared to 37 per cent in waves one and two.
The average number of days spent in the ICU was 13, which SICSAG noted was an unusually long length of time compared to usual care in ICUs.
Baseline ICU capacity in Scotland was breached during the first and second waves of Covid-19, but while the report notes the third wave is still ongoing, national capacity has so far not been exceeded.
The Scottish Government reported on Wednesday that 918 people were in hospital with Covid-19, and 51 in intensive care.
Intensive care occupancy peaked in the first wave at 221, in the second wave at 161, and in the third wave at 100 on September 19.
The percentage of patients in ICU for Covid rather than other conditions has recently been increasing, and as of September 12 was 41 per cent.
This is still far below the peak of 80 per cent reached in April 2020.
SICSAG reported an increase in the numbers of pregnant women being admitted to ICU and HDU while pregnant or within six weeks of delivery.
Of the 42 women admitted in the third wave of Covid, a majority (28) were in the two most deprived socioeconomic categories, while a disproportionate number were of non-white ethnicity (17 per cent).
Some 31 of the women were pregnant, while 11 were within six weeks of delivery.
Dr Edward Morris, President of the Royal College of Obstetricians and Gynaecologists, said the college is "particularly concerned" that more pregnant or recently pregnant women were admitted to critical care with symptoms of Covid-19 than at any other point during the pandemic.
"Data released [on Wednesday] shows 42 pregnant women were admitted to ICU in Scotland during the third wave, with more than two thirds of those admitted being from the most deprived areas and a disproportionate number being from Black, Asian or minority ethnic backgrounds," he said.
"We are urgently calling for all pregnant women to come forward for their vaccinations.
"There is robust evidence showing that the vaccine is the most effective way to protect both mother and baby against the possibility of severe illness from Covid-19.
"The number of unvaccinated pregnant women in intensive care in the UK demonstrates that there is a significant risk of severe illness from Covid-19 in pregnancy."
The SICSAG report also includes results of a survey conducted on September 23, which found almost two thirds (61 per cent) of ICUs in Scotland were unable to maintain recommended staffing levels with ICU-trained staff, instead needing to rely on staff from other areas.
In almost a quarter of units, the proportion of registered nurses who were agency staff or from other areas of the hospital was more than 20 per cent, in contravention of NHS intensive care standards.
The report states: "This snapshot survey describes nurse staffing on a single day in Scottish ICUs which will vary over time.
"However, it demonstrates that over half of ICUs and combined units in Scotland are currently unable to maintain recommended nurse staffing ratios from within their own staffing complement."
A spokesperson for the Scottish Government said in response to these staffing figures: "There has been sustained pressures on intensive care services since January with increased investment making more ICU beds available.
"As clinical practice in decision making around ICU care for Covid-19 patients has evolved in line with research, more patients than in previous waves are not requiring full ventilation, likely due in part to the successful vaccination programme."
A message from the Editor:
Thank you for reading this article. We're more reliant on your support than ever as the shift in consumer habits brought about by coronavirus impacts our advertisers.
If you haven't already, please consider supporting our trusted, fact-checked journalism by taking out a digital subscription.
Comments
 0 comments
Want to join the conversation? Please or to comment on this article.