NHS Scotland crisis: Record week as almost 2,000 patients spend half a day or more in A&E before Christmas
Almost 2,000 patients spent half-a-day or more waiting in accident and emergency (A&E) departments in the week running up to Christmas – the highest weekly total ever.
Official figures show that in the week ending on Christmas Day, just 56.9 per cent of patients in A&E were seen and then either admitted, transferred or discharged within four hours.
That is well below the target of 95 per cent set by the Scottish Government – but is an improvement on the 55 per cent recorded the previous week.
The data from Public Health Scotland (PHS) shows that in the week to Christmas Day, A&E departments dealt with 22,892 patients. Of those, 9,862 waited more than the four-hour target time – with 4,156 patients in A&E for eight hours or more.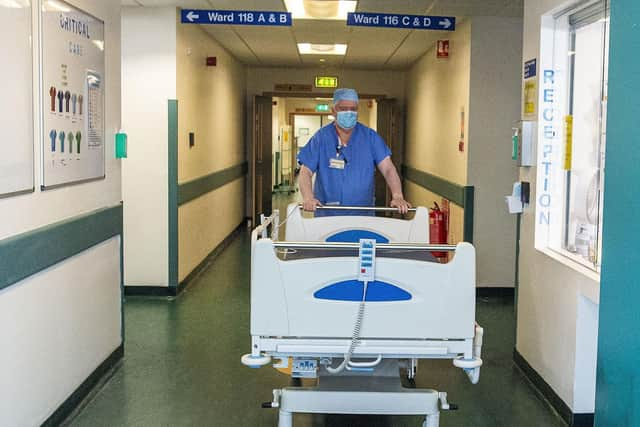 A total of 1,925 patients waited for a minimum of 12 hours – up from 1,821 the previous week. PHS said the figures would be an under count as data for both NHS Ayrshire and Arran and NHS Borders was missing.
Tory health spokesman Sandesh Gulhane insisted: "Enough is enough. Nicola Sturgeon must take her fingers out her ears, sack Humza Yousaf and recall Parliament to outline emergency measures to ease this unprecedented crisis."
He said the "appalling figures lay bare the crisis in Scotland's A&E wards under Humza Yousaf's inept leadership".
Dr Gulhane said: "Despite the Herculean efforts of frontline staff, waiting times in our emergency departments are unacceptable due to years of dire workforce planning by successive SNP health secretaries, as well as the flimsy recovery plan of the current one.
"We can't tolerate a situation where almost 2,000 patients are waiting over half-a-day to be seen, because we know these delays lead to needless loss of life. Senior medics are voicing their concerns about patient safety almost daily, while health boards have resorted to begging staff to cancel leave to help deal with the demand."
Statistics for November, also released by PHS, show that over the course of the month, 67.5 per cent of patients in A&E were dealt with within four hours.
But more than one in ten (11.1 per cent) – or 13,265 patients – spent eight hours or more in the emergency room, with 5,273 (4.35 per cent) of patients there for 12 hours or longer.
Commenting on the figures, Mr Yousaf said: "We know that this is one of the toughest winters in the NHS's 74-year history and the latest A&E figures clearly demonstrate the challenge our health service is facing.
"We are dealing with flu, which has been classified at extraordinary levels, with cases admitted to hospital the highest in five years. We also had to deal with rising cases of Strep A and other respiratory viruses which has resulted in significant demand on services."
The health secretary explained delayed discharges – where people have to stay in hospital despite being medically well enough to leave as they await a care package – continue to have a "major impact in driving up A&E waits".
He said the Scottish Government was working with health boards "to ensure people leave hospital without delay, freeing up vital beds for those who need them most".
Mr Yousaf continued: "In October we published our £600 million winter plan, which will see us recruit 1,000 new NHS staff. Our £50m urgent and unscheduled care collaborative looks to drive down A&E waits through hospital at home and our out-patient antimicrobial therapy service, which allows patients to be treated at home or in the community.
"Emergency care is always available for those who need it. However, many people are seeking help with common winter illness and NHS Inform have useful self-help guides to let everyone know when to stay home and when to seek more care.
"If you do think you need to visit A&E, but it is not an emergency, you can contact NHS 24 where you may be referred to a more appropriate urgent care service. Local GPs and pharmacies can be also be contacted as a first port of call for non-critical care."
Comments
 0 comments
Want to join the conversation? Please or to comment on this article.