NHS Scotland Covid status issues: App named 'instant shambles' as users 'unable to sign in' and report issues with vaccine passport day before requirement
Scotland's newly launched vaccine passport app has been branded a shambles after being hit by technical problems.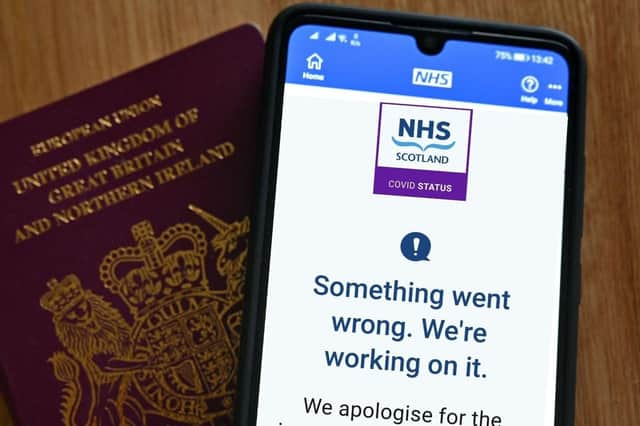 The NHS Scotland Covid Status app was made available to download on Apple and Android devices on Thursday afternoon.
From 5am on Friday, people attending large events and nightclubs will need to show proof they have had two doses of vaccine using the app before they are allowed in.
But just hours after the app's launch, comments circulating on social media suggested many users have been unable to register on it.
Dean of the Faculty of Advocates, Roddy Dunlop QC, described the app as the "worst I have ever tried to use".
He wrote on Twitter: "I am not prone to hyperbole. I promise.
"And I instantly recognise that I was originally instructed to challenge the introduction of covid passports and so am not neutral.
"But try the app; look at the comments below. This is, literally, the worst app I have ever tried to use."
One Twitter user posted: "Didn't matter if I had my NHS number or not, 'no match found' is all I get."
Others shared screenshots showing they were unable to get past the first log-in page.
The Scottish Government said the large volume of people accessing the app at once could be a reason behind the glitch.A Scottish Government spokesperson said: "Some people may be experiencing issues which are likely to be caused by extremely high initial traffic and a large number of users trying to access the app at once.
"We advise people whose data is not found to try again a couple of hours later."
The launch came on the same day the Night Time Industries Association (NTIA) Scotland lost a legal bid to delay the rollout of vaccine passports.
Following consultation with businesses affected, the Scottish Government confirmed a grace period has been agreed which means the scheme will not be legally enforced until October 18.
The legal requirement for businesses to keep information about certification status confidential and not use it for other purposes came into effect on Friday.
Political opponents described it as an 'instant shambles' from the SNP Government.
Murdo Fraser, Scottish Conservatives shadow Covid recovery secretary said: "The SNP only got this app launched at the very last minute and sure enough, within hours, it stopped working for hundreds of people.
"This instant shambles sums up the SNP - they just don't deliver."
Jackie Baillie, Labour's health spokeswoman said: "The launch of the Covid status app has been a complete shambles.
"It is typical of the SNP to rush this out when it clearly doesn't work."
Speaking about the app's launch, Deputy First Minister John Swinney said: "We know from expert public health analysis that we must do all we can to stem the rise in cases and reduce the pressure on the NHS.
"Vaccine certificates have a role to play as part of a wider package of measures. They add a further layer of protection in certain higher risk settings.
"This is a very limited scheme and we hope this will allow businesses to remain open and prevent any further restrictions as we head into autumn and winter.
"I would encourage people to download the NHS Scotland Covid Status app and help our drive to keep the virus under control.
"Scotland is not unique in introducing such an approach. Certification schemes are in place across Europe, including Ireland and France, and the Welsh Government is also planning similar measures.
"I also want to ensure that as many people get vaccinated as possible and particularly to increase uptake in the younger age cohort, so anything that helps to incentivise that is helpful."
There are currently no plans to introduce certification for the wider hospitality industry but this will be kept under review over the autumn and winter months, according to the Scottish Government.
Exemptions to the scheme include the under-18s, participants in vaccine trials, as well as people who cannot be vaccinated for medical reasons and people working or performing in the venues.
Dr Christine Tait-Burkard, an infection expert at Edinburgh University, told BBC Radio Scotland's Good Morning Scotland programme on Friday that the vaccine passport plan "may persuade some of the hesitant people" to get jabbed, although she also revealed she had been unable to get the new app to work herself.
Dr Tait-Burkard said: "Larger studies on international travel showed that [proof of vaccination] is increasing the vaccine uptake between 5% and 10% in the younger generation, which is exactly what we need.
"And in France, we see that the more day to day life gets curtailed by the need of having a vaccine passport, that has again driven uptake very clearly."
What are the issues with the app?
The app requires users to scan their driving licence or the photo page of their passport, and then goes through a face ID verification stage and asks them to confirm their personal details like name, date of birth and postcode.
One user took to Twitter saying: "Tortuous process to register. Two attempts unsuccessful, No help facility. Please fix. #shambles"
Another tweeted: "I've been trying for the last hour to get the new NHS Scotland Covid Status app to recognise me without success.
"This has to be one of the worst apps I've ever had the misfortune to attempt to use.
"I work in IT so I'm not an ignorant user."
Another user said: "Anyone managed to successfully use the NHS Scotland Covid Status app? Having an existential crisis here."
The app is meant to allow users to display proof of their covid vaccine status to access the likes of nightclubs or large events.
The app, or a per version of a vaccine certificate, will be needed to enter some events and venues, such as nightclubs, from Friday in Scotland as the Scottish Government roll out the vaccine passport requirements.
A message from the Editor:
Thank you for reading this article. We're more reliant on your support than ever as the shift in consumer habits brought about by Coronavirus impacts our advertisers.
If you haven't already, please consider supporting our trusted, fact-checked journalism by taking out a digital subscription.
Comments
 0 comments
Want to join the conversation? Please or to comment on this article.