Under the new rules, household contacts of people with any positive Covid test will have to isolate for ten days, regardless of vaccination status, or if they return a negative PCR test.
Ms Sturgeon said that the variant was set to "run riot" through the Scottish population in the coming weeks, with the worst case scenario modelling 25,000 cases a day, but warned that if even a small percentage of people who test positive need hospital treatment, the virus could could overwhelm the NHS.
The news came as the government confirmed people should cancel work Christmas parties in a bid to reduce the spread, sparking calls for financial support from hospitality businesses.
Cases jumped overnight to 5,018 – from an average of 2,800 cases a day in recent times. Ms Sturgeon said that even at the beginning of the pandemic, Covid had never had a doubling rate of as little as two days.
Scotland's chief medical officer, Dr Gregor Smith, said that the "attack rate" from the virus was over 50 per cent, meaning that in a room of 100 people, if there is one Omicron case, at least 50 people could subsequently become infected. The "R rate" of Omicron is believed to be between two and three, which means that the average person with the virus infects another two or three. The R rate of previous Covid strains in Scotland has been at around one for some time.
The First Minister, along with other UK nations leaders, was taking part in an emergency Cobra committee meeting on Friday afternoon, to discuss coordinating the Covid response across the UK. Meanwhile, the Scottish cabinet is due to meet on Tuesday, where they will consider what further restrictions – if any – will be introduced.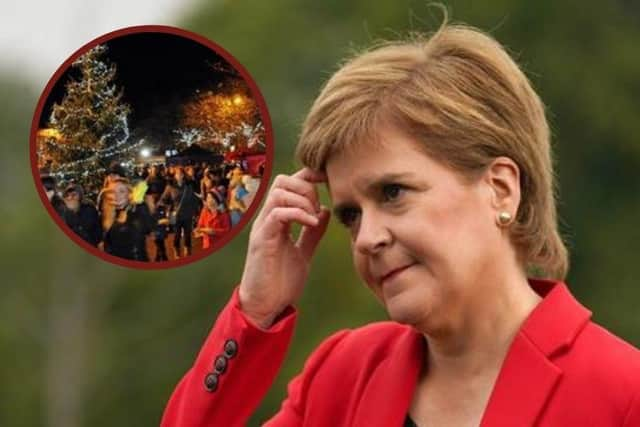 Ms Sturgeon said she would look at implementing any further restrictions "as a last resort". She also said she had no current plans to impose any travel restrictions, despite a higher prevalence of Omicron in some areas of Scotland.
Ms Sturgeon told the briefing: "The fact is, we do face a renewed and very severe challenge in the face of the new Omicron variant. To be blunt, because of the much greater and faster transmissibility of this new variant, we may be facing - indeed we may be starting to experience - a potential tsunami of infections.
"Omicron right now is rising exponentially, indeed what we are seeing in the data just now is perhaps the fastest exponential growth that we have seen in this pandemic so far. If that continues, and we have no reason at this stage to believe that it won't, Omicron is going to very quickly overtake Delta as the dominant strain in Scotland."
She added: "It underlines our fear that a new wave may indeed be starting."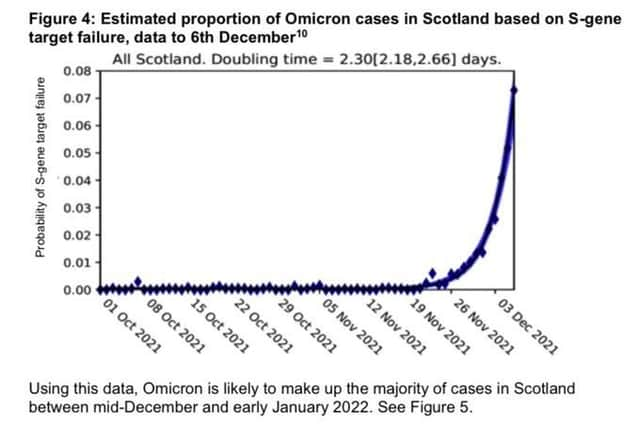 A document published by the Scottish Government this morning said Omicron was set to become the dominant coronavirus variant in Scotland within weeks, or even days. It said the latest data, up to Thursday, shows there have been 109 confirmed, 48 highly probable, and 938 possible Omicron variant cases reported in Scotland, a total of 1,095.
Ms Sturgeon said: "Indeed, I think we can now say with some confidence that we expect it to overtake Delta within days, not weeks - we estimate this could be as early as the very beginning of next week."
Suspected cases of the variant are identified due to an "S gene drop out", which is indicative of Omicron even without full genomic sequencing, as the previous dominant variant, Delta, did not have the indicator, so any new cases demonstrating the feature are likely to be Omicron. Suspected cases are subsequently sent for full testing.
The First Minister said that the fact Omicron is likely to become dominant soon meant that the new rules surrounding household isolation need to apply to all cases from tomorrow.
She said: "Given that Omicron is now becoming dominant, our response to it has to become more general, because it will quickly be the case that most people do have Covid have the Omicron variant.
"Our advice will be that all household contacts of any confirmed Covid case should isolate for 10 days, regardless of the vaccination status, even if they initially get a negative PCR test."
She also stressed that although evidence suggests Omicron can evade some immunity conferred by vaccines, people should still get jabbed.
Scottish Labour's health and Covid recovery spokesperson Jackie Baillie said: "This is a stark warning about what may lie ahead. We are right to be cautious when there is a real risk of the NHS being overwhelmed.
"Every effort must be made to help people, businesses and public services get through this challenging period. We need to ramp up efforts to get everyone fully vaccinated as a matter of urgency, and if businesses are going to be affected it is absolutely vital that they get the support they need."
She added: "Scottish Labour are clear that public health must be protected, and our response must be firmly rooted in the evidence."
A message from the Editor:Thank you for reading this article. We're more reliant on your support than ever as the shift in consumer habits brought about by coronavirus impacts our advertisers.
If you haven't already, please consider supporting our trusted, fact-checked journalism by taking out a digital subscription.