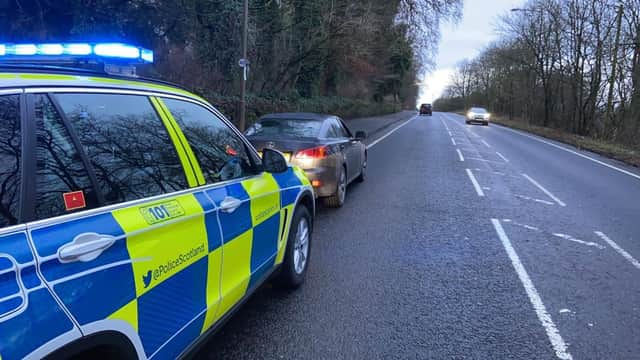 Driver stopped in a previous Police Scotland operation.
Police Scotland said there would be no let up in its traffic patrols on the lookout for errant motorists.
Chief Inspector Mark Patterson said: "It is not a free for all".
He said that vehicles appeared to be travelling at "slightly higher" speeds in Edinburgh's 20mph zones.
But he said vehicles might appear to be going faster because there was less traffic on the roads.
Complaints on Twitter have included @thebonnieloon tweeting: "Had to cycle to work today. Most drivers speeding and not by small margins.
"I rather these idiots not be given free reign to put themselves or others in hospital.
"I was out in west and central Edinburgh and speeding was present everywhere.
Chief Inspector Mark Patterson.
"Worst was Russell Road [in Roseburn]. Used by drivers as a rat run but connects cycle paths."
Another tweet, from @auntywoo, said: "Brighton Place [in Portobello] this morning was frightening - v v fast white van nearly knocked my socks off and I was on the pavement!"
Charlie Wood tweeted: "Was waiting to cross with kids last night and a couple of cars burned through at maybe 50mph.
"Second one on a red light. The green man may have been on by the time he went through."
Chf Insp Patterson said there was had been no evidence of an overall increase in speeding.
However, those who broke the limit continued to be caught, such as a driver doing 94mph on a 70mph-section of the A90 near Aberdeen last night.
The road policing officer said: "It is still business as usual and all our crews are out there.
"We will still deal with offences involving poor driving behaviour exactly as we have done before.
"We will continue to detect and charge people for breaking the speed limit, and careless and dangerous driving.
"Speed is one of the major contributory factors in crashes."
Transport Scotland reported this week traffic levels had fallen by 75 per cent compared to normal.
The IAM RoadSmart motoring group called on drivers to send dash cam footage of speeding and other bad driving to police.
Neil Greig, its Scotland-based policy and research director, said: "Whilst we don't condone speeding, it is a well-known fact drivers take their driving speed selection cues from the road environment, so if it is quieter, speeds will almost inevitably creep up.
'Selfish top-end speeding continuing'
"There is no current evidence that crashes are increasing and they will almost certainly have reduced as traffic declines, which will have taken some pressure off the emergency services.
"In our view, the really selfish top-end speeding is still being undertaken by a minority of anti-social drivers who would behave like that anyway.
"The only way to stamp this out is via a higher police presence, which unfortunately risks diverting resources from other activities in this time of crisis.
"We would encourage any driver with a dash cam who sees anti-social behaviour on our roads to submit their evidence via the numerous official portals that are now available and the police can feed it into their intelligence systems."