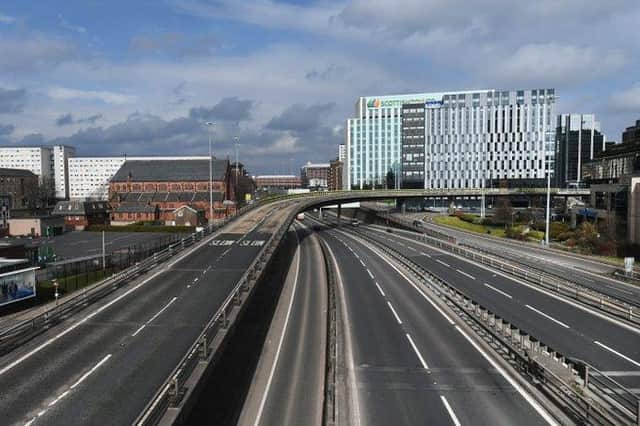 The empty M8 in Glasgow. Picture: John Devlin
Transport secretary Michael Matheson applauded people for the "substantial" reduction last week.
The new Scottish Government agency figures follows rules to combat the spread of the coronavirus that have limited the type of trips people are permitted to make.
They showed the average number of journeys per person per day has fallen from 2.7 to 0.85 in the week to Sunday compared to normal.
Travel by bus – by far Scotland's biggest public transport sector – has fallen by up to 85 per cent.
Train, plane and ferry journeys are down by 80 per cent.
CalMac said traffic had come down by 95 per cent since last week on its west coast routes.
It carried just 2,593 passengers compared to 57,233 over the same period last year.
Transport Scotland said car journeys across the country have been reduced by 75 per cent.
Journeys on the Glasgow Subway are down by 95 per cent.
The reductions are believed to have contributed to a significant fall in emissions.
The Air Quality News website has reported that Edinburgh saw the biggest fall in nitrogen dioxide among eight British cities, including London, on Tuesday 24 March - the day after the new travel rules were announced.
Levels of the pollutant were down in the Scottish capital by 60 per cent compared to a year ago.
Mr Matheson said: "People are changing their travel patterns to help reduce the spread of coronavirus and we've seen a real dip in car use and public transport use across the country.
"I want to thank all those people right across Scotland who are following the guidance to stay at home to protect the NHS and save lives.
"What we are asking of people is difficult - but I would again ask we all continue to follow this guidance and we limit travel only to those essential trips.
"I want to again thank our public transport and road workers, who are enabling others to make those essential journeys every day.
"By keeping the country moving, you are helping NHS staff, supermarket staff and other key workers get to where they need to be as we respond collectively to the Covid–19 outbreak."