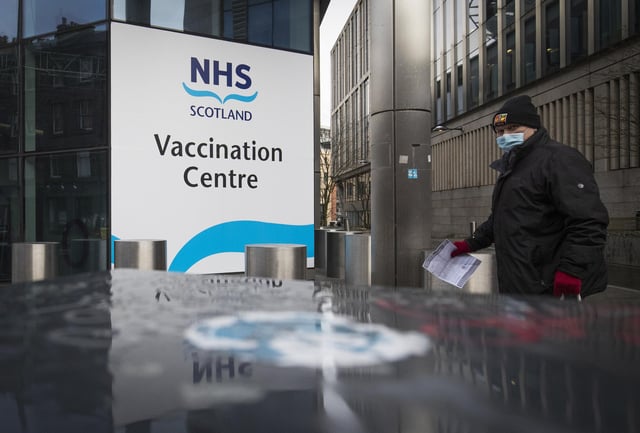 A member of the public outside the main entrance to the coronavirus mass vaccine centre at the Edinburgh International Conference Centre. Picture date: Monday February 1, 2021.
The rollout has seen a slowing in pace in recent weeks due to a drop in supply from Pfizer, with weekly vaccination figures around half of what they reached during their peak in mid-February.
Asked when the Scottish Government might hit the target of 400,000 vaccinations which it had originally intended to reach by the end of February, Mr Swinney said the rollout was expected to ramp up from the beginning of next week.
The speed of the rollout depends completely on supply, the Deputy First Minister said, adding that it is unlikely Scotland will be able to increase the speed of rollout beyond 400,000 jags a week, which he described as its "maximum strength".
"What I would reassure members of the public now, which I think is pretty clear from the evidence, is that we have a vaccination programme which is strong and can deliver at these levels," he said.
"Vaccine supply has been more limited in the course of the last few weeks, but we expect that to improve by the start of next week so I think we'll see further progress in relation to the vaccination programme."
So far 1,774,659 Scots have received a first dose of Covid-19 vaccine, while 118,732 have been given a their second dose.
Mr Swinney said in early February the programme had been operating at its "maximum strength", "when vaccine supply was strong, and when the network of vaccination centres was fully up and running and able to perform."
Mr Swinney said the Scottish Goverment had got "very close" to its target of 400,000 jags a week.
The highest weekly vaccination total so far was during the week of February 8 to 14, when 392,000 doses were delivered.
First Minister Nicola Sturgeon and Health Secretary Jeane Freeman previously claimed the 400,000 target had been surpassed during that week, but later admitted that the total had been just below that figure.
Asked if the rollout could be increased to above 400,000 doses a week if supply allowed, Mr Swinney said it is unlikely that supply will stretch that far.
"Of course it could be expanded, but crucially supply is the issue we have to be mindful of," he said.
"We've demonstrated, because of the performance a number of weeks ago, that we've got the infrastructure in place to utilise supply where its available, and the priority for us is to make sure that we've got that sustained, regular supply, that enables us to operate at the highest levels of performance of the programme, which we've demonstrated that we're able to do.
"We've got an outline of what supply is expected to come to us, and therefore our infrastructure will be constructed to ensure that we can use that efficiently and effectively in a sustained fashion.
"If there was an opportunity for us to be able to accelerate vaccination, then believe you me, the government would want to do that. We have no interesting in anything other than vaccinating as quickly and as early as we possibly can do, but we have to have the supply to be able to do that."