National clinical director Jason Leitch has issued a letter to the parents and carers of all primary and nursing age children ahead of the return, assuring them that younger children are "less likely to get or pass on the virus".
But Dr Deepti Gurdasani, epidemiologist and senior lecturer at Queen Mary University of London, said the reassurance given by Prof Leitch was "wrong" and the conclusion that young children are less likely to transmit the virus is based on "flawed" and "biased" studies, which ignore asymptomatic cases in children.
And she called for face masks to be worn by younger children from the age of six, and for increased focus on ventilation – including the use of air purification devices – as well as smaller class sizes and rules against teachers moving between "bubbled" groups of children.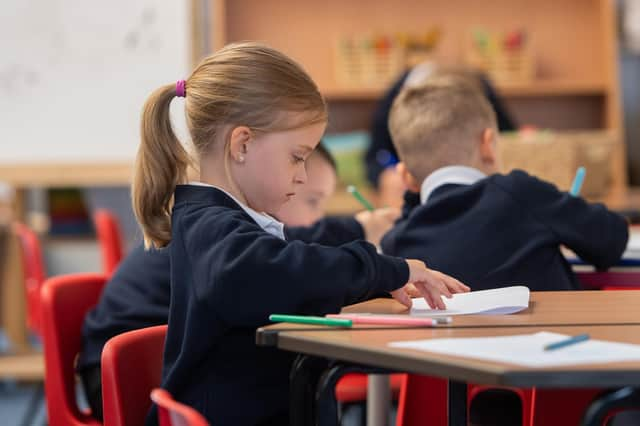 Dr Gurdasani said the return of some children without extra measures in place to reduce transmission was "really concerning".
Face masks will be worn by staff and older children, a small number of whom are returning to complete practical work for qualifications.
"We are seeing in England that even with one in five children in primaries, primary age children have the highest prevalence across all groups," she told the BBC's Sunday Show.
"We are still seeing a significant number of outbreaks in primary school settings and in pre-school settings. Given all of that, it's wrong that primary schools don't really contribute significantly to transmission.
"Even our own data from the Office of National Statistics shows that primary school children in England were twice as likely as adults to be the first case in a household and once infected were twice as likely to infect their contacts."
Dr Gurdasani added: "We know that children are more likely to be asymptomatic, so if you only test them when they are symptomatic you're going to miss a lot of transmission that is happening.
"Studies that are less biased like the Office of National Statistics survey … really capture this transmission and show us that there is a lot of transmission that we are not picking up with these studies."
Responding to the comments, education secretary John Swinney said the return of some pupils was safe.
He said there was always "scientific debate" about all evidence.
"I do believe it is safe to do what we're doing tomorrow," he said.
"I base that view on the very detailed clinical analysis that's been prepared for us by our education clinical advisory group that was published earlier on in February. What that demonstrated was that younger children are much less susceptible to transmission of this virus.
"The rates of infection amongst the youngest children, who will be the ones primarily going back to school tomorrow or back to early learning or childcare, are half those of the general population."
Mr Swinney added: "There's always a scientific debate about almost all questions, that's the nature of science. What we've done is invest a great deal of time and attention in the scientific research and analysis that's produced for us, specifically on education and childcare issues."
A message from the Editor:Thank you for reading this article. We're more reliant on your support than ever as the shift in consumer habits brought about by coronavirus impacts our advertisers.
If you haven't already, please consider supporting our trusted, fact-checked journalism by taking out a digital subscription.