Coronavirus in Scotland: 'Care homes aren't just for older people' - families of disabled Scots feel 'ignored' by visiting rules
Hollie Sutherland used to leave her care home almost daily, going to day services or on outings with her parents, sisters or baby nephews and niece.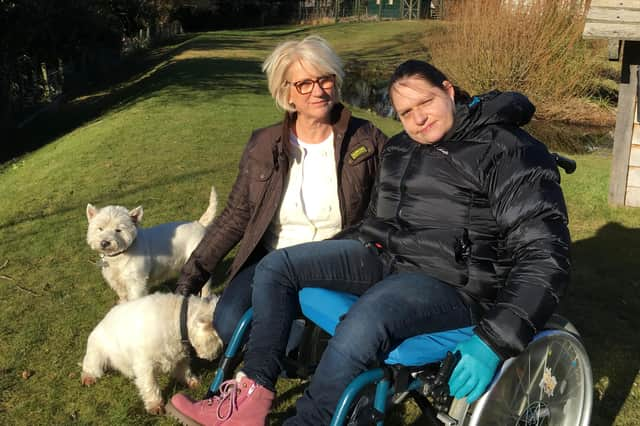 But now the 36-year-old, who has specific support needs, hasn't been able to leave the home for a year.
"It feels like I am a prisoner," she said in a voice memo sent to the Scottish Government asking for a change in restrictions around care homes.
"I feel stuck in here and it's hard to keep it together [...] I feel like I've lost my family."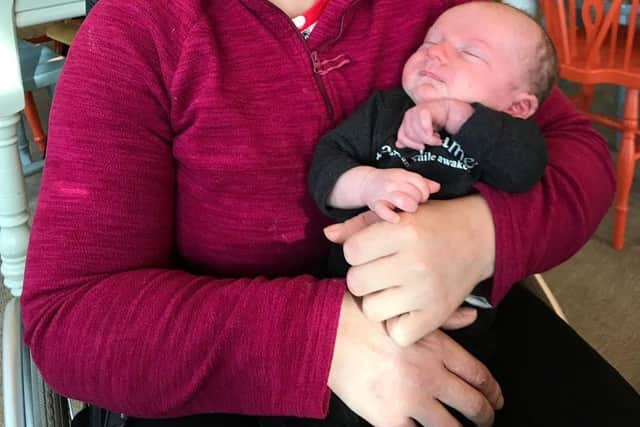 Ms Sutherland is one of many younger Scots who live in care homes because of a range of different needs, several of whose families feel they have been "left behind" in the debate around care homes for older people, and want guidance to be changed to allow them to see more of their children.
"Many mums like me feel we have been almost forgotten about, we're kind of invisible in this pandemic," said Verona Gibson, Ms Sutherland's mother.
"Most care homes are full of elderly people, but the problem is there are many younger people living in different types of residential settings for all sorts of different support requirements, and that's the group I feel hasn't had a huge amount of coverage."
Clare White's daughter Philippa, 18, who has learning disabilities and is non-verbal, also lives in a care home.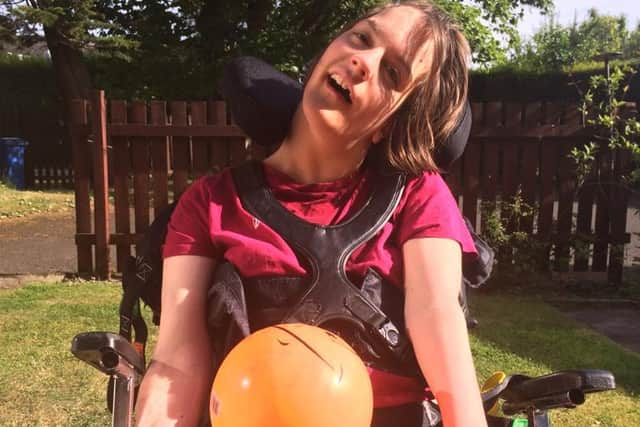 There are "quite a few differences" between her situation and that of older people in care homes, Ms White said.
"I think there needs to be an awareness, and I think what has been highlighted is how we approach disability in general," she said.
She has been able to visit her daughter outside, but finds it hard to explain why social distancing measures are in place.
Video calls are "no substitute", she added, especially as Philippa is non-verbal.
"She's not getting that intimate contact with family that everybody needs."
Ms White wants to see a designated visitor treated as if they were a member of staff, able to visit with the appropriate PPE and testing, but providing part of their relative's care.
Both mothers emphasise that care home staff have done their utmost to support their daughters through the pandemic.
"I'm quite confident Philippa is well looked after, and is happy," said Ms White.
Lorraine MacKenzie, whose son David, 42, lives in supported accommodation, feels that he has been "lumped together" with those in care homes, despite his situation being different.
She has been able to visit him, but also outside and at a distance.
"It just seems to be going on and on and on," she said.
"I feel as though his mental and emotional health has suffered, and also his physical health, because obviously all the activities that he used to go to have all closed down."
She feels "powerless", and ignored.
"They [the Scottish Government] are so hell bent on getting children back to school and getting people back to work - which is fair enough - but they've not given any thought to people like my son, and many others who are separated from their parents and their families, and I think it's very cruel to be honest."
"We're being told we can visit when it's safe to do so, but how do you measure when it's safe to do so?" said Ms White.
"You can have managed risk, which is what we're asking for. It's being done in various other places but the welfare of the residents doesn't seem to be attracting the same level of concern.
"It's finding that balance that we are concerned is not being dealt with and is not being looked at properly. There just seems to be a blanket 'no' without any real justification."
In an email to care home providers sent last week, the Scottish Government's director of mental health Donna Bell said that new guidance around care home visiting will soon be published, and will increase allowances for indoor contact.
A series of workshops around the new guidance have already been organised at care homes, but Ms Bell added that an "incremental" approach will be taken to increasing contact.
Many family members have also called for their disabled relatives to be prioritised for a Covid-19 vaccine, including author Ian Rankin, whose son Kit has a learning disability.
The fact that her son is in group six of the JCVI vaccine priority list, for which rollout is expected to begin in March, "doesn't make sense" to Ms MacKenzie.
Asked about care home visiting in Parliament last week, First Minister Nicola Sturgeon said that of all the difficulties brought by Covid-19, the "cruel" separation of family members and relatives in care homes had been one of the worst.
"We want to get to a much better position as quickly as possible, but we must do that carefully and we must do that in a way that prioritises the safety of those residents and everybody who works in a care home environment," she said.
Family members are hoping for meaningful change, and soon.
"I'm exhausted [...] this is sucking the energy out of almost everybody that's involved in having to battle with it," said Ms Gibson.
"I need to know what needs to happen to allow my daughter to leave the care home, and I don't really know what the criteria are - they seem to keep changing, vaccines are coming, but then it seems to be something else.
"The discourse needs to change - from why things can't happen, to how to make things happen."
A message from the Editor:
Thank you for reading this article. We're more reliant on your support than ever as the shift in consumer habits brought about by coronavirus impacts our advertisers.
If you haven't already, please consider supporting our trusted, fact-checked journalism by taking out a digital subscription.
Comments
 0 comments
Want to join the conversation? Please or to comment on this article.