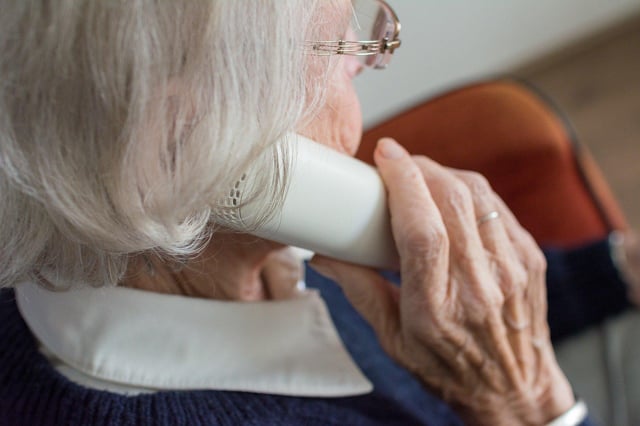 Thousands of calls went unanswered during the helpline's busiest period
The helpline is intended to allow members of the public to re-book vaccination appointments, ask for information, or request an appointment if they are eligible but have not received one.
But during the period of bad weather between February 5 and February 11 the helpline received 10,000 more calls than staff were able to answer.
Those who got through did so after waiting "longer than they should have", the Scottish Government acknowledged.
On the busiest day, Tuesday February 8, more than 36,000 calls were made, with one in five not answered.
Some 850 calls went unanswered on February 6, with 1,200 calls not picked up on February 10.
National Services Scotland, which operates the helpline, said the method of answering calls was changed after February 11 in response to the low answer rates.
The issue of people not getting through to the line was raised by Labour's Jackie Baillie in Parliament in early February but did not receive a response from Nicola Sturgeon, despite the First Minister repeatedly advising members of the public to call the helpline.
Ms Baillie labelled the new figures "inexcusable".
"These figures really highlight the scale of the problem and the amount of worry around the vaccination timetable," she said.
"Constituents have been in touch telling me that they simply cannot get through to the vaccine helpline, and it is inexcusable that so many calls are going unanswered.
"People are anxious to know when they will receive their vaccination but when they turn to the place that the First Minister has assured us will be able to help, they are met with silence.
"I raised this very issue in the parliament last month with the First Minister. However, I have still to receive a satisfactory response. Once again, the SNP promises a lot but delivers little."
Scottish Conservative Shadow Health Secretary Donald Cameron said the Scottish Government must "make sure the vaccination helpline always offers a first-class service."
"The helpline is key to getting more people jabbed and it must be accessible and easy to use at all times," he said.
A spokesperson for National Services Scotland said: "February 8 was the day after very heavy snowfall and there was a huge increase in the number of people phoning to rearrange vaccine appointments.
"Many of those chose to hang up rather than hold on after being told there were a large number of people ahead of them in the queue.
"However, those issues were swiftly resolved and an improved model was identified and implemented within 72 hours."
A Scottish Government spokesperson said: "Due to the bad weather in early February, we saw an exceptionally high number of people calling the helpline to rebook appointments which led to longer waiting times than we would have liked.
"Our statistics showed that many people, when informed about the waiting times hung up early, presumably to try again later. We acknowledge that the times people were waiting to get through was longer than it should have been and have subsequently reviewed our processes and staffing model, and now most calls are answered in under 10 seconds, with the maximum wait around two minutes."
A message from the Editor:
Thank you for reading this article. We're more reliant on your support than ever as the shift in consumer habits brought about by coronavirus impacts our advertisers.
If you haven't already, please consider supporting our trusted, fact-checked journalism by taking out a digital subscription.