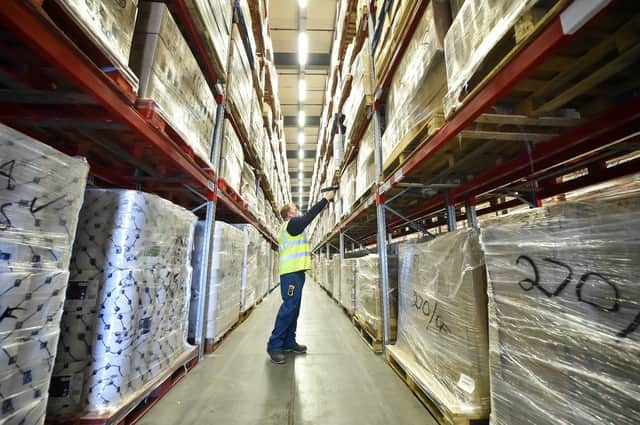 Indeed said employers are increasing their efforts to hire for roles that help keep warehouses stocked. Picture: Ben Birchall/PA Wire.
It said it analysed hundreds of thousands of job ads across its platform to assess how employer demand for roles has changed since 31 January, the day the UK confirmed its first cases of the virus.
Postings for order-pickers – warehouse-based workers responsible for selecting, packing and sorting items for delivery – grew by 31 per cent in the period ending 18 March, for example.
Additionally, as of that date searches for vacancies at the largest supermarkets had surged by 318 per cent as a share of all job searches on Indeed compared with their average level over the past year. It was also discovered that some of Britain's biggest supermarkets have posted the most driving job vacancies in the last four weeks while inventory and courier services have added the most warehouse roles.
However, Indeed saw job postings in the UK travel and accommodation sectors fall by 22 per cent while the food and beverage sector saw trends in postings fall by 12 per cent.
Pawel Adrjan, head of Europe, the Middle East and Africa research at Indeed, said: "Britain's jobs market is already being transformed by the Covid-19 pandemic as people adapt to new realities in their lives. One early sign of change is that some employers are increasing their efforts to hire for roles that help keep shelves and warehouses stocked, and essential goods delivered to businesses and homes."As millions of livelihoods may be affected by the pandemic, these jobs may not keep the entire labour market afloat. But they could be a temporary lifeline for some of those affected by the sudden economic slowdown, while we await more information about the spread of the pandemic and about further government support for struggling households."These are anxious times for many people, who are dealing with the disruption of their working conditions, reduced hours and doubts over their job's security. Inevitably, some will seek new jobs and the surge in searches for supermarket jobs highlights how quickly people have reacted in these fast-changing times."