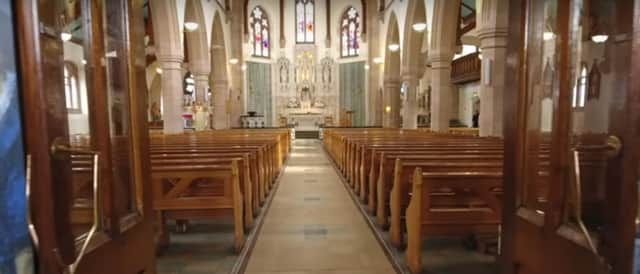 The young parishioner diagnosed with Coronavirus is known to have recently attended a large-scale mass at the at St Augustine RC Church in Coatbridge. PIC: YouTube.
Members of the congregation at St Augustine RC Church in Coatbridge were informed of the development in a letter sent by Reverend Father Michael Kane, the Parish Priest.
He learned of the Coronavirus case just before the 12 noon Holy Mass with the church immediately closed to prevent any further spread among parishioners.
The letter said: "Just before the 12 noon Holy Mass today I received confirmation that one of our young parishioners has tested positive for the Coronavirus (COVID-19).
"It was also confirmed that this individual attended a large-scale Mass in our church in recent days.
"I should stress that the young parishioner in question is not seriously unwell."
The church was closed following consultation with Bishop Toal, the Ordinary of the Diocese of Motherwell.
"This decision has been taken with a heavy heart, but with the sole purpose of protecting the health of our parishioners," the letter added.
The church, which is also used by the neighbourin primary school, will undergo a deep anti-bacterial clean with no public masses or services to be held until further notice.
Parishioners have been told they can celebrate the sacraments on the church's website.
The letter added: "Above all, we unite in prayer that the Lord and his Blessed Mother will guard and watch over all of us in this time of uncertainty. We pray especially for our young parishioner at this difficult tie, asking for the strength and consolation of God's healing grace."