ADHD medicine shortage: When medicine will be back in stock, and what to do if you run out
Pharmacists in Scotland are experiencing a shortage of ADHD medication, which is leading to patients missing work and education.
A global shortage of ADHD medication - partly fuelled by a recent surge in diagnoses - has led to sufferers missing work and education, according to leading pharmacists.
Supplies of methylphenidate, lisdexamfetamine and guanfacine are running low due to a worldwide decrease in manufacturing facilities and an increase in global demand.
Health boards in Scotland have issued warnings to patients, advising them of where to source alternative medications and how to manage their symptoms if unmedicated.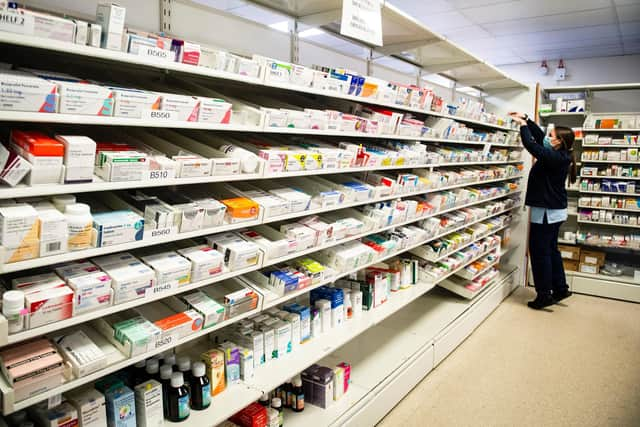 One such alert, from NHS Grampian, reads: "There are currently significant shortages of many of the medications we prescribe for the treatment of ADHD.
"This issue affects the whole of the UK, not just Scotland, and thousands of children, young people and adults are being affected by this.
"This shortage has been caused by multiple factors, including changes to manufacturers, reduced production of some medications, delays in distribution and increased demands on stocks of medication with rapid rises in the numbers of ADHD diagnoses made."
Laura Wilson, the Royal Pharmaceutical Society's Scotland director, said the college has been contacted by patients who can't go to work or study without the medication,
"Medicines which are used to treat ADHD are required by people to be able to carry on with their day to day life, in ways that most of us take for granted," said Ms Wilson.
"It's something that can have a profound effect on people's life, and many use medicine to allow them to go to work, to go to university and to carry on, on a daily basis."
Dr Jane Morris, the chair of the Royal College of Psychiatrists in Scotland, said: "When someone has been properly and thoughtfully diagnosed with ADHD there is really only one treatment that has a clear, evidence-based effectiveness - and that's some form of medication.
"Usually that's one of the psycho-stimulants but there are other medications too.
"This [shortage] is an international thing, not just Scotland wide or even UK wide, it's not something a pharmacist or a doctor can do anything about. It's a recognised international shortage."
On ADHD itself, Dr Morris said the condition "now seems to continue into adulthood for many people", which means there are some people who are diagnosed in later life, and who will need to continue with medication into adult life.
Dr Morris added that "a major factor" in the shortage is the increase in diagnoses.
"In adults we now have seven times the rate of prevalence that we did ten years ago. That's not because prevalence has increased, but because awareness has increased."
However, Dr Morris warned that it is "not always the case that people are seeking medication through the NHS", and that a "black market" of private healthcare providers giving false ADHD diagnoses exists to feed off the increased awareness of the condition.
The major symptoms of ADHD are hyperactivity, impulsivity, and poor concentration.
Most psychologists, psychiatrists and paediatricians in Scotland, and in the UK, use the DSM, the Diagnostic and Statistical Manual [of Mental Disorders] version five, or the ICD (International Classification of Diseases) 11 version.
Diagnosis depends on functional impairment - the symptoms must affect a patient's relationships, occupation, academic learning, well being, or mental health to qualify for a diagnosis.
One in two people, with a neurodevelopmental condition such as ADHD, autism, or dyspraxia develop depression and anxiety.
It is thought just 3.5 per cent of the adult population of the UK has ADHD, with a much lower figure actually receiving treatment.
Asked what patients experiencing a shortage of their medication can do, Ms Wilson said: "Pharmacists are experts in medicine, so we would want patients to come and speak to us if they're concerned they're either going to run out or have run out.
"Pharmacists can advise on appropriate alternatives, if there are any.
"Health boards have issued guidance for patients and for staff about the most appropriate options for people.
"In Scotland we're quite fortunate that, for certain medicines we can substitute alternatives."
However, health boards such as NHS Grampian have warned that the shortage is having a knock-on effect on alternative medications.
"Mental health staff, GPs and pharmacy staff cannot guarantee supplies of each of these medications, and for many there are no alternative brands available that can keep up with demand," a warning from NHS Grampian reads.
"Switching every person's medication to an alternative product is not an option at this time and is already leading to wider supply issues for all as it spreads out the problem.
"It is neither safe nor practical to change everyone's medication on a frequent basis. We appreciate your support with this by minimising, where possible, multiple contacts across different services."
Ms Wilson added: "I think the important thing is for people to not suffer on their own if they're concerned they are running out.
"We have been told that some of these products will be back in stock towards the end of November, some in December."
Dr Morris added: "Although it's sometimes hard to admit to employers, but if you're an adult with ADHD and you're struggling to get a supply of your medication, it may be worthwhile to admit to your employer that you've suddenly gone off.
"One other thing to say is that one of the few bright spots is that it doesn't cause any harm to take breaks from medication."
Comments
 0 comments
Want to join the conversation? Please or to comment on this article.