Exclusive:

Violence schools Scotland: SNP ministers warned school behaviour crisis will get worse if S4 exams are axed

Expert believes exams generate 'a degree of motivation which teachers are reluctant to lose'
Scrapping pupil exams would lead to a fresh rise in disruptive and violent behaviour in Scottish schools, ministers have been warned.
Carole Ford, a former president of School Leaders Scotland who was head teacher of Kilmarnock Academy, feared both standards and behaviour would "deteriorate" further if the Government backs calls to axe exams for S4 pupils.
Concerns over the behaviour of pupils in schools, and the pressure it places on staff, have been growing in the wake of a series of high-profile incidents. Education secretary Jenny Gilruth is arranging a series of summits to find ways to address the issue, with the first meetings due to get under way next month.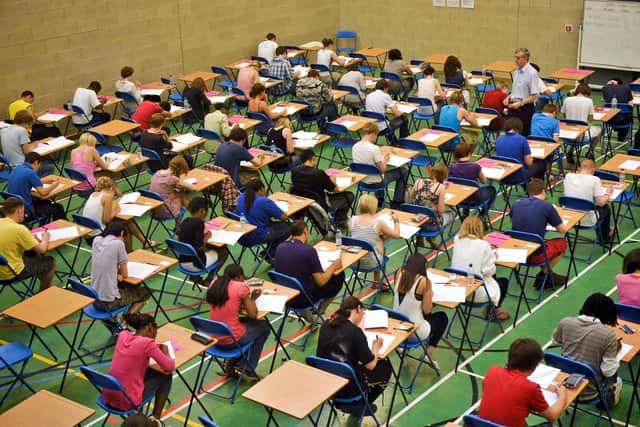 The SNP minister is also considering a landmark report that recommends the end of exams for S4 pupils, as part of a wide range of proposed reforms, including the creation of a Scottish Diploma of Achievement.
Glasgow University professor Louise Hayward, who led the review, said the evidence gathered during the process showed that having exams for three years in a row puts "immense pressure on learners and teachers".
However, Ms Ford has been critical of calls to reduce the number of exams, arguing in a paper for the Commission on School Reform, established by the Reform Scotland think-tank, that external assessment is "virtually universal in both international terms and in subject terms", for the fundamental reason that it is "fairer, more reliable and more valid".
She said that exams removed the "bias" of teachers, who know the pupils they are assessing, which is mostly a positive bias, but can be negative.
Ms Ford, who is a member of the commission, has now said she believes Ms Gilruth, a former teacher, made a decision to delay her response to the Hayward review in part due to concerns about the impact of scrapping exams on behaviour in the classrooms.
"If we reduce the number of exams, then standards will almost certainly fall," she said. "Not only will the standards fall, but the behaviour in schools will deteriorate.
"And that is one of the reasons I think Jenny Gilruth is pausing. She will be getting feedback from other teachers, that if you take external assessment out of secondary school level subjects, you will get an uptick in poor behaviour.
"Human nature is human nature. Do you learn to reverse around the corner if it's not in the driving test? No.
"So if there is no exam, if there is no external assessment associated with the subject, are pupils so concerned to learn it? Well many pupils will not be that bothered.
"That's human nature. Teachers know that. They know that the National 4 classes have been much more difficult to teach, because there is no external element of assessment. External assessment generates a degree of motivation, which teachers are reluctant to lose."
Ms Ford added: "Many of the serious concerns about examinations, the time spent on repetitive revision and the time out of class on study leave, could be radically improved with a combination of scheduling changes and much less formulaic exams."
In response, Prof Hayward highlighted that an OECD report, led by Prof Gordon Stobart, stated pupils in the senior phase in Scotland are amongst the most examined in the world.
She said: "Some countries have no examinations, others have one cycle or even two, but Scotland has three consecutive years of examinations.
"The evidence that the Independent Review received from learners, parents, teachers, colleges, universities and employers argued strongly for a broader range of assessment approaches that would include examinations – but not for three successive years putting immense pressure on learners and teachers.
"External assessment is not synonymous with examinations. Examinations are one way of gathering evidence about achievement, but they are not the only way. Colleges, universities and employers all currently use a far broader range of approaches to assessment.
"The report with the Cabinet secretary proposes that, using a wider range of assessment approaches, students will accumulate credit for work undertaken.
"This credit will count towards their qualification and in S5 and S6 in National Qualifications will include examinations where they currently exist."
Prof Hayward added: "It is achieving the qualification, not the mode of assessment, that motivates pupils."
A Scottish Government spokesperson: "The recommendations of the Independent Review of Qualifications and Assessment will be considered carefully and as part of the broader suite of reform to education and skills.
"We will take forward detailed examination of the proposals, allowing key stakeholders, especially the teaching profession, the opportunity to feed in their views on what is proposed. Decisions on the future of qualifications and assessment will not be taken lightly and the Scottish Government will respond in due course."
Comments
 0 comments
Want to join the conversation? Please or to comment on this article.