Humza Yousaf is facing claims his "unenlightened" government is damaging Scotland's centuries-old tradition of academic excellence by slashing funding to universities and colleges.
Writing exclusively for The Scotsman, Dame Sally Mapstone said ministers must urgently restore national and international confidence in their stewardship of the sector.
Dame Sally, the principal of St Andrews University and convener of Universities Scotland, questioned the priorities of Mr Yousaf's administration after its shock U-turn this week on a £46 million uplift that was promised for further and higher education when the Budget was delivered five months ago.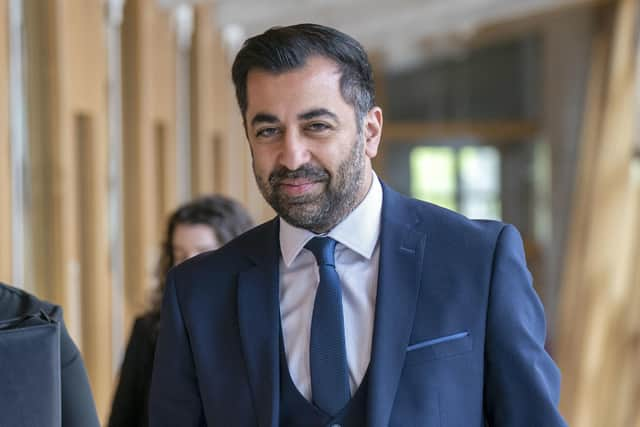 The move to withdraw a £20m resource funding rise for universities, and £26m for colleges, has been branded "completely inexplicable" and a "betrayal" of institutions which were already facing severe financial challenges.
But ministers defended the cut, pointing to the "most difficult public spending environment since devolution", and the need to find money to fund a recent pay deal for teachers.
In The Scotsman, Dame Sally described the decision as a "confused reverse" that would jeopardise one of "the few remaining claims that Scotland has to be world-leading".
She added: "Scotland's principals, as custodians of our universities, have inherited a multi-generational tradition of excellence and inclusion.
"It would be a tragedy for the nation if our Government's unenlightened choice to disinvest from higher education means that we have to pass on a damaged legacy to our successors.
"As a matter of urgency, to restore national and international confidence in its stewardship of our higher and further education sectors, the Scottish Government must set out clearly and precisely how it will repay the significant debt it now owes to our young people."
The professor, who has been principal at St Andrews since 2016, says Scotland has become an "outlier" in relation to public funding of the sector, when compared to other small European nations such as Norway, Austria and Switzerland, which have all been increasing investment.
She also said students, who were often now up to two years behind the levels of social confidence universities would expect in the wake of the pandemic, might not get the intensive support they need due to the Government's disinvestment.
And Dame Sally suggested the Government made an "essentially cynical choice" to under-fund core teaching and research in the expectation that universities could continually increase income raised through fees paid by international students.
"I understand that when budgets are tight, governments have to make difficult choices, but they are choices and this one tells us a great deal about the new administration's priorities," she wrote.
"The decision is short-sighted, divisive, and brings into question the true value the Scottish Government places on higher education.
"The choice to disinvest from higher education is a blow to our students, our staff, and our contribution to building a better Scotland, and a better world."
Her comments come as a leading education union urged ministers to reconsider the "unjustifiable" U-turn. NUS Scotland president Ellie Gomersall has now written to education secretary Jenny Gilruth following outrage from the sector.
Ms Gomersall said: "This is Humza Yousaf's opportunity to set the tone of his relationship with students. He needs to listen when students say we can't afford to live and listen to staff when they say they're stretched too thin.
"I urge the Scottish Government to reconsider this short-sighted decision. Students are not cash cows with infinite money. Many of us are just struggling to pay rent and eat a hot meal every day."
Graeme Dey, the higher and further education minister, told MSPs on Wednesday he would be having "considerable dialogue" to "collectively address what I acknowledge are the challenges that this regrettable decision has created for them".
A Scottish Government spokesperson said: "We are facing the most challenging financial environment since devolution and very difficult decisions across portfolios have had to be made." The spokesperson added: "This decision does not affect the core settlement for the sectors. SFC [Scottish Funding Council] has already announced indicative funding allocations for colleges and universities on 13 April 2023.
"The Scottish Government continues to spend nearly £2 billion a year on Scotland's universities and colleges through the SFC alone. Research and innovation funding for universities has increased, with additional funding allocated for high priority maintenance across college estates."