Strikes university Scotland: Disruption at universities as strikes hit Glasgow, Aberdeen and Dundee could continue into 2024, union warns
Aberdeen, Dundee, Glasgow, Strathclyde and Stirling universities are all being impacted by strikes this week
Disruption at universities could continue into next year unless employers come up with a better pay offer, a union has warned as members walk out on strike.
It comes after the University and College Union (UCU) rejected a pay award for 2023/24 from the Universities and Colleges Employers Association (UCEA), which the union said was worth just 5 per cent for most UCU members.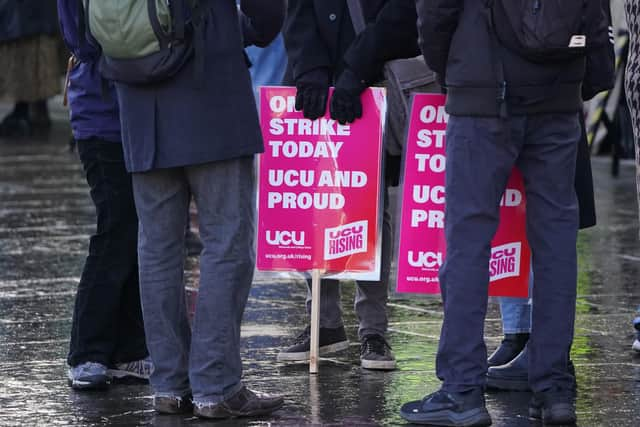 More than 1,000 support staff in universities across Scotland are also striking from Monday in a dispute over pay. Unison members in four universities – Glasgow Caledonian, Glasgow, Dundee and Glasgow School of Art – are taking rolling action over a two-week period after rejecting a "real-terms pay cut".
UCU Scotland official Mary Senior said no member of staff wants to hurt students by taking industrial action, but that members are being forced into it.
She told BBC Radio Scotland's Good Morning Scotland programme: "We're calling on the employers to come back and put a better offer on the table in terms of pay. Our claim is for RPI [Retail Price Index] plus 2 per cent or £4,000 whichever is higher.
"We haven't seen any movement from the employer since the start of the year on pay so they really do need to do better on pay and show that they're going to make some meaningful changes to the working conditions, the workload, the casual contracts and so on.
"I think employers need to know that we are not going away. We have action this week in five universities in Scotland, we've got more universities in Scotland next week and across the UK that will be taking five days of strike action before the month is out and we also have a new ballot which opens tomorrow so ballot papers will be landing through our members' letter boxes on Wednesday. So they risk real disruption ongoing in this sector into the end of this year and into 2024."
UCEA said the pay award recognised the disproportionate impact of inflation on lower incomes, awarding as much as 8 per cent to some.
UCU branches at Stirling and Aberdeen are also taking action as the union claims those universities are deducting "punitive" levels of pay from staff who took part in a marking and assessment boycott.
Staff at Stirling university are in the middle of three weeks of strike action. As well as the ongoing strike action, the union has also announced plans to re-ballot members, which will allow action to be taken throughout the rest of 2023 and into the new year.
Ms Senior said: "We wish we weren't being forced to take more strike action and to open a new ballot but despite all the disruption we've seen in universities over the past year employers are still refusing to settle the dispute.
"It's a dispute around pay and working conditions and we feel we're being forced to take action against employers who present themselves as world leading but they oversee a sector that's riddled with casual fixed term hourly paid contracts, it has sky high workloads and it has pay equality gaps, gender, race and disability pay gaps so our members have no choice but to stand up for themselves today."
Raj Jethwa, UCEA's chief executive said: "It is disappointing that strike action is going ahead in five universities this week, especially since UCU members have voted to end the marking and assessment boycott. UCEA's pay award recognised the disproportionate impact of inflation on lower incomes, awarding as much as 8 per cent, despite falling real incomes for most HE institutions.
"Crucially, to support all staff, nearly half this was uplift awarded six months early. UCEA's priority now is to work with the UCU and the other unions on important matters raised, including the review of the pay spine, pay gaps, workload and contract types.
"A crucial element of resetting industrial relations in the sector is developing a shared understanding of affordability. For the sake of students and staff alike, we need to bring to an end the sector's recent cycle of industrial disputes.
"UCEA seeks to work with the unions to reach a new consensus which recognises the efforts of staff as well as the financial challenges facing the sector."
UCEA has been asked for comment on the Unison strike action.
Comments
 0 comments
Want to join the conversation? Please or to comment on this article.