The Scottish Government and the SQA are under increasing pressure as concerns around pupils having to undergo intense assessment following a pandemic grow despite exams being "cancelled" by education secretary John Swinney earlier in the year.
Figures obtained by The Scotsman show the poorest candidates were consistently more likely to have their grades downgraded than the richest pupils, regardless of the number of grades affected by the SQA's moderation system.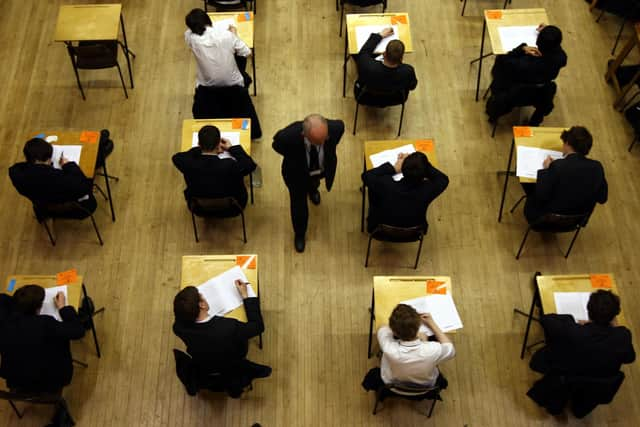 Asked how many candidates in the lowest and highest fifths of the Scottish Index of Multiple Deprivation (SIMD) saw two or more grades downgraded, the SQA said more than 13,000 pupils were affected.
This included 30.5 per cent (6,476 candidates) of the poorest pupils and 23.2 per cent (6,989 pupils) of the richest.
Broken down further, 8.03 per cent (1,703) of pupils from the most deprived areas of Scotland saw three grades downgraded when compared to 5.36 per cent (1,612) of those from the least deprived areas.
This pattern is replicated regardless of the number of grades, with 2.24 per cent (474) and 0.43 per cent (91) of the poorest children seeing four and five or more grades downgraded respectively, compared to 1.31 per cent (395) and 0.2 per cent (60) of those from the richest areas.
One in five (19.8 per cent) of the poorest pupils saw two grades downgraded, compared to one in six (16.36 per cent) of the richest.
All of the downgraded grades were reinstated following a U-turn by Mr Swinney ahead of a no-confidence vote the SNP stalwart narrowly survived.
The figures come as a stark reminder of the failures of the Scottish Government and the SQA in 2020, with opposition politicians warning there cannot be a repeat in 2021.
As it stands, there is no agreed appeal system for the 2021 exams, meaning pupils who feel they have been unfairly given lower grades or underachieved due to extenuating circumstances do not know what evidence may be needed after results are announced in August.
Dr Tracy Kirk, a human rights expert who has campaigned alongside youth-led SQA Where's Our Say, called on the SQA to provide clarity and announce a "clear and direct" appeals process for this year.
She said: "The current 2021 process does not prevent students being disadvantaged by individual extenuating circumstances caused by Covid-19 because teachers have been given no flexibility to predict how their students may have done without the different circumstances each student has faced.
"Currently, there is no way for the certification model to take account of individual circumstances students have faced through no fault of their own​ such as bereavement, mental and physical ill health, periods of self isolating and/or shielding.
"That's before we recognise that access to learning has been different across Scotland despite the very hard work of teachers nationally – 2021 is not a normal year and the appeals process needs to recognise this."
Ross Greer, education spokesperson for the Scottish Greens, said there was a concern there was no "quick fix" to any issues caused by the 2021 alternative certification method being used by the SQA.
Calling for a change of leadership at the exams authority, he said: "We warned the SQA and Scottish Government repeatedly last year that their postcode-based grading system would be a disaster and would grossly disadvantage working-class pupils. Fortunately, when that turned out to be exactly what happened, the Green MSPs were able to put things right, forcing the restoration of every lowered grade.
"The concern this year is that no similarly easy fix will be available, the SQA having designed a system which puts the pressure and the blame on schools if anything does go wrong.
"Thousands of pupils across the country are currently sitting pseudo-exams to meet SQA requirements without they or their teachers having any idea of how the appeals process will work, or what evidence they may need for it. Once again, Scotland's exams authority has proven itself utterly unfit for purpose."
Gina Wilson, head of strategy for the Children and Young People's Commissioner Scotland, said the lack of an appeals process was causing "huge additional stress and anxiety" and called on the SQA to publish it "as a matter of urgency".
She said: "It should give the individual the direct right of appeal and crucially it should take into account exceptional circumstances that may have affected young people's ability to demonstrate their attainment; experiences like bereavement, digital exclusion and mental and physical ill health.
"Young people should not be disadvantaged by disrupted access to their right to education during the pandemic."
Scottish Conservative education spokesperson Jamie Greene said the SQA had "learned absolutely no lessons from their failures" in 2021.
He said: "Pupils have already suffered huge disruption over the last year and it would be completely unforgivable if their future prospects were damaged by a lack of leadership from SNP ministers and within the SQA.
"They are already having to sit exams in all but name. SNP ministers must consult urgently with the SQA to guarantee that a full appeals process will be in place for our pupils come results time.
"Whoever is the SNP's new education secretary must address this situation immediately. If they don't, pupils from our most deprived backgrounds will once again potentially suffer dire consequences."
A Scottish Government spokesperson said: "Once it became clear that the downgraded awards last year risked unfairly penalising some young people, particularly those from less advantaged backgrounds, the Deputy First Minister instructed all downgraded awards to be withdrawn and new awards issued based on teacher or lecturer judgement.
"The National Qualifications 2021 Group, which includes representation from teachers, parents and young people, developed this year's Alternative Certification Model (ACM).
"We asked the SQA to review their appeals system from 2021 to ensure it best meets the needs of young people. They carried out a public consultation and a response to that is expected to be set out soon."
Asked what the plan was for this year's appeals process given the consultation closed in March, a SQA spokesperson said: "The outcomes of the appeals consultation are currently being considered. We hope to announce details of the appeals process shortly."
The spokesperson added: "We recognise that a direct right of appeal is something which many people would like to see as part of this year's appeals service. That was included in the consultation."
The spokesperson said the process for "awarding grades in 2020 was extremely challenging".
"The results published on August 4 last year by SQA highlighted rising attainment and a narrowing of the attainment gap," the spokesperson said.
"An individualised appeals process was put in place as a final stage of the ACM. Following the ministerial direction on August 11, SQA certificates in 2020 were awarded on the professional judgement of teachers and lecturers. Our focus is on ensuring successful delivery in 2021."
A message from the Editor:
Thank you for reading this article. We're more reliant on your support than ever as the shift in consumer habits brought about by coronavirus impacts our advertisers.
If you haven't already, please consider supporting our trusted, fact-checked journalism by taking out a digital subscription.