Graeme Dey, the SNP minister for further and higher education, told opposition MSPs they should not have been surprised by the funding U-turn. He insisted the Government had been "crystal clear" the pay settlement for teachers would have to be found from within the wider education budget.
Mr Dey defended the Government's move after coming under fire from opposition groups, who tabled an urgent question on the funding cut in the Scottish Parliament on Wednesday.
The announcement on Tuesday the Government would no longer be honouring a promise of a £26m revenue funding uplift to colleges, and £20m for universities, had been branded "completely inexplicable" by sector leaders.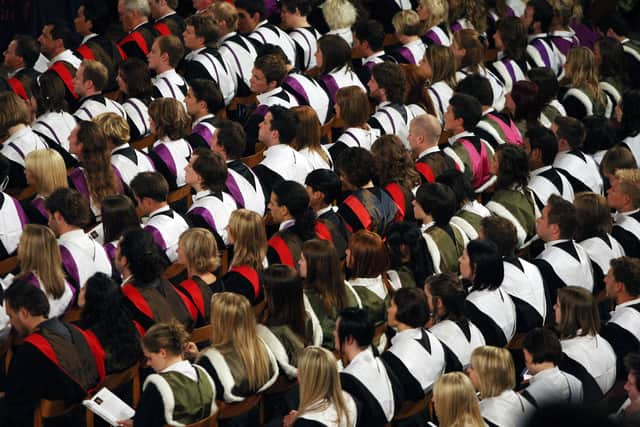 Scottish Conservative education spokesman Stephen Kerr said it was the "last thing our country needs right now".
He said the cut was the "equivalent of a dagger in the heart of Scottish higher and further education".
Labour's Pam Duncan-Glancy told Mr Dey the decision to backtrack on the funding, which had been announced at the Budget in December, had caused "chaos" in the sector.
In response, Mr Dey said: "This should come as no surprise to Mr Kerr, nor any other member of the education committee of the Parliament. Not only do we face the same pressures as other portfolio areas, brought about by the appalling mismanagement of the UK economy by the Tories, we also provided local government with substantial financial assistance in order that we reached a pay settlement with teachers, something opposition politicians, led by Stephen Kerr, demanded repeatedly.
"The-then Cabinet secretary for education [Shirley-Anne Somerville] was crystal clear to Mr Kerr, and other members of the education committee, back in February, that the funds involved would have to be found from within the portfolio budget."
Scottish teachers called off strike action in March after accepting an offer that would increase pay for most by 12.3 per cent. Andrea Bradley, general secretary of the Educational Institute of Scotland (EIS), had criticised the higher and further education funding cut on Wednesday, describing it as "deeply troubling news".
She highlighted the decision was taken on the day union members at colleges across Scotland began taking action short of strike in pursuit of a fairer pay award.
"The Scottish Government's decision will make it more difficult for college lecturers to get a pay rise commensurate with that of their colleagues elsewhere in the public sector and the EIS urges the Scottish Government to rethink this retrograde step without delay," she said.
Meanwhile, the Further Education Lecturers' Association (EIS-FELA) said on Wednesday that management at the City of Glasgow College had announced the college workforce would be reduced by up to 100 staff through the use of compulsory redundancies.
A representative said: "We do not believe there is a genuine need for these redundancies, nor that a genuine consultation process has yet been planned, let alone opened."