Small-town high schools across Scotland are struggling to send pupils away with the "gold standard" of five or more Highers, new analysis has found.
A study carried out by The Scotsman's data team found a third of schools in these communities are falling well below benchmarks, recording a poorer performance than secondaries in either urban or rural areas.
The finding was described as "deeply concerning" by opposition MSPs, amid claims the Scottish Government has been "neglecting" small towns. The analysis can be revealed today alongside new "league tables" based on exam performance data published by the Holyrood Government.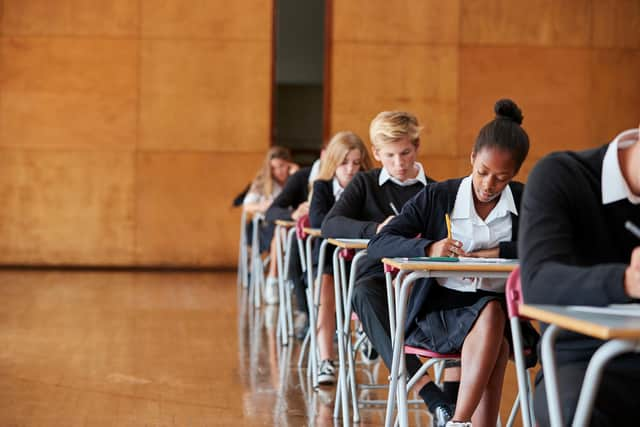 Across Scotland, a total of 39 per cent of of school leavers in 2022 had gained at least five Highers, or equivalent.
The proportion is lower than the preceding two years, when exams were cancelled during the Covid-19 restrictions, but higher than pre-pandemic levels.
Jordanhill School in Glasgow came out on top, with 89 per cent of its pupils leaving with at least five Highers last year.
It was followed by Bearsden Academy in East Dunbartonshire, where the figure was 80 per cent, and St Ninian's High School in East Renfrewshire, at 79 per cent.
In fourth place is Woodfarm High School, also in East Renfrewshire, with a figure of 78 per cent, followed by Douglas Academy in East Dunbartonshire, where 75 per cent of pupils left school with at least five Highers.
The data team's analysis also showed some schools had moved rapidly up the league table rankings in the past five years.
The secondary with the biggest improvement in rankings since 2017 is Bannockburn High School in Stirling, which has moved up 208 places, from 294th to 86th.
This is followed by Port Glasgow High School in Inverclyde, which moved up 196 places, and Whitburn Academy in West Lothian, up 183 places.
Exam league tables do not rank schools from "best to worst", as they do not take into account factors such as teaching quality, the number of pupils with special educational needs or whether the school serves a disadvantaged area.
The Scottish Government says the "best way" to judge the performance of a school using published data is through its "virtual comparator".
This method takes a group of pupils from elsewhere in Scotland with the same characteristics as those in the school, in terms of their gender, the number with additional support needs and other factors such as deprivation levels.
The attainment levels of this comparator group is then used as a benchmark to measure the school's actual performance against.
Across Scotland, 41 per cent of schools had more pupils getting five Highers than their virtual comparator, while 52 per cent scored worse than their benchmark, and the rest scored the same. But small-town schools performed particularly poorly, with almost three-quarters doing worse than their virtual comparator.
One-third of these schools fell behind their benchmark by at least five percentage points, and just 11 per cent outperformed it by at least five percentage points.
Towns with secondaries performing poorly against their virtual comparator included Keith, Buckie, Montrose, Lochgilphead, Campbeltown, Lockerbie, Dunbar, Cowdenbeath, Dingwall and Kelso, among others.
Stephen Kerr, Scottish Conservative education spokesman, said: "It is deeply concerning to see that small town schools seem to be underperforming compared to their urban counterparts.
"This is a sad symptom of the SNP's shambolic mismanagement of Scotland's school system, which makes a mockery of Nicola Sturgeon's claim that education was her Government's 'number one' priority, and all too typical of their habitual neglect of rural communities. This simply isn't good enough."
At local authority level, schools in East Renfrewshire were most likely to be in the league table's top 50 places. Six out of its seven secondary schools were placed in the top 50, with the area's top performer, St Ninian's High School, ranked third in Scotland.
At the other end of the scale, schools in Angus were most likely to be in the league table's bottom 50 places, with half of its eight secondaries in this section.
When schools were compared against their "virtual comparator" benchmarks, both East Renfrewshire and West Lothian scored well, with every school in both areas outperforming their benchmark figures by at least five percentage points.
Argyll and Bute fared the worst, with five out of its nine schools underperforming by at least five percentage points, compared to their benchmarks.
Jordanhill in Glasgow has long been one of the country's top performing schools. Rector John Anderson said: "School success is multi-variable, with so many factors influencing exam results.
"One key factor is the involvement of parents. We know that we are very fortunate to benefit from an engaged and involved parent body who work with us to help young people achieve.
"Another factor is our recognition that all school years are important. Learning builds upon prior learning, which means that our investments in primary and early secondary really help pupils as they move into the exam years." Mr Anderson also praised the school's "fantastic team of teachers and support staff".
A Stirling Council spokesperson said: "At Stirling Council schools, academic success is celebrated just as much as achievements in vocational pathways or in reaching any positive destination.
"While league tables don't provide a full picture of a school's success, we are really proud of the achievements of our young people at Bannockburn High, particularly after the challenges of the pandemic in recent years."
A Scottish Government spokesperson said: "The Scottish Government does not produce league tables as they do not take full account of the context of individual schools when making comparisons between them.
"There are a variety of factors which influence attainment, many of which are outwith the control of the school, but which can have a significant impact on learning and achievement."
The Government added that it was working with partners to develop a "joint approach to improving educational outcomes and experiences for children and young people".