Scotland's Education Secretary has said she will leave "no stone unturned" to bring about a quick resolution of teacher strikes affecting schools across the country.
Shirley-Anne Somerville responded to questions from opposition MSPs about the ongoing industrial action, with one accusing her of being "chilled out and relaxed".
Ms Somerville said there is still "some distance" between the two sides in the pay dispute.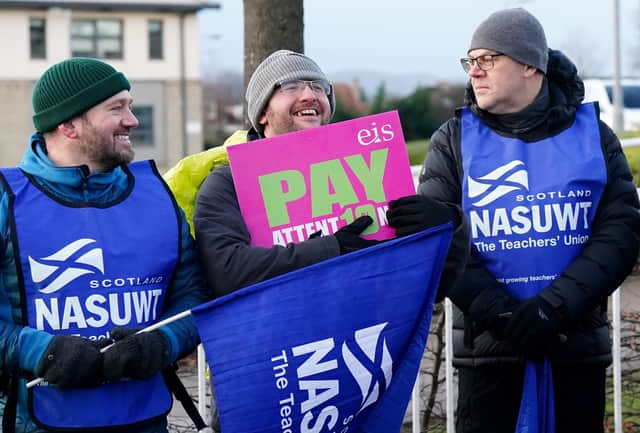 Unions have demanded a 10 per cent pay increase but the Scottish Government has offered 5 per cent, including rises of up to 6.85 per cent for the lowest-paid staff.
A meeting of the Scottish Negotiating Committee for Teachers (SNCT), which brings together unions, local authorities and the Scottish Government, took place on Monday in an attempt to avert the strike action.
As the Scottish Parliament resumed following the winter recess, Conservative Stephen Kerr spoke about the SNCT meeting.
He said: "Teachers are on strike for the first time in 40 years, because this SNP Government has repeatedly let them down."
Ms Somerville said it had been "constructive", adding that she could not give further details while negotiations are ongoing.
Referring to "anti-trade union" legislation at Westminster, she continued: "I will take no lectures from Mr Kerr or any other Conservative member of this parliament, saying that we should be doing more to actually settle disputes."
The Lib Dems' Willie Rennie asked if there would be a new offer for teachers, saying: "The Education Secretary does seem to be very chilled out and relaxed."
Ms Somerville said both sides in the dispute would have to compromise in order to reach a resolution, adding: "We will, of course, leave no stone unturned to try and do that as quickly as possible.
"No one wants to see strike action in our schools."
Striking teachers gathered outside Cosla's headquarters in Edinburgh on Tuesday afternoon where the EIS general secretary accused the body and the Scottish Government of "Tory tactics" in trying to weaken the strike action.
Ms Andrea Bradley told members of the union she was confident of a victory in the ongoing dispute, but said employers were "dampening aspirations".
She said: "The employers' body knows, if teachers are paid more fairly for the work that they do, that will raise the aspirations of other workers too.
"Cosla and the Scottish Government, they don't want that. They want to tie one set of negotiation arrangements to another, doing all that they can to dampen aspirations.
"Overall we have lost 20-25 per cent of the value of our pay since 2008. That's unfair and that's unacceptable."
Passing tram drivers also sounded their horns in support of the teachers, who were dressed in brightly coloured hats and T-shirts.
After talks ended in failure, members of the Educational Institute of Scotland (EIS), NASUWT, Scottish Secondary Teachers' Association (SSTA) and the Association of Headteachers and Deputes in Scotland (AHDS) are taking strike action.
It follows SSTA and NASUWT members taking two days of action in December while EIS members walked out on November 24.
Asked whether she expected a new offer to be on the table before the end of the week, Ms Somerville said: "We'll continue discussions with the unions.
"I think the challenge that we have is we remain some distance apart on what the Scottish Government and local government can afford and can put on the table from the union demand which is, of course, a 10% increase in pay.
"If that had been accepted, if the 5 per cent had been accepted, you would've actually seen teachers have a 21.8 per cent cumulative rise since 2018.
"So we're trying very hard to have a fair and affordable package on the table but we do remain unfortunately some distance apart."
She added: "The pay demands we're having from our trade union colleagues are simply unaffordable for the Scottish Government working on a fixed budget, already allocated, also eroded by inflation and that does make it a very difficult and challenging process to come to a conclusion and resolution on."