Scotland exams: Only 1 in 10 Scottish pupils get higher grades after appeal following controversial system change as numbers drop
The number of appeals fell by almost a third compared to last year
Just one out of ten Scottish pupils who appealed their exam results this year have received a better grade, new figures have revealed.
Upgrades were awarded for 3,980 of the appeals, or 10 per cent. Only five appeals resulted in a downgrade.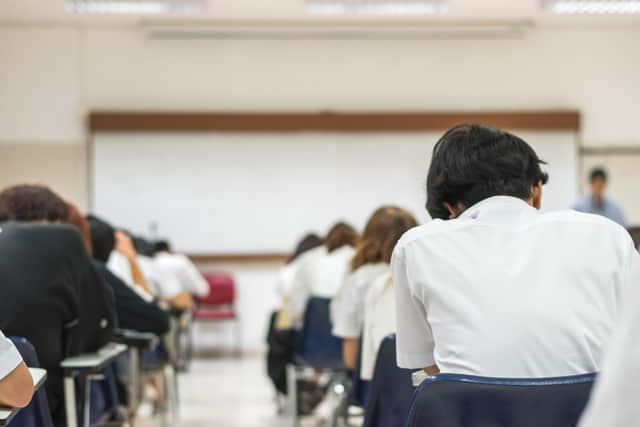 Last year, under a different model, 30 per cent of appeals led to results being upgraded.
The SQA faced questions over the decision to change the exam appeals system, which this year moved to a review of exam scripts, rather than checking alternative evidence gathered by teachers, such as grades at prelim exams.
The change from the system used at the height of the pandemic was criticised by some commentators, parents and teachers.
The overall number of appeals was down by almost a third, from 58,035 last year. In 2022, a total of 11 per cent of the 526,610 entries were appealed.
This year, the SQA said more than 80 per cent of learners' grades in August were higher, or the same as, their teachers' estimate.
Its analysis showed 49.8 per cent of entries were awarded the same grade as estimated by teachers in 2023, while 31.9 per cent were awarded a higher grade and 18.3 per cent were awarded a lower grade.
If a learner's grade has changed following an appeal, they will receive a new certificate by post later this month.
Fiona Robertson, SQA's chief executive and Scotland's chief examining officer, said: "The appeals service is the final stage of the National Qualifications awarding process in 2023 and gave learners across the country a safety net, so they could query any unexpected result, directly and for free.
"SQA awarded more than half a million National 5, Higher, and Advanced Higher grades in August. We received 39,645 requests for an appeal and 3,985 grades – less than 1 per cent of total grades awarded – changed following a marking review.
"Our appointees – experienced teachers and lectures from across the country – are essential to qualifications delivery in Scotland, and we called upon their expertise again during the appeals process. Their understanding of standards ensures that young people have the best opportunity to successfully demonstrate their knowledge and skills and have their achievements recognised and recorded fairly.
"This provides a strong foundation on which to build the next stage of their learning, training, or employment."
The SQA said an evaluation of the approach to awarding in 2023 was taking place and its outcomes will help to inform discussion regarding future assessment requirements.
Ms Robertson told MSPs in September: "I wouldn't expect there to be significant changes to our appeals process this year. But we will reflect if we need to on the basis of the evidence that comes through from this year's resulting."
Comments
 0 comments
Want to join the conversation? Please or to comment on this article.