University principals in Scotland shared "eye-watering" pay rises worth a combined £300,000 while staff and students struggled with the cost-of-living crisis.
An investigation by The Scotsman has found that 15 vice-chancellors were handed pay hikes in 2022, with 11 receiving five figure increases to their total packages.
It comes after many agreed to salary cuts at the height of the Covid-19 pandemic.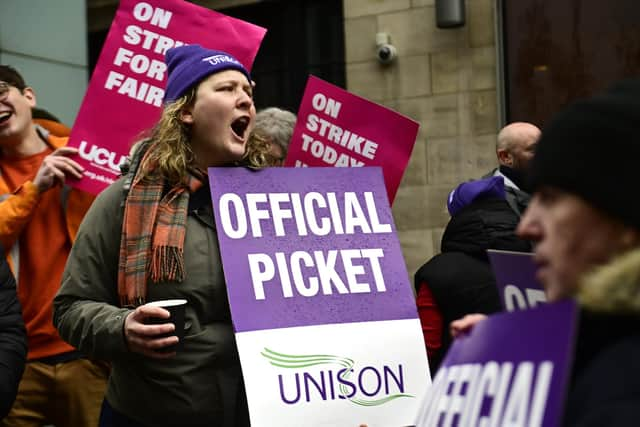 The vast majority have now returned to pre-pandemic pay levels, with several bosses earning significantly more than they did before the coronavirus outbreak.
The figures were branded "absolutely astonishing" and a "real kick in the teeth" to staff by the University and College Union (UCU).
Universities Scotland highlighted that principals do not decide their own pay rates, and that staff and student views are considered by remuneration committees.
The Scotsman's investigation found that significant increases in principal pay of more than 9 per cent and then 14 per cent were authorised at the University of the Highlands and Islands (UHI), with Todd Walker holding the post from August 2021 to September 2022.
The total package, including pension contributions, soared from £205,000 in 2020, to £224,000 in 2021 and then up another £32,000 to £256,000 last year.
There have also been several changes at the top of Dundee University in recent years.
The total amount it paid its principal Iain Gillespie last year increased by £31,000 to £303,000, although the university said the rise was of 4.6 per cent over the last five years.
At Stirling University, long-serving principal Sir Gerry McCormac received £298,000 in both 2020 and 2021, but was then handed a 7.7 per cent rise of £23,000 last year, taking his total to £321,000.
Heriot-Watt University principal Richard A Williams was paid a total of £316,000 in 2020, before taking a pay cut to £312,000 in 2021, and then receiving an increase of £26,000 last year to £338,000.
Napier University principal Andrea Nolan's total package increased by £12,000 to £263,000 last year, while at Abertay University the amount paid to its principal went up by £11,000, with Liz Bacon succeeding Nigel Seaton in May 2022.
Mary Senior, Scotland official UCU, said: "It is absolutely astonishing that at a time when university workers' pay has decreased by a quarter in real terms since 2009, university principals are lining their pockets with eye-watering pay hikes.
"UCU members working in universities across Scotland currently face the prospect of having their pay docked by up to 100% because they are participating in legitimate action short of strike in pursuit of a decent pay rise and fair working conditions.
"To see some principals getting a pay uplift that is equivalent to some university workers' annual wage is a real kick in the teeth for these exhausted workers."
Pam Duncan-Glancy, Scottish Labour's education spokeswoman, said: "Against a backdrop of industrial action and staff fighting against precarity and low pay, such high salary increases seem absurd.
"Dramatic increases for those that are already paid very comfortable wages do not sit well when teaching staff have faced 25% real terms cut since 2009."
The largest rise, of £44,000, went to Dame Sally Mapstone at St Andrews University, after the university's remuneration committee decided to increase the amount it paid her by £60,000 from January 2022.
However, the university said she donated the additional salary she received in 2021/22, after tax, to the St Andrews Student Hardship Fund.
Dame Sally also waived 20 per cent of her salary from May to August 2020, worth £4,500.
Sir Peter Mathieson, Edinburgh University's principal, was given an increase last year of £43,000, making his total package worth £406,000.
The rise took him back to about his previous level of pay, after he agreed a 20 per cent cut for six months of the previous year.
Glasgow University's accounts list principal Sir Anton Muscatelli's pay at "£0.4 million" for both 2021 and 2022.
In 2019 it was £348,000 and in 2020 it was £363,000.
Sir Jim McDonald at Strathclyde University was given an increase of £13,000 last year, taking the total to £389,000, although this remained below the £398,000 listed in the accounts for 2020.
Aberdeen University's George Boyne received a rise of £28,000 to £291,000 last year, but the total was less than the £296,000 he was handed in 2019/20, after agreeing a 20% pay cur for six months of 2020/21.
There were further increases in principal pay last year of £6,000 at Glasgow Caledonian University, of £5,000 at Robert Gordon University, another £5,000 at Scotland's Rural College, and £4,000 at the Royal Conservatoire of Scotland.
At Queen Margaret University, Sir Paul Grice took a 10 per cent pay cut to £211,103 in 2020/21 before his package was increased to £238,076 last year.
While it was a year-on-year increase of almost £27,000, the university said this year's rate was just £729 more than his full-time equivalent pay package in 2019/2020.
Records show principal pay at West of Scotland University decreased by £2,000 between 2021 and 2022, while at Glasgow School of Art it was down by £13,000.
A spokesperson for Universities Scotland said: "Principals at universities in Scotland are not responsible for setting their salaries; that is decided by remunerations committees.
"The remuneration committee must report to the governing body and is expected to represent the public interest.
"It is expected to make evidence-based decisions and to seek the views of representatives of students and staff of the institution, including through representatives sitting on the committee itself."Since the introduction of reporting on the principal to median salary ratio, there has been a drop across the sector in Scotland from 7.1:1 in 2018 to 6.6:1 in 2022."A Stirling University spokesperson said: "The principal's salary is set by the university's remuneration committee, at a level that is appropriate to the size and scale of the job.
"The principal received the nationally agreed pay increase of 1.5% which was awarded to all staff in 2021. The other aspects were due to changes associated with tax rules and employer pension contribution rate."
A St Andrews University spokesperson said: "The principal's current salary makes her the fourth highest earning principal in Scotland, behind her male counterparts at the universities of Edinburgh, Glasgow and Strathclyde."
A Dundee University spokesperson said: "The principal's salary is set by the remuneration committee of court, and shows a 4.6% increase over the past five years.
"Pension contributions are made on the same basis as for all member of the USS scheme and reflect changes over recent years which have increased employer contributions for all members."