Education secretary Jenny Gilruth has been told schools can not wait until the end of the year for Scottish Government action to address soaring levels of classroom violence.
Labour said an urgent statement was needed after Ms Gilruth signalled that new policies would not be drawn up for several months.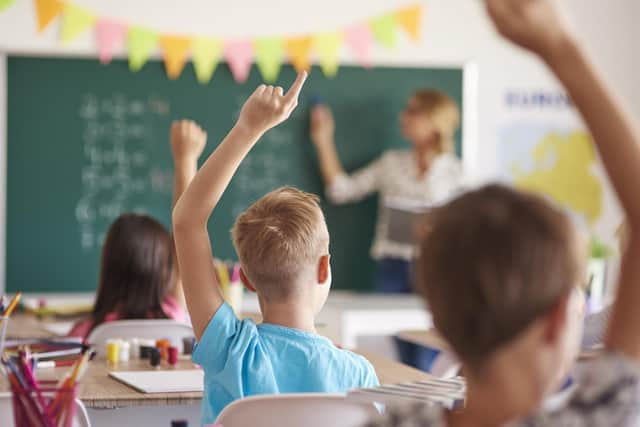 Police said a 16-year-old girl had been charged and would be reported to the Scottish Children's Reporter.
It later emerged nearly 14,000 incidents of school violence were reported in Scottish schools in the past year, with critics saying the trend could become a "national scandal" without urgent action.
Despite growing alarm, Ms Gilruth told MSPs this week the Government had to wait to develop new measures to help address the problem.
She said new policies would be informed by Behaviour in Scottish Schools research, but it is not due for publication until the end of the year.
Labour's education spokeswoman Pam Duncan-Glancy said: "It is simply unacceptable that teachers in Scotland are going to work worried about their safety or that parents worry about the safety of their children in school.
"This situation didn't start overnight. For years, teaching unions have been raising the alarm and this Government and successive SNP education ministers have failed to act.
"That the planned report on this is not expected until December shows a lack of urgency from the Government on this serious issue.
"Jenny Gilruth must act fast and deliver an urgent statement to Parliament outlining what she will do to keep teachers and pupils safe."
Ms Gilruth is already under pressure over claims she intervened in a constituency issue while she was transport minister. The Scottish Conservatives say she broke the ministerial code by delaying vital rail works, branding her actions a "clear-cut, sackable offence".
The row centres on Ms Gilruth's decision to delay proposed rail electrification work that would have caused eight days of disruption across Fife and central Scotland from Boxing Day last year. The MSP represents Mid Fife and Glenrothes, and the allegation is that she gave "preferential treatment" to her constituents.
Figures published this week and obtained via Freedom of Information requests revealed the prevalence of reports involving school violence had reached record highs compared with those recorded from the past five years.
A total of 10,852 incidents were recorded in 2021/22 in primary schools compared to 10,772 in 2018/19. A similar pattern emerged within secondary schools, with 2,952 reports in 2021/22 compared to 2,728 in 2018/19.
In the current school year, 9,784 incidents have so far been recorded in primaries and 2,542 in secondaries.
Moray and Fife were the local authorities which recorded the highest level of primary school incidents, with 1,269 and 1,227 respectively in 2022/23 so far.
In secondary schools, Fife has seen 488 reports, followed by South Lanarkshire (242).
Former Scottish Lib Dems leader and North East Fife MSP Willie Rennie said this week: "Scotland's political and educational leadership is keeping tight-lipped about it all, but if the Scottish Government doesn't address this now, it could quickly escalate into a national scandal."
Ms Gilruth said: "Any form of violence in our schools is completely unacceptable and will not be tolerated. As a former teacher, I fully understand the pressures faced by my ex-colleagues and vital work they do every day in our classrooms.
"I also attended both the SSTA and NASUWT [union] conferences last week and discussed some of the current challenges in our classrooms with members.
"It is clear that Covid has changed the culture in our schools – in part that relates to behaviour, but we need to look more broadly at things like attendance particularly in those year groups who faced transition periods, for example primary to secondary, during lockdown.
"I am determined to ensure that teachers and all school staff are better supported to deal with behaviour in our schools, including reporting of incidents."
The SNP minister said that responding to the issues would require a partnership approach.
"The Scottish Government works closely with local authorities to tackle violence and bullying in schools, supported by wider investment of more than £2 million on violence prevention," Ms Gilruth said.
"But our local authorities have a statutory responsibility for the provision of education in our schools – ministers look forward to working with [council umbrella body] Cosla, ADES and our trade union partners on this issue, noting that the national picture has not yet been captured by our evidence gathering."