Exclusive:

Edinburgh University: Thousands of pounds spent on Eucalyptus trees and iron balcony as principal's home was revamped while staff and students suffered

Bill for Sir Peter Mathieson's Regent Terrace mansion more than doubled last year
Edinburgh University splashed out thousands of pounds on Eucalyptus tree works, a paint job for a cast iron balcony and other redecorations at the home of its principal while staff were having their pay docked for taking part in industrial action.
The Scotsman can reveal the upkeep costs for Sir Peter Mathieson's mansion on the city's plush Regent Terrace rocketed last year, as the ancient institution was embroiled in a row over its response to a trade union's marking and assessment boycott.
The total bill in 2022/23 was £43,966, up from £17,910 in 2021/22 – with cleaning, gardening and electricity costs all more than doubling in the period. The overall amount spent on the property was close to 300 per cent higher than the £11,494 cost in 2020/21.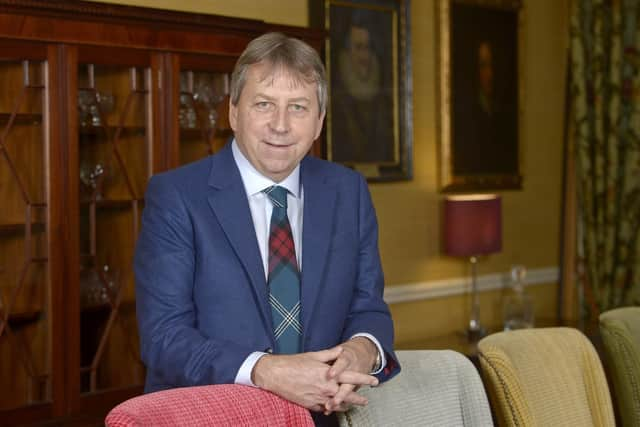 Regent Terrace, near Calton Hill, was recently named the third most expensive street in Scotland, with property prices averaging £1.5 million. The university, which was donated the property in 2015, was previously criticised for spending £300 servicing the principal's Aga cooker.
New figures, released by the university under Freedom of Information (FOI) laws, show the costs for last year included repainting the cast iron balcony on the first floor, as well as forking out £1,089 on landscaping for Eucalyptus tree works.
The biggest increase has been for repair work, which went up from £420 in 2020/21, to £5,852 in 2021/22, to £24,188 last year.
The expenditure in 2022/23 included chimney, roof, window, and gutter repairs, worth £18,771.
Further spending went on repainting external windows and redecorating after water damage, as well as external roof glazing, replacement of defibrillator pads, and "investigation/repair of noise from a WC".
Cleaning costs went from £1,080 to £3,437 in a year, while the electricity bill soared from £3,198 to £6,947, the amount spent on gas was up from £2,601 to £3,086, gardening costs increased from £665 to £1,359, and the outlay on window cleaning doubled from £270 to £540.
Sir Peter, who took the top job at the university in 2018, has overseen a turbulent recent period amid a high-profile row over the university's handling of a showing of the controversial Adult Human Female film about transgender rights, as well as its response to the marking boycott, which was launched in April by the UCU union.
Hundreds of staff members signed an open letter criticising management during the industrial action, while student protests were staged outside and inside graduation ceremonies amid frustration at the awarding of unclassified degrees.
Some international students were even told they would have to leave the country as a result of their inability to graduate in the usual way.
Mary Senior, Scotland official at UCU, said: "UCU members at the University of Edinburgh have been docked hundreds of pounds for their participation in the marking and assessment boycott, in the long running fight for a decent pay rise and fair working conditions.
"While so many workers at Edinburgh University are struggling to pay the rising costs of rent, energy and food bills, they see university bosses getting their gas and electricity paid, along with their window cleaning and gardening bills. The disparity between those at the top with the workers delivering the teaching, research and student support is as stark as ever.
"With UCU members currently being balloted over more action in this ongoing dispute for fair pay and working conditions, the news of further excesses at the top is just going to encourage more members to vote for industrial action."
The principal is the only member of staff who has accommodation provided by the university.
Edinburgh University says this is common practice among higher education institutions, and it highlights the property is not only used as a family home, but also frequently as a venue for hosting formal events, including entertaining international guests.
The property, built between 1826 and 1833, was designed by William Henry Playfair and is Category A listed due to its special architectural and historic interest.
An investigation by The Scotsman previously revealed how pay levels among Scotland's university principals had soared last year, after many agreed salary cuts during the Covid-19 pandemic.
Sir Peter was given an increase last year of £43,000, making his total package worth £406,000. The rise took him back to about his previous level of pay in 2022, after he agreed a 20 per cent cut for six months of the previous year.
In the 2022/23 financial year, he accepted the 3 per cent increase that was applied to all staff. University financial years run from August 1 to July 31.
A spokesperson for the University of Edinburgh said: "In common with most other universities, accommodation for the University of Edinburgh's principal and their immediate family is provided as part of the role.
"The principal's residence is not used solely as a family home, but also frequently as a venue for hosting formal university events and, as such, the institution covers fuel costs and costs for maintaining the building.
"The residence is used for official events to welcome international guests and dignitaries, which strengthens the university's global reputation and increases our partnerships and potential funding streams.
"The university is proud to be the custodian of many historic buildings, including the principal's residence, which was first built in the 1800s. To maintain the conservation of these buildings, we regularly review our estate and work closely with different contractors to ensure they are in good condition."
Comments
 0 comments
Want to join the conversation? Please or to comment on this article.