The First Minister confirmed reports that the education secretary will take steps to ensure funding provided to councils to bolster teacher numbers is actually used for that purpose.
It follows reports that several local authorities, including SNP-led Glasgow city council, are considering education cuts to balance their budgets with concerns from ministers that hundreds of teaching jobs could be cut as councils try to make savings.
Speculative plans have already been drawn up by Glasgow City Council to cut 800 teaching positions, with closing primary schools early on Fridays also floated as a possibly way to help deal with its £68 million funding shortfall.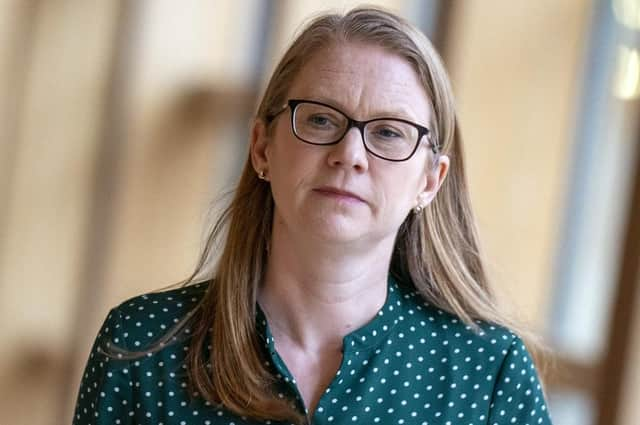 Such a policy would contradict an SNP manifesto commitment to increase the number of teachers and classroom assistants in Scotland by at least 3,500 before the next election.
During First Minister's Questions, Nicola Sturgeon told MSPs that the government "will act to protect teacher numbers".
She said: "This government has a commitment to increase teacher numbers and indeed councils are being given additional funding specifically to deliver that.
"I can confirm therefore that the government does intend to take steps to ensure that the funding we are providing to councils to maintain increased numbers of teachers actually delivers that outcome and the education secretary will set out more details to parliament in the coming days."
Scotland's largest teaching union, the EIS, said the intervention was welcome but blamed "persistent under-funding and under-resourcing" of Scottish education for the situation.
The union's general secretary, Andrea Bradley, said: "The Scottish Government needs to fund local authorities better, including a return to ring-fenced budgets for the delivery of education. Scotland's young people deserve the best quality education, and that requires proper funding and investment in facilities, resources and in staff.
"Sufficient numbers of well qualified, properly paid teachers are absolutely essential to the delivery of quality education. Any cuts to teacher numbers and the pupil week are untenable, and would have a serious detrimental impact on young people's education.
"Cuts to teacher numbers pile additional workload onto already severely over-burdened teaching staff, while also having profoundly damaging consequences for pupils' learning. The notion that we can raise attainment and close the poverty related attainment gap by reducing the number of pupil hours per week by 10 per cent is ludicrous."
Scottish Conservative education spokesperson, Stephen Kerr, said it was "unfair" on councils to be asked to increase numbers without additional funding, blaming a failure to grow teacher staffing figures on "systemic and brutal underfunding" by the government.
He said: "Any cuts to teacher numbers must be avoided at all costs, but it's the height of cynicism for Nicola Sturgeon to simply ring-fence another area of council spending, as that will just mean even more savage cuts to the remaining services local authorities have to provide.
"It also runs counter to the First Minister's claim last week that her government is committed to autonomy for councils. It is a pity that SNP education secretary Shirley-Anne Somerville did not show similar urgency to intervene to resolve the teacher strike which is proving so damaging to pupils."
Willie Rennie, the Scottish Liberal Democrat's education spokesperson, said the intervention was required due to the government's "woeful neglect of education" over the years and warned more funding was needed to avoid "sharp cuts" elsewhere.
He said: "The Education Secretary should have seen this coming. Councils have been so starved of funding that they are now having to consider jeopardizing children's education- that is the terrifying knife-edge to which this government has pushed them.
"This SNP/Green administration needs a firm shake. It must scrap the pointless national testing of P1s at a cost of £17 million, it must give up on its eye-wateringly expensive bid to break up the UK and it must halt the billion-pound bureaucratic takeover of health and social care which so many of the SNP's own members can't even support.
A COSLA Spokesperson said: "COSLA Leaders are aware of the proposed interventions and will consider a response tomorrow morning when they meet."
Councillor Richard Bell, City Treasurer, Glasgow City Council said: " Teacher numbers have been protected every year in Glasgow and we retain one of Scotland's highest pupil-teacher ratios.
"We want this to remain the case.
"At the same time, the UK inflationary crisis, on top of other mounting pressures, has left us with a record budget deficit of £68million.
"The scale of Glasgow's challenges this year is unprecedented.
"With spending on social services already ringfenced by Government, removing any ability to find savings from a service which makes up 60% of our overall budget means something has to give.
"When Scottish Government colleagues are discussing how to intervene on Council education budgets I hope they're giving serious consideration to the resulting threat to all those frontline services every household relies upon."
Want to hear more from The Scotsman's politics team? Check out the latest episode of our political podcast, The Steamie.