The Daily Record reported that 800 teaching posts could be cut as part of plans drawn up by officials in SNP-run Glasgow City Council.
Under plans being considered primary schools would also close early on Fridays in a bid to slash a £18.5m from the education budget on Scotland's largest local authority impacting 300 roles.
Dyslexia support and swimming for primary school pupils also facing potential cuts in a bid to save money.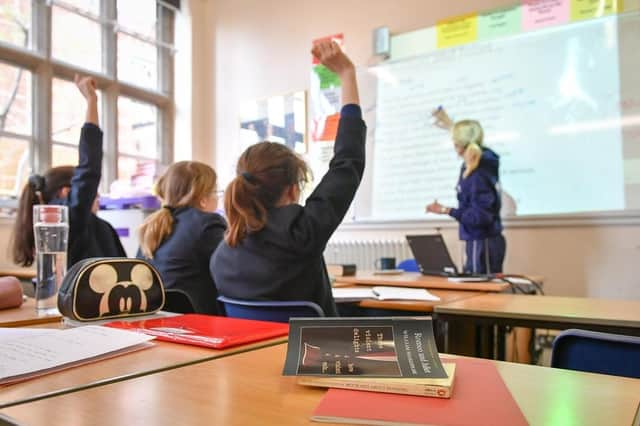 Teaching unions said they are "desperately worried" about the proposals, warning they would have a detrimental impact on the city's young people.
Glasgow City Council is facing a £68 million shortfall for the year ahead and will set its budget next month.
£22.5 million could be saved by revising the way primary and secondary schools are staffed, which would affect pupil/teacher ratios and lead to many more composite classes, with 397 teaching posts affected.
Susan Quinn, Glasgow local association secretary of the Educational Institute of Scotland union, warned the proposals would have a detrimental impact on young people's life chances.
She told the PA news agency: "We are desperately worried about the impact of cuts on the ability of teaching staff in the city to deliver for the most vulnerable of young people.
"Eight hundred jobs is about 12% of the teachers in a city where young people already have some of the highest challenges to overcome to progress in their lives.
"On the primary pupils hours cut, it beggars belief that Glasgow City Council would even consider this.
"They are challenged to close the attainment gap and make sure pupils get the best life chances but they are considering giving them 2.5 hours fewer than young people across the rest of Scotland.
"It makes no sense and it's something that would affect teachers' ability to deliver for the young people that they work so hard for."
Seamus Searson, general secretary of the Scottish Secondary Teachers' Association union, told the Daily Record: "This would potentially write off the current generation of young people."
He later tweeted: "Cutting the most important resource makes no sense. Less teachers = Less education."
A Glasgow City Council spokeswoman said: "As part of the annual budget-setting process, a cross-party group of councillors works with officers to scrutinise and develop options on where savings and investment could be considered.
"Officers also regularly update a financial forecast; taking into account inflation and the latest information on national settlements.
"The financial challenge facing the council this year is exceptionally tough – with savings of around £68m required, even before pressure on social work and care services are taken into account.
"Political groups will present their budget proposals next month – and it is for them to decide whether they wish to include any of these options."
In 2022, there were around 5,725 teachers in Glasgow. Around 100 support staff roles are also at risk under proposals.