Scottish Land Reform Bill: Ministers accused of 'failing rural Scotland for generations' with proposed land changes at annual conference
Land chiefs have said the Scottish Government's proposed land reforms will fail rural Scotland if the private sector's economic and environmental efforts are not embraced more.
Speaking on Wednesday at the annual conference of Scottish Land & Estates (SLE), which represents rural businesses, Mark Tennant, chairman of the organisation, said rural businesses had to play "a major part" in the new legislation if the country was to achieve the net zero target by 2045.
"We are on the brink of yet more land reform legislation, which could fail rural Scotland for generations if we do not get it right," he said.
"Land and estate businesses wholeheartedly support the concept of change to meet the needs of rural communities, to create economic opportunities and to play a key role in the journey to net zero. It is important that any legislation gets the balance right of enabling rural businesses to deliver benefits, without stifling innovation and investment."
The new Land Reform Bill – the third since the establishment of the Scottish Parliament – is due to be brought in later this year. A consultation on the proposals, which closed in October last year, received more than 500 responses.
The Scottish Government said its analysis of those responses would be "published shortly". Mr Tennant urged ministers to "seriously consider what exactly it wants to achieve with its current land reform proposals".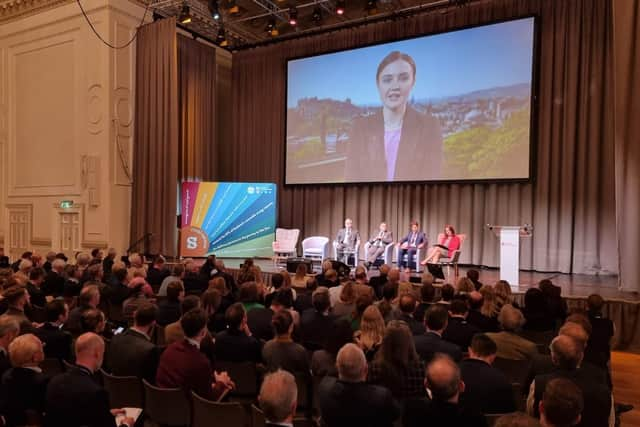 "There is a simple question for the Scottish Government about what it considers more important – achieving fragmentation of ownership or attracting large-scale investment to achieve net zero?" he said.
He pointed to a recent report by BiGGAR Economics, commissioned by SLE, which showed rural estates supported some 57,300 jobs – around one in ten rural jobs – and generate an estimated £2.4 billion GVA per year.
"We know that estates are already delivering the priorities of the Scottish Government, rural communities and economies – and crucially, Scotland's environment," he said. 2Our message – work with us to do even more."
Net zero and just transition secretary Mairi McAllan gave a pre-recorded speech at the event in place of rural affairs secretary Mairi Gougeon, who was unable to attend.
She said the new Land Reform Bill would "further improve the transparency of land ownership, to strengthen the contribution that large-scale landholdings make to the public interest and to empower our communities by providing more opportunities to own land".
On the question of scale, Ms McAllan said it "has advantages when seeking to deliver landscape level environmental improvement", but that it can "bring risk of undue local concentration of power."
She added: "Our land reform objectives for greater diversity of landownership are not incompatible with our net zero and environment ambitions." The minister said the responses to the consultation were "critical" to policy development, and promised the 400-strong crowd at the SLE conference the Government would "continue to work closely with partners in rural and island areas to make sure we take a tailored and proportionate approach" as they prepare the Bill for the next stage.
The minister closed her speech addressing agriculture, and repeated the Scottish Government's "commitment to famers, crofters and land owners that their basic payments will continue".
Other speeches at the event, which saw representatives from RSPB Scotland, NatureScot, property firms and conservation groups, were given by Lord Offord of Garvel, of the Scotland Office, and George Burgess, director of agriculture and rural economy at the Scottish Government.
Comments
 0 comments
Want to join the conversation? Please or to comment on this article.