Right to roam: 'Massive increase' in dog walkers prompts farmers call to review Scotland land access law
A number of dog attacks on flocks this lambing season have prompted renewed calls from the farming community to review land access laws in Scotland.
Cammy Wilson, a presenter on BBC's Landward and who has a farm in Ayrshire, said two of his lambs had died this spring because of "out-of-control dogs". The farmer, who said many livestock managers have "had a lot worse", said a surge in dog walkers in the countryside since the Covid pandemic was the problem.
"During lockdown, so many people bought dogs," Mr Wilson said. "It means we have more inexperienced dog owners coming into the countryside, which is causing problems."
The Dogs (Protection of Livestock) (Amendment) (Scotland) Act 2021 saw an increase in fines of up to £40,000 or a prison sentence for up to 12 months for owners of dogs that attack or worry livestock as a means of tackling the issue.
But Mr Wilson said the law needed to focus on prevention rather than punishment of dog walkers.
"We need to see 'dogs must be kept on lead when on private land' written into law to prevent these incidents from happening," he said.
Kerry Clark, a farmer at Easter Kinleith Farm, near Edinburgh, echoed the concerns. "We have seen a massive increase in dog owners in the countryside, which has led to a massive increase in out-of-control dogs," she said.
"It brings a lot of anxiety when lambing."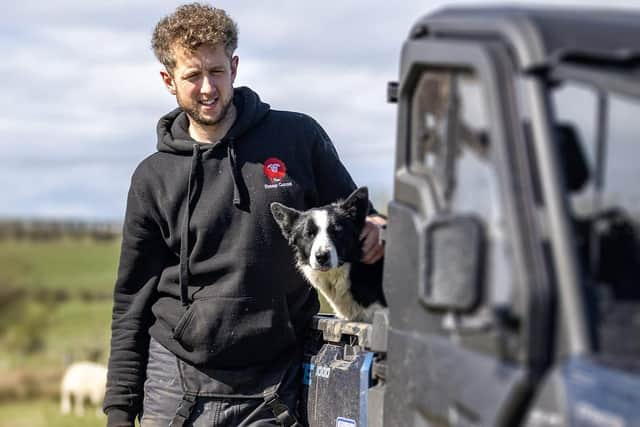 Roaming rights
Scotland has a "right to roam" policy, which was introduced as part of the Land Reform (Scotland) Act 2003. It gives individuals access to land for recreational and educational purposes.
Under the Scottish Outdoor Access Code, land managers must ensure they do not unduly deter others from gaining responsible access. As a matter of statute, the above rights must be exercised reasonably and responsibly.
Robert Warnock, of Bankhead Farm, outside Linlithgow, had a ewe attacked by a dog in one of his fields last month.
He said the owner told him about it, but when it came to covering the £200 vet bill, Mr Warnock said they refused to pay because they were "accessing my right to roam".
"It's quite clear in the Livestock Act that you have to keep your dog under control," he said. "There is a right to roam, but it has to be responsible, which clearly isn't getting across."
National Farmers Union Scotland has previously said it believed the post-Covid increase in public access required a change in rules to protect Scottish farmers and crofters to ensure they are able to "safely produce food".
The union said members have described the code as no longer being effective and called for modernisation of the rules to reflect the scale and type of access that is now common.
The Scottish Government said it had no plans to review the laws around rights of responsible access to land, and insisted the code "strikes an effective balance between the rights and responsibilities of land managers and those exercising access rights, and is widely publicised".
A spokesperson said: "The worrying of livestock by dogs is completely unacceptable. Dog owners must take responsibility for their pet and responsible behaviour is central to the concept of exercising access rights.
"We urge anyone who witnesses any criminal activity to contact Police Scotland."
Comments
 0 comments
Want to join the conversation? Please or to comment on this article.