Farming comment: Covid could kill Highland Show - Andrew Arbuckle
The opportunities for doing so are fewer in these Covid-restricted times but it is still possible to come across some seriously worried people.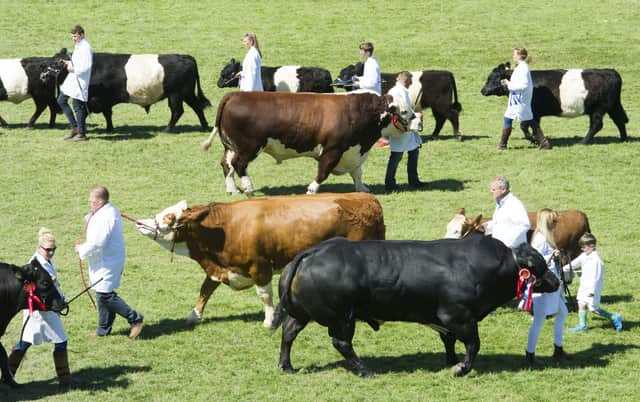 If you do, there is a fair chance that they are directors of the Royal Highland Society who in normal times organise the Highland Show. This major event has been going for more than 200 years, during which time it has survived plagues, floods, war and animal disease.
ButCovid is posing a massive threat to this venerableorganisation. The destruction this invisible virus can do is massive and possibly even fatal, fear Society auditors.
This is not because of any failings by the organisers; they have been responsible for putting on a successful annual four-day show that has attracted upwards of a quarter of a million people.
Unfortunately, packed passageways of snorting animals and breathing humanity with no idea about social distancing is an ideal method of transmitting the disease.
And that explains why the 2020 version of the Highland show was wiped from the calendar in the summer.
The problem facing "Scotland's largest outdoor event", as the Highland has been promoted, is that it takes considerable chunks of money to run. A figure of around £3 million is needed to cover costs.
That is why a month or so back, the Highland Society appealed to its 16,000 or so members for support. So far, the amount raised has been underwhelming, with little more than 5 per cent of the £2 million target being donated. The frustration for the directors and the Highland Society officials is that they have just completed a huge investment in the site, with more than £10m being spent on drainage, roads and new buildings in recent years.
The latest piece in this jigsaw, a new members' pavilion costing around £5m, has not even been officially opened; it lies empty, as do the Highland and Lowland halls which, in normal times, would be buzzing with activity. For example, in a non-Covid era this coming week the exhibition halls would normally host AgriScot, Scottish agriculture's largest winter event, with more than 10,000 visitors attending from all over the UK.
The announcement last week of a vaccine that could help control the virus is good news but you can bet a risk-averse Government is not suddenly going to say "business as usual". This leaves the headache Highland show organisers face; securing sufficient income to meet the high costs they have.
The Society's chief executive, Alan Laidlaw, is expected to come out with a number of options going forward but none, are anticipated to resemble the traditional Highland show.
He is too young to remember the hard times in farming in the 1920s and 1930s when those farmers who survived did so by tearing up the cheque book, spending no cash and metaphorically tightening the belt of their trousers. The Highland Society's charter has obligations beyond the show, such as education and innovation. These may have to be throttled back to make survival possible.
For the show itself, visitor numbers will have to be limited. There will be no crowding allowed around the judging rings or in the tents of the trading companies. Routes will have to be laid out and little footprints stencilled all over the showground to help guide those who find the whole situation quite beyond their thinking capacity.
Other sources of revenue are required. One example may see the Post Office using the halls in the coming weeks as temporary units for Christmas parcels.
If this gloomy outlook seems fanciful for an organisation with more than 200 years on the clock and an international reputation, think of the Royal Smithfield show with its lengthy history, or the Royal Show with its high profile. For different reasons they collapsed almost in the blink of an eye – a reminder that nothing is guaranteed.
Comments
 0 comments
Want to join the conversation? Please or to comment on this article.