Washout: Market jitters intensify after UK retail sales slump due to wet weather
UK retail sales fell far more than expected last month amid unusually wet weather, according to official figures, casting a shadow over an already battered stock market.
The July washout pushed down retail sales volumes by 1.2 per cent, month on month, with more people opting to shop online. Economists had expected a fall, but only by about 0.5 per cent, according to an average of estimates provided by Pantheon Macroeconomics. The data from the Office for National Statistics (ONS) came just days after it emerged that Scottish retail sales had fizzled out last month as the weather took a turn for the worse.
Despite a heatwave in Europe which has been linked to climate change, the UK experienced its wettest July since 2009, and the sixth wettest July on record since 1836. The wet weather and online promotions meant the proportion of sales made via the internet grew from 26 per cent in June to 27.4 per cent in July, the highest level since February 2022. The ONS also said that June had been worse than first thought. Last month it said that June retail volumes rose 0.7 per cent, but this has now been revised down to a 0.6 per cent gain.
ONS deputy director for surveys and economic indicators, Heather Bovill, said: "Retail sales fell sharply in July as poor weather impacted most sectors. It was a particularly bad month for supermarkets as the summer washout combined with the increased cost of living meant sluggish sales for both clothing and food. Department store and household goods sales also dropped significantly. The wet weather did mean a good month for online retailing, as discounting plus consumers shopping from the comfort of their homes boosted sales."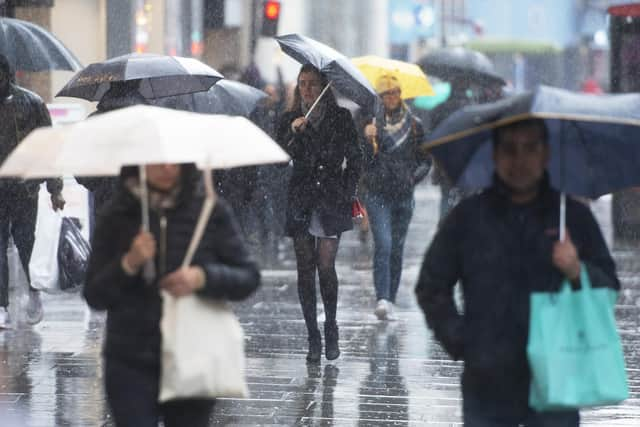 Ian Hepworth, director of Funding Solutions UK, said: "July was a washout for retailers, many of whom are having a brutal time of it right now. The blows just keep on keep coming. The school holidays could also have had an impact on this data, with many families heading off to warmer climes."
The downbeat retail numbers sent a further chill through the markets, with the FTSE 100 under pressure for a sixth straight session. Major UK retailers such as Frasers, Kingfisher, Sainsbury's and Primark owner AB Foods were in the spotlight in the wake of the ONS report.
AJ Bell investment director Russ Mould noted: "Whether it's the brewing crisis in the Chinese property market, the surge in US bond yields on fears rates will stay higher for longer or the big drop in UK retail sales, things are starting to look a bit ugly out there. The wet weather in July led to a drop in sales which was, markedly, twice as large as anticipated. The question is whether this is a one-off impact due to the rain or signs the pressures on household budgets are finally starting to bite to the extent logic would suggest they must at some point."
Due to high inflation levels, people are buying around 1.8 per cent less in volume terms, but spending 16.4 per cent more in value terms compared to February 2020, before the pandemic hit.
Comments
 0 comments
Want to join the conversation? Please or to comment on this article.