Since its formation in 2001 it has invested more than £80 million across Scotland offering loan finance of £10,000 to £1.6m, aimed at community enterprises and social businesses that might find access to finance from mainstream providers difficult – and that are looking to make a positive impact on people's lives, society or the environment. It has also set up impact investment fund SIS Ventures.
It has taken a leading role in supporting Scotland's third sector and social enterprises during the pandemic, providing more than 800 "support interventions", approving £2.9 million in loan funding through the Third Sector Resilience Fund, and supporting 22 of Scotland's credit unions through the Credit Union Resilience Fund.
Mr Davis joined the organisation in 2009, initially to run the investment team, and taking the CEO reins in 2011. His endeavours outside SIS include completing the Strategic Perspectives in Non Profit Management programme at Harvard Business School in 2012, while he is also on the advisory boards of Big Society Capital and Scottish Edge, for example.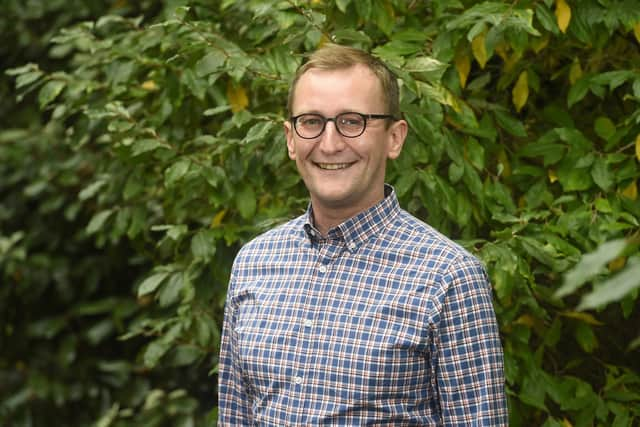 In the year of SIS's 20th anniversary, can you explain its current remit, and how it has progressed since its formation?
SIS was established with a mission to connect capital with communities, to make a real measurable and sustainable impact on people's lives. We are essentially an intermediary, joining up social enterprises with the investment they need but also creating that connection in reverse by connecting investors – of all kinds – with opportunities to make a financial and social return.
This core remit remains largely unchanged to this day. What has progressed over the years is the range of resources beyond just the financial that SIS connects with communities, alongside the business support, leadership development and scale programmes that we provide. Our own progression as an organisation has occurred within a maturing market for social investment, which has gradually gained sufficient momentum to move into the mainstream and away from being seen only as a "niche" product.
How has the landscape for social investment changed in that time?
Well, there's a lot more of it going on, for a start. Although some charities and social enterprises still remain unsure of social investment, many more have embraced it as a means of building their sustainability and growing their impact. This is supported by a growing range of funds at SIS but also access to greater choice from other funders in Scotland who have developed their own social investment offering.
For many entrepreneurs, social enterprise has become a "business model of choice" and they are actively looking for investment to sustain and grow their activity and impact. However, the investor landscape has also changed, with a much greater diversity of organisations and individuals exploring how they might invest their capital for social and financial return.
This diversity is reflected in SIS's own investor pool, which includes the more traditional funds from government and charitable trusts, but also now increasingly attracts other investors, such as high-net-worth individuals and academic institutions.
Regarding the impact of the pandemic, where are the opportunities and the challenges for social enterprise in Scotland's overall economic recovery? What has SIS been doing to help firms eg its Retail Academy, and to what extent has coronavirus accelerated consumers being increasingly conscious of the impact of their spending?
I have always believed that social enterprise would only become truly mainstream if consumers were able to buy their products and services easily and at scale. This underpinned the original development of our Retail Academy – supporting social enterprises to explore mainstream retail opportunities. Retail has obviously shifted significantly during the pandemic.
However, we have seen mainstream trends shifting towards online, local and ethical spending. This creates a perfect storm for social enterprise, and an opportunity to take advantage of these trends. Our Retail Academy now focuses on helping social enterprises make the most of these changes so they can play a greater role in the economic and social recovery of Scotland after the pandemic.
SIS is to deliver £15m of the new Third Sector Growth Fund – and you say you want to use this "precious resource to its greatest possible advantage". How will the fund be used?
It is an incredible privilege for SIS to be working with the Scottish government on this new fund, particularly as we look forward to post-Covid recovery. As well as part of the fund being invested via our SIS Ventures arm, we will be carrying out research to uncover the real impact of the pandemic on charity finances and exploring if there are ways in which this fund might be used to rebuild resilience and sustainability.
But it isn't all about recovery. In the shorter term, £5m of the fund is earmarked for a new Circular Economy fund, to ensure that Scotland's social enterprises have the opportunity to innovate in this emerging space as well as playing their full role in the transition to net zero. Both the research programme and the circular economy fund will be launched shortly.
Edinburgh Printmakers is in many ways a great example of a classic SIS transaction. Just like many investors, we like investing in buildings but also organisations that are taking control of their own destiny and investing in their future sustainability.
What is most exciting about this transaction is the range of cultural, creative, social and economic impacts that it will generate and in a very visible way. Castle Mills is a beautifully restored building in an up-and-coming area of Edinburgh, and a fantastic "shop front" for the work of the Printmakers.
Can you detail your career pre-SIS, for example you worked with Bank of Scotland's community banking arm, where you developed your knowledge of social investment…
I went straight from university into a graduate role with the Bank of Scotland – actually my first day of "proper work" turned out to be the day of the 9/11 attacks. After spending time in a variety of roles (including working on the front line in a branch) I learned my trade from a team of relationship managers in corporate banking in Glasgow.
Frustrated by the lack of progression opportunities in the west of Scotland, but also by the fact that the ethos of the community banking team aligned with my own, I moved to this area of the business in 2005. It was here that I learned about the charity sector in the broadest sense, including some of the social investment tools and techniques.
Many of the organisations I worked with way back then have subsequently become investees of SIS and it has been a pleasure to be able to follow their progress up close.
What has been the most pivotal moment in your career to date?
Undoubtedly this was when I was appointed CEO at SIS in 2011. Although the organisation was much simpler in terms of strategy and size than what it is now, it was my first senior leadership position. Nevertheless, I had a clear vision for the organisation and over the last decade I have relished the opportunity to bring this vision to life, with the support of our investors and partners as well as the SIS staff and board teams.
You are in charge of SIS's efforts to foster diversity and inclusion – what are you doing in this area, particularly around LGBT/gender representation?
As a gay man, diversity and inclusion is important to me anyway. However, that also comes with responsibilities around visibility and leadership in this area. Whilst we aren't perfect at SIS when it comes to diversity and inclusion, and there is more work to do, I have led efforts to ensure gender balance across our governance structure and that there is diversity of thought as part of our investment decision-making.
We are also working with CEMVO Enterprises CIC (Council for Ethnic Minority Voluntary Organisations) on a pilot programme to increase access to social investment by black and other ethnic minority social enterprise leaders and founders.
Where do you see new opportunities for growth for SIS – for example extending your geographic reach – and what would you like it to achieve in the next, say, five years?
Our Building an Impact Economy strategy is extremely ambitious and explores a range of ways in which social enterprises might play a more meaningful role in the mainstream. I'd love to see huge progress being made towards these aims in the next five years – consumers buying more social enterprise products, investors making more social investments and public and private sector procurement providing more contract opportunities for social enterprise.
Our core market will always be Scotland. However, we have always said that where we could add value, credibility and experience to an opportunity outwith Scotland we would do so. After all, SIS was founded based on experience in the USA, so why shouldn't we continue to pay it forward outside of Scotland?
A message from the Editor:
Thank you for reading this article. We're more reliant on your support than ever as the shift in consumer habits brought about by coronavirus impacts our advertisers.
If you haven't already, please consider supporting our trusted, fact-checked journalism by taking out a digital subscription.