Tesco 'in good shape' despite profit blow amid unprecedented inflation pressures: reaction
Tesco "remains in good shape", analysts have said, after the UK's largest retailer saw its profits cool amid the cost-of-living crisis and soaring costs.
Reporting full-year results, the group - which commands a 27 per cent slice of the grocery sector - said it had faced "unprecedented" rises in the prices that its suppliers were charging. Bosses said the supermarket giant had come under pressure from rising prices as its customers also struggled under soaring inflation.
Pre-tax profit fell from just over £2 billion to around £1bn in the year to the end of February. On an adjusted basis, which strips out some one-off costs including a nearly £1bn charge on property, operating profit slipped 6.9 per cent to £2.6bn, in line with what analysts had been expecting. Earnings were hit by a range of issues, including lower sales volumes, investment in the business and steep cost rises.Tesco said sales - the value of the products and services it sells to customers - rose by 7.2 per cent to £65.8bn even as the amount of product it sold fell. This is because even as the chain sold less, it charged more per product on average - although it did not reveal how much prices have gone up for shoppers.
Chief executive Ken Murphy said: "It's been an incredibly tough year for many of our customers, and we have been determined to do everything we can to help. Our results reflect our continued investment in delivering great value and quality for our customers, whilst at the same time looking after our colleagues. This is despite unprecedented levels of inflation in the prices we have paid our suppliers for their products, and the cost of running our own operations."
But despite the trading obstacles, Tesco insisted it had delivered a "market-leading performance" over the Christmas period.
Zoe Gillespie, investment manager at wealth firm RBC Brewin Dolphin, said: "Tesco is continuing to cement its position as the UK's top supermarket. Profits may be down, but that was to be expected from the pressures of the cost-of-living crisis and post-pandemic normalisation in shopping habits.
"Sales growth, meanwhile, remains robust and Tesco is well placed to benefit from consumers looking to save on their weekly shop through its different initiatives – particularly its Clubcard scheme. While profits are expected to be flat for the year ahead, the continuation of its share buyback scheme and strong execution of its strategy mean Tesco remains in good shape."
Data from Kantar released in January showed that while Tesco had the largest market share of any supermarket in the UK, it was not the fastest-growing traditional grocer. Asda's sales grew quicker over Christmas while non-traditional grocers grew even faster. Tesco also said it had continued to "inflate behind the market" over Christmas, which is thought to mean that it increased prices slower than the competition. The business said it had taken a £982 million hit to statutory profit, largely due to an impairment charge on its assets, mainly its property portfolio which was hit by an increase in discount rates.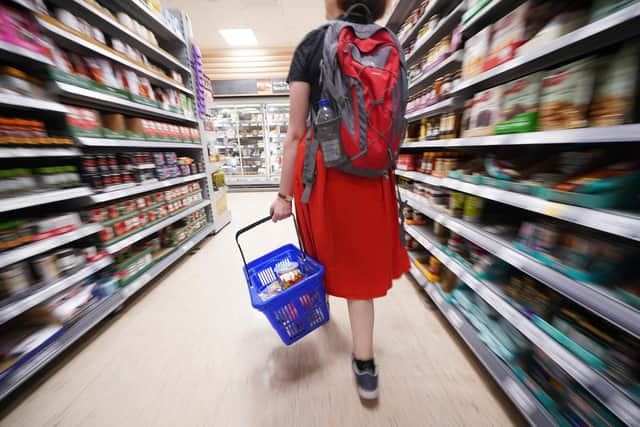 Tara Flynn, co-founder and personal finance expert at price comparison site Choosewisely.co.uk, said: "The profits of Tesco indicate that the supermarket has failed to respond promptly to the changing needs of its customers and has suffered the consequences. Although Tesco may present a contrasting narrative, it's apparent they've lost loyal customers to more affordable discount grocers. The introduction of the 'Aldi price match' by Tesco speaks volumes."
Tesco's trading has been robust in the face of consumer belt-tightening and fierce competition from rapidly expanding discounters Aldi and Lidl, as well as the likes of B&M, Poundland and Home Bargains as more of us shop around for the best deals on non-food items. The meteoric rise of the German-owned discount chains Aldi and Lidl, from nowhere three decades ago to gaining critical mass with hundreds of stores, and wide-spread public acceptance, remains one of the biggest threats to Tesco's dominance.
Sophie Lund-Yates, lead equity analyst at investment platform Hargreaves Lansdown, said struggling customers are picking up fewer items while prices soar. She noted: "While [Tesco] is doing what it can to keep prices low, it's not lost on consumers that grocery inflation remains one of the most painful areas of overall rising costs at the moment. That's where we've seen the rise of the discounters, which although much smaller, have forced the main players to up their game. Aldi price matches and other similar campaigns are a stark reminder of how stiff competition is."
Other analysts said Tesco was walking a tightrope - walking between pleasing shareholders by remaining profitable and gaining plaudits from customers. Russ Mould, investment director at platform AJ Bell, said: "Tesco seems to be making the calculation that it can absorb some pain now to maintain and even improve its market share. There is merit to this strategy, particularly at a time when rivals, most notably Morrisons, are really struggling and don't have Tesco's financial strength. What Tesco doesn't want to be drawn into is a race to the bottom on prices which cuts margins right to the bone for a prolonged period. For now, this is the tricky tightrope the supermarket must walk, while rewarding investors for their patience with steady dividends."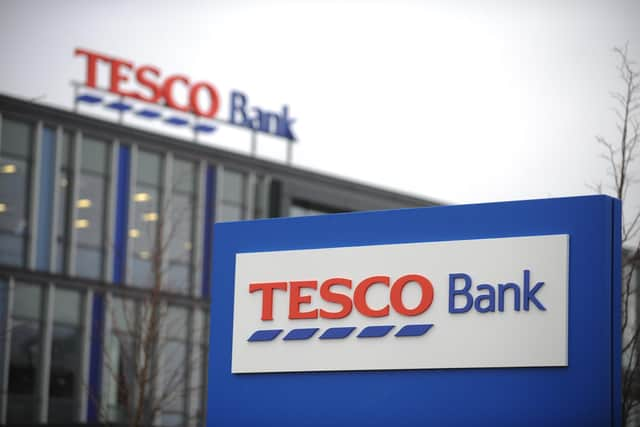 Tesco Bank, the Edinburgh-based financial offshoot of the supermarket giant, saw its adjusted operating profit fall by 18.8 per cent, year on year, to £143m, predominantly due to the impact of a significant provision release in the prior year related to the "improved macroeconomic outlook post-pandemic". This was partially offset by a strong performance in the group's travel money and ATM businesses, combined with higher credit card income.
Comments
 0 comments
Want to join the conversation? Please or to comment on this article.