The unexpected rise following three consecutive months of modest declines proves that the cost-of-living crisis is far from over and intensifies pressure on the Bank of England to further hike interest rates, possibly as early as this week. According to the Office for National Statistics (ONS), the consumer prices index measure of inflation rose to an annual rate of 10.4 per cent in February from 10.1 per cent in January. Most economists had been forecasting a fall to 9.9 per cent in February.
In last week's spring Budget, Jeremy Hunt pledged to halve inflation this year and the Office for Budget Responsibility (OBR) is projecting a rate of just 2.9 per cent by the end of 2023. The latest data will have sent a shiver through the Treasury, particularly the revelation that food inflation has hit its highest level in 45 years. Supermarkets have been attempting to keep a lid on price hikes but some eye-watering increases are now being passed on to shoppers. Higher utility costs are also in the pipeline when the energy price cap rises in April and government support ends.
Kevin Brown, savings specialist at Glasgow-based mutual Scottish Friendly, described February's spike in inflation as a "cruel blow for households" and said the setback cast doubt over the OBR's 2.9 per cent prediction. "The Chancellor has been equally bullish about the prospect for inflation, but this unexpected rise will dent some of that recent optimism," Brown said. "Some may have started to think about loosening the purse strings ever so slightly, but families will have to continue to carefully monitor their spending, while their ability to save or invest will also be impacted. Consumers will be desperately hoping this is only a bump in the road and that inflation will carry on falling once again from March."
The surprise jump in inflation came after food and non-alcoholic drinks prices rose by 18 per cent year-on-year last month, up from 16.7 per cent in January and the highest since August 1977. Shortages of vegetables such as tomatoes and peppers in recent weeks were largely behind the rocketing food inflation. Inflation overall in restaurants and cafes stood at 11.4 per cent last month, up from 9.4 per cent in January.
Food and Drink Federation Scotland's chief executive David Thomson said: "[The] acceleration in food and drink inflation will come as disappointing news for households. It reflects the continued, significant pressure the food and drink sector is under as businesses grapple with persistent cost rises. We welcome Jeremy Hunt's pledge to halve inflation this year made in last week's Budget but there's certainly more governments across the UK can do to help our sector achieve this."
Nick Drewe, discount expert at Wethrift, said a lot of people were making significant lifestyle changes to adapt to the rising cost of living and to tackle "inflation creep". He said: "With the cost of food, fuel, utilities and other household bills rising, many are feeling more anxious about money than ever before. From using less energy to slashing their weekly grocery shop, people have been cutting back on everyday essentials, and even more, people have stopped spending on luxuries, like beauty treatments and holidays.
"Previously, when cutting back on luxuries, individuals would see some financial gain and the strain ease. Unfortunately, in the current crisis, this isn't the case. This is what is known as 'inflation creep' - your standard of living declines as inflation increases."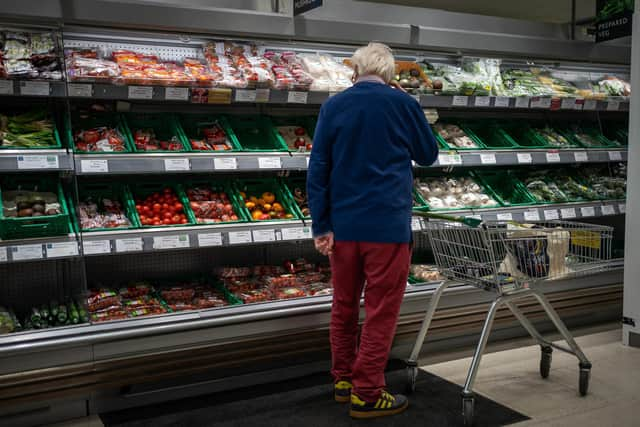 Bank of England policymakers will have to balance sticky inflation against the recent turmoil in financial markets and fears of a fresh banking crisis. While some analysts have been predicting that the central bank could hold off from raising interest rates further due to the market volatility, the latest inflation data will likely complicate the decision.
Benjamin Trevis, an economist at the Centre for Economics and Business Research (CEBR), said the figures highlighted the "long path ahead" for the Bank of England in achieving its target inflation rate of 2 per cent. "The longer inflation remains elevated, the more likely expectations will be revised and workers will push for higher wages, which, holding all else equal, could cause new inflationary impacts," he noted. "On the other hand, recent financial instability in the US and Europe has caused some to call for a halt in interest rate rises. The Bank will need to tread a fine line this week as a decision to abandon rate rises in order to stabilise the financial system could risk inflationary pressure becoming more entrenched in the UK economy. CEBR expects a split monetary policy committee (MPC) decision resulting in a 25 basis point rise [on Thursday]."
Nigel Green, founder and chief executive of financial advisory firm deVere Group, added: "The data shows that food prices and non-alcoholic beverages in the UK surged at their highest rate for 45 years. This really puts the pressure on the Bank of England to increase interest rates again on Thursday. The Bank officials will also be vigilant about wage growth which remains high but is slowing, whilst the latest labour market data reveals continued tightness. We expect that the Bank of England on Thursday will announce a rise of 25 basis points to take rates to 4.25 per cent, and possibly signal a pause in its hiking cycle moving forward."