Tennent's owner C&C 'encouraged' by Scottish sales despite weather woes
Tennent's owner C&C Group has reported "encouraging" sales in Scotland despite cost-of-living headwinds and changeable summer weather.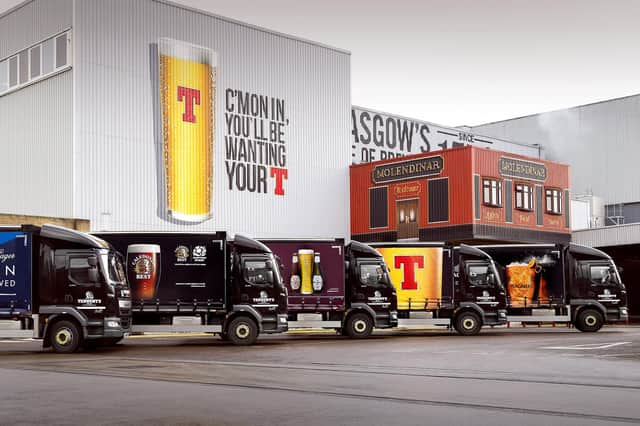 In a first-half trading update ahead of next month's interim results, the Irish drinks group said trading for its own brands in Ireland and Scotland had been encouraging, with net sales revenue up by about 6 per cent for the period. Trading at the start of the six-month period, from the start of March to the end of August, is said to have benefited from good weather, particularly in June. However, poor weather in July and August combined with cost-of-living pressures, particularly in the UK, resulted in a slowdown in the latter months of the period.
Across the group, C&C, whose other brands include Bulmers cider and Heverlee and Menabrea beers, expects to deliver net revenues of about €870 million (£751m), which would be down 1 per cent on the comparable period a year earlier. Operating profit for the first half is expected to be in the range of €29m to €31m.
Group chief executive Patrick McMahon said: "Set against a difficult market backdrop, we are pleased with the strength of the performance of our branded businesses in Ireland and Scotland in the period. We are particularly pleased with the progress we have made in restoring customer service levels following the ERP [enterprise resource planning] system implementation issues in our GB distribution business within our planned timeframe.
"Delivering outstanding service, winning back customers, continued business simplification and improved operating efficiency remain our top priorities and focus for the second half."
The firm added that a process to recruit a new chief financial officer was ongoing, in conjunction with an executive search firm, and an update will be provided "in due course".
Greg Johnson, an analyst at brokerage Shore Capital, noted: "C&C has issued a pre-close trading update for the six-month period to August 2023. The key takeaway being the continued resolution of previously disclosed ERP issues (financial impact unchanged) and that underlying H1 performance is broadly consistent with the corresponding period and our full-year assumptions. Given the challenging environment we would see the out-turn as encouraging."
Comments
 0 comments
Want to join the conversation? Please or to comment on this article.