Sustainable spirits-maker Arbikie Highland Estate cheers major US distribution deal
Spirits-maker Arbikie Highland Estate is celebrating a major distribution deal for the potentially lucrative US market.
The Angus-based firm, which lays claim to being the world's first single estate distillery producing vodka, gin and whisky, said it has sealed the key export deal with Winebow Imports. The US firm has built up a distribution network of 18 markets since it was established in 1980. It offers a wide-ranging portfolio of fine wines and spirits from around the world.
Privately owned by the Stirling family, who have been farming in Scotland since the 1660s, Arbikie is led by three brothers - John, Iain and David - who spent their childhood on their 2,000-acre farm. In 2014, they started a small distillery, with a goal to produce world-class spirits made from their own crops. Notably, all ingredients for their spirits - including strawberries, potatoes, juniper and honey - are planted, sown, grown and harvested within an arm's length of the Montrose distillery. They use botanicals typical of the area, produce their own base spirit and bottle and label everything at the farm.
John Stirling said: "We're thrilled to embark on this new adventure with Winebow Imports. We share a fine wine mentality, in that all our spirits can all be traced back to specific plots on our farm. It's fitting that we would turn to a team of wine experts to help tell our story."
Ian Downey, executive vice president of Winebow Imports, added: "We're honoured to represent Arbikie and are tremendously impressed by their 'field to bottle' approach. They're one of the few distilleries genuinely making their spirits from scratch. We couldn't be more excited to introduce them to our customers."
Included in the Arbikie range is a new line of pea-based spirits called Nàdar, or nature in Gaelic, which removes more carbon dioxide from the atmosphere than it emits, making it "climate-positive," according to the firm's master distiller Kirsty Black. The distillery uses solar power as one of its energy sources.
Last month, Arbikie Highland Estate said it was "well on track to be one of the world's most sustainable distilleries" after reaching a key milestone to harness renewable energy. The business said it had completed the latest stage of its plan to be the world's first green-hydrogen-powered distillery with the installation of a new one-megawatt wind turbine, having secured planning permission last year.
Arbikie added that it was now working with Locogen and Logan Energy to power its distillery with green hydrogen - taking electricity from the wind turbine to split water in an electrolyser - that will be used in its hydrogen-compatible boiler and reduce its carbon footprint. Iain Stirling said: "As the latest custodians of our family farms and distillery, it's very important to our family to be as sustainable as possible."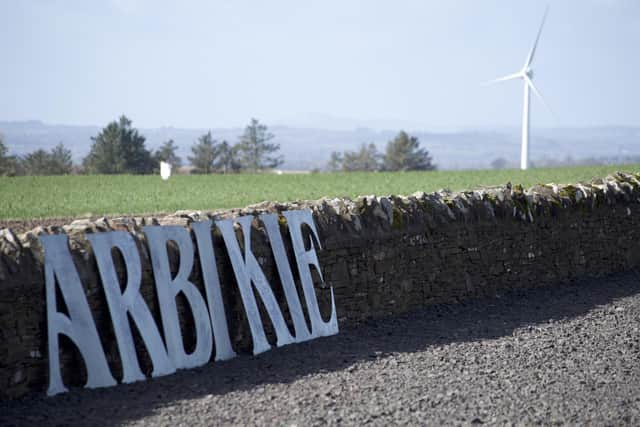 Arbikie works with many of the world's top bars, hotels, restaurants and resorts including Noma, Atlantis-The Royal, Accor, Hilton, Marriott, Jean Georges, Atlas and Whole Foods. It recently opened the Arbikie Distillery Experience next to the distillery at Lunan Bay on Scotland's east coast.
Comments
 0 comments
Want to join the conversation? Please or to comment on this article.