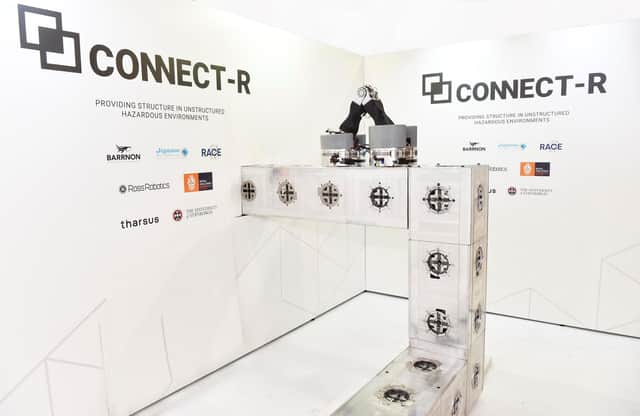 Connect-R self-builds scaffolding for work in hazardous environments
Scotland is establishing a global reputation for ground-breaking research on robotics and artificial intelligence (AI). This pioneering work includes how new technologies can be used alongside people working in hazardous working conditions, such as offshore and nuclear decommissioning, to improve safety and deliver end results that benefit societies and the economy.
The National Robotarium is a leading centre of expertise in robotics and AI. It is a partnership between Heriot-Watt University and the University of Edinburgh, that is carrying out cutting-edge research that will change lives, industries, and boost sustainability, while supporting economic growth.
One cutting-edge area of activity at the National Robotarium focuses on the emerging new field of "soft robotics". This area challenges the status quo in human-robot interaction by exploring a range of questions such as: "what is a robot?, "how do we make robots?", and 'for what are robots used?'.
Dr Adam Stokes. Picture: Stewart Attwood
At the forefront of much of this work is Dr Adam Stokes, who was recently appointed as the joint academic lead of the National Robotarium. He is a Reader in Engineering at The University of Edinburgh, researching robotics and biologically inspired engineering. He has a varied background with degrees in Electrical Engineering, Biomedical Science and Analytical Chemistry. In addition to his research career, he runs companies and has a strong interest in entrepreneurship.
His research at the National Robotarium ranges from Connect-R – which involves self-building robotic scaffolding to support nuclear decommissioning and work in other hazardous environments – to Limpet; an integrated multi-sensing device which is used in asset integrity monitoring and inspection of offshore assets.
Dr Stokes says: "The National Robotarium presents an opportunity that resonates well with my experience and research ethos – it's about supporting the translation of academic research into commercial opportunities, and also connecting industrial challenges with the research community."
"My role as academic co-lead will be to help connect engineering solutions with problems, and vice versa. I'm looking forward to bringing the engineering community strongly into the world of robotics, and connecting our work in the National Robotarium with the global robotics network and industrial partners."
Soft robotics is a technology that came out of earlier work in microfluidics.
Dr Stokes says: "Soft robotics takes inspiration from nature and seeks to develop systems that are used in interaction-tasks, be that in handling food produced in production lines, in medical devices for rehabilitation, or for haptic devices, which include tactile sensors, for human-robot interaction.
"This research uses soft materials and compliant mechanisms to make robots that are safe, that can be used in day-to-day life to address such major social issues as sustainability, and that can be manufactured easily."
Dr Stokes is part of the industrial and academic team developing Connect-R. This is described as a "visionary self-building robotic invention that enables safer and easier work for the energy industry".
He says: "Combining AI, advanced engineering and the latest research, the robot methodically builds itself to the area that needs to be reached. This process eliminates the need for human contact with harmful chemicals and toxic materials."
Turning to Limpet, this is described as a technology that fits into the Industrial Internet of Things.
Dr Stokes says: "It is a sensor node that can be deployed by robots, and which forms a network with other Limpets to collect information about an asset, for example a wind turbine.
"The data can be used to establish an accurate digital twin, and this information enables energy companies to operate and maintain their assets safely."
Limpet came out of The ORCA Hub, a collaboration between many of the leading universities in the UK – Edinburgh, Oxford, Heriot-Watt, Liverpool and Imperial alongside industry partners– which carries out research and innovation in offshore energy. The consortium – a strategic project within the National Robotarium— links industrial challenges with the research base to drive innovation out of the lab and into the real world.
Dr Stokes concludes: "Robotics and biologically inspired engineering are multidisciplinary fields that require cross-discipline and cross-sector expertise.
"Our current work looks at medical device technologies, at solutions for challenges in offshore energy, and at making robust systems that can be used for nuclear decommissioning.
"My research aims to translate principles from naturally evolved systems, and to bring those insights to bear on important societal challenges."
RoboSoft 2022, the IEEE International Conference on Soft Robotics is taking place in Edinburgh on 4-8 April, 2022. The event will bring the worldwide community together to discuss how robots can assist with major societal problems, including sustainability.
A message from the Editor:
Thank you for reading this article. We're more reliant on your support than ever as the shift in consumer habits brought about by Coronavirus impacts our advertisers.
If you haven't already, please consider supporting our trusted, fact-checked journalism by taking out a digital subscription.