DDI programme aims to tackle data skills shortage
There is a well-documented skills shortage which can make it difficult to fill many technology and data-related roles in Scotland. And, at the same time, the workforce in those areas can often lack diversity, with too few women and ethnic minority employees.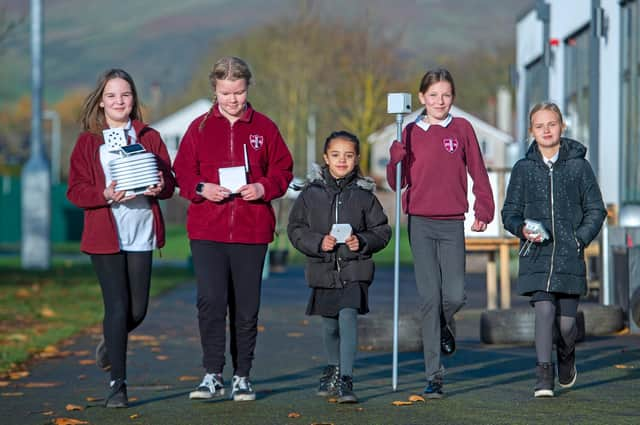 To tackle such issues, the Data Driven Innovation (DDI) Skills Gateway, part of the DDI at the University of Edinburgh, brings together industry, universities, colleges, schools and others to provide routes into data or digital careers.
It covers basic and key data skills in schools through to university-based data science courses. The Data Skills for Work programme, led by The Data Lab, is also aiming to make it easier for people from a wider variety of backgrounds to gain the knowledge and expertise required for a range of roles, opening up new employment opportunities.
DDI is a major part of the Edinburgh and South East Scotland City Region Deal, a UK and Scottish government-led investment, designed to accelerate productivity and drive inclusive growth by funding a broad programme including infrastructure, skills and innovation.
Alison Muckersie, DDI Skills Gateway programme director, says: "Our programme is providing opportunities for people to acquire skills that put them in a good position for new opportunities that are being created across changing world of work. The ambition is to develop data literacy at all levels and respond to skills shortages."
The effectiveness of the programme was recognised recently when it reached the final three of the Digital Leaders 100 Awards for Digital Skills Initiative of the Year out of hundreds of entries from across the UK.
Alison explains that its work is not primarily about producing high end data scientists; instead it's about engaging a wide range of people to improve everyone's understanding of data and its uses. "We talk about data citizens, data workers, data professionals and data leaders. We think everyone needs to better understand the data trail they produce day-to-day and their rights and responsibilities over that. It's also about how you can use data to enhance your voice as a citizen, for example to influence local decision making," says Alison.
DDI Skills Gateway also recognises the fact that the nature of work is evolving and more roles require people to be confident using technology. This includes the likes of carers who are working with sensors in nursing homes to gather data on such things as the movement of residents around the building and the quality of air in the environment.
"Our programme is all about equality of opportunity and developing new skills pathways for a wider group of learners," adds Alison.
One challenge the programme is looking to address is the gender imbalance and lack of diversity in technology roles. Statistics from Skills Development Scotland show that fewer than a quarter of tech roles are held by women, and almost three quarters of computing science students at the country's universities are male.
"We're trying to change this picture," says Alison. "We have equality built in throughout our programme, in terms of materials and case studies we use, and our work with third sector organisations."
Its school education activities, focusing on how data literacy is taught, are led out of Moray House at the University of Edinburgh. Continuing Professional Development (CPD) events are organised for practising and trainee teachers and a wide range of curriculum content is being developed. The first schools-based data qualification has also been developed in collaboration with the SQA. The team are also supporting teachers delivering innovative material linked to a region wide Internet of Things programme – the first of its kind in Scotland.
The college part of the programme also concentrates on CPD to ensure lecturers can teach data literacy with confidence. This covers the four colleges of Fife, Borders, Edinburgh and West Lothian.
Short courses have also been created for specific groups of learners, such as targeting women returners at Fife College in conjunction with Equate Scotland, which has experience of working with women in STEM. Another example of third sector engagement is a course that is running with the Donaldson Trust at West Lothian College for neurodiverse learners.
Turning to higher education, Edinburgh Napier University received funding to develop and launch its BSc in Data Science. It has also been embedding data modules in such courses as business and nursing.
Finally, the Data Skills for Work programme has a range of offerings. Its data skills portal has information about relevant education and training programmes for improving workforce data literacy, including courses that can be accessed free with data skills credits. Such credits provide funding for at-risk and low paid employees in roles that are being changed by automation, and those returning to work, allowing them to upskill and reskill.
The DDI Skills Gateway has already worked with large numbers of people across its target
audiences. To give a picture of its reach, the programme has engaged more than 103,000 school pupils, funded around over 200 individuals with through its credit grant scheme, worked with about around 3080 lectures through its ambitious CPD programme and had has seen about 3,000 visits to its skills portal - and even more activities and partnerships are in the pipeline.
A message from the Editor:
Thank you for reading this article. We're more reliant on your support than ever as the shift in consumer habits brought about by Coronavirus impacts our advertisers.
If you haven't already, please consider supporting our trusted, fact-checked journalism by taking out a digital subscription.